Super Simple Recipes: The Batch Method
---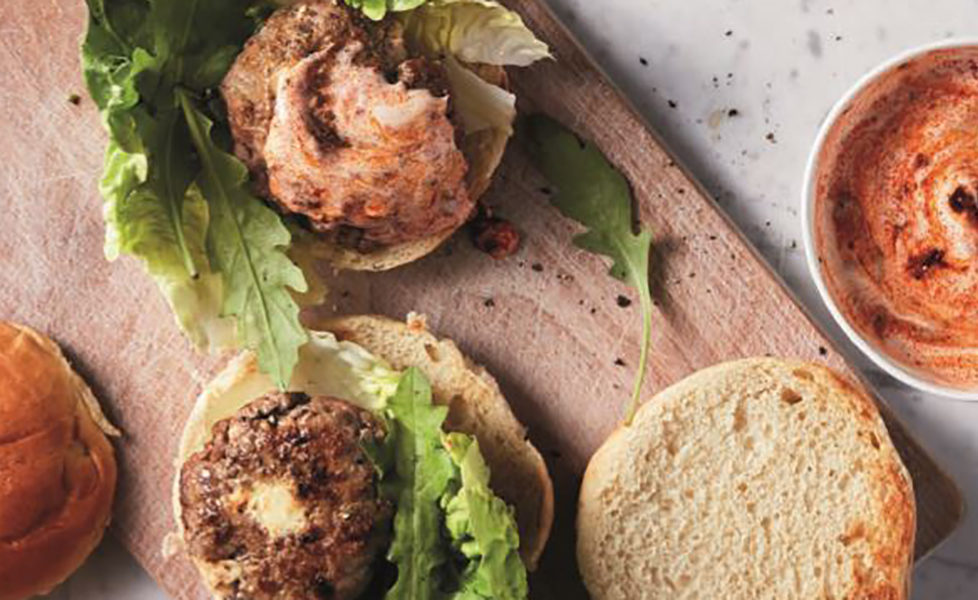 Image: The Batch Lady Recipes
Selkirk mum Suzanne Mulholland, also known as 'The Batch Lady', shows you how to make the most of your ingredients…
The Batch Lady Recipes
Moussaka
Prep: 20 mins
Cook: 1 hour
Serves 6
Ingredients:
• Butter, for greasing
• Splash of olive oil
• 1 cup (115g) frozen, chopped onions
• 2 tsp frozen, chopped garlic
• 500g minced lamb
• 2 x 400g cans whole tomatoes, drained
• 2 tbsp tomato purée
• 1 tbsp dried mixed Italian herbs
• 1 tsp ground cinnamon
• 500g frozen, roasted aubergines
• 1 x 250g tub ricotta cheese
• 1 x 200g pack feta cheese
• 1 large egg, beaten
• Salt and freshly ground pepper, to taste
Method:
Grease a large baking dish with butter. Heat a splash of oil in a large pan, then add the onions, garlic and minced lamb and cook, stirring continuously, for 5–7 minutes over a medium heat, until the meat has browned.
Drain any excess fat from the pan then add the tomatoes, tomato purée, dried herbs and cinnamon and stir to combine.
Reduce the heat to a simmer and leave to cook for 20 minutes.
Using scissors, snip the frozen aubergine slices into 2.5cm (1in) strips and layer half of these in the base of your prepared dish. Set aside.
In a large bowl, beat together the ricotta, feta and beaten egg until well combined, then season generously with salt and pepper.
Once the meat has finished simmering, pour the mixture into the baking dash over the layer of aubergines, ensuring that it reaches the edges in an even layer. Top the meat with another layer of aubergines, then pour the cheese and egg mixture over the top and spread to form an even layer.
Then transfer to an oven preheated to 180°C/350°F/ gas mark 4 for 35–40 minutes, until golden and bubbling. If the top of the moussaka browns too quickly, cover with foil for the remainder of the cooking time.
To freeze:
If you are making the moussaka ahead to freeze, set aside until cooled to room temperature, then cover with a layer of clingfilm followed by a layer of foil. Label clearly and transfer to the freezer for up to 1 month.
To cook from frozen:
Remove the moussaka from the freezer and defrost thoroughly – this can be done overnight the evening before you want to serve the dish – then, cook the moussaka as described in the 'to cook' section.
Lamb and feta burgers
Prep: 5 mins
Cook: 12 mins
Makes 4 burgers
Ingredients:
• 500g minced lamb
• 2 tbsp Worcestershire sauce
• 2 tsp dried rosemary
• 2 tsp dried thyme
• 100g feta cheese, cut into 1cm (½in) cubes
• Splash of olive oil, for frying
• Salt and freshly ground pepper, to taste
Method:
Put the meat, Worcestershire sauce, dried herbs and a generous grinding of salt and pepper in a large bowl and mix with your fingers until well combined.
Depending on the size you want your burgers, split the mixture in 4 or 6 equal sized portions, then divide the cubed feta evenly between the portions of meat. Shape each portion of meat into a burger patty, pressing the feta cubes firmly into the mixture.
To cook the burgers, heat a splash of olive oil in a frying pan over a medium heat, then cook for 5–6 minutes on each side, until cooked all the way through. Serve in brioche buns, with paprika fries, salad and corn on the cob.
To freeze:
Transfer to a clearly labelled freezer bag in a single layer, then freeze flat for up to 1 month.
To cook from frozen:
These are best defrosted and cooked in a pan as described left. If you want to cook them from frozen, cook in an oven preheated to 200°C/400°F/ gas mark 6 for 25–30 minutes, turning halfway through.
Spinach and ricotta stuffed chicken
Prep: 10 mins
Cook: 40 mins
Serves 4
Ingredients:
• 8 cubes frozen, chopped spinach
• 1 x 250g tub ricotta
• 1 tsp ground nutmeg
• 4 skinless, boneless chicken breasts
• 8 slices Parma ham
• Salt and freshly ground black pepper, to taste
Method:
Put your frozen spinach in a heatproof bowl and cook in the microwave on high for 2.5 minutes, then stir and cook for 2 minutes more.
Drain the spinach through a colander lined with kitchen paper, pressing down to remove as much liquid as possible, then return the spinach to the bowl.
Add the ricotta cheese and nutmeg to the bowl with the spinach, then stir to combine.
Season to taste and set aside. Working with one piece of chicken at a time, place a chicken breast flat on a chopping board and press down with the palm of your hand.
Working from the thickest end of the breast, insert a sharp knife two thirds of the way through the meat and carefully slice down the length to the thinnest end. Repeat until all your chicken breasts are butterflied.
Open your chicken breasts up along the cuts you have created and spoon a quarter of the filling mixture into each. Wrap each of the filled chicken breasts in 2 slices of Parma ham, securing as neatly as possible to keep the filling inside.
To cook straight away, transfer to a foil-lined baking tray and cook in an oven preheated to 180°C/350°F/gas mark 4 for 30–40 minutes, until tender and juicy. Serve with your choice of vegetables.
To freeze:
Lay the filled chicken breasts on a large sheet of foil, then fold over the edges and crimp together to form a sealed parcel. Transfer to a labelled freezer bag and freeze flat for up to 1 month.
To cook from frozen:
Simply remove the chicken breasts from the freezer and leave to defrost fully, then cook like the cannelloni.
The Batch Lady by Suzanne Mulholland is out now. Published by HQ, priced £20.