41 Sam Heughan Facts You Need To Know
---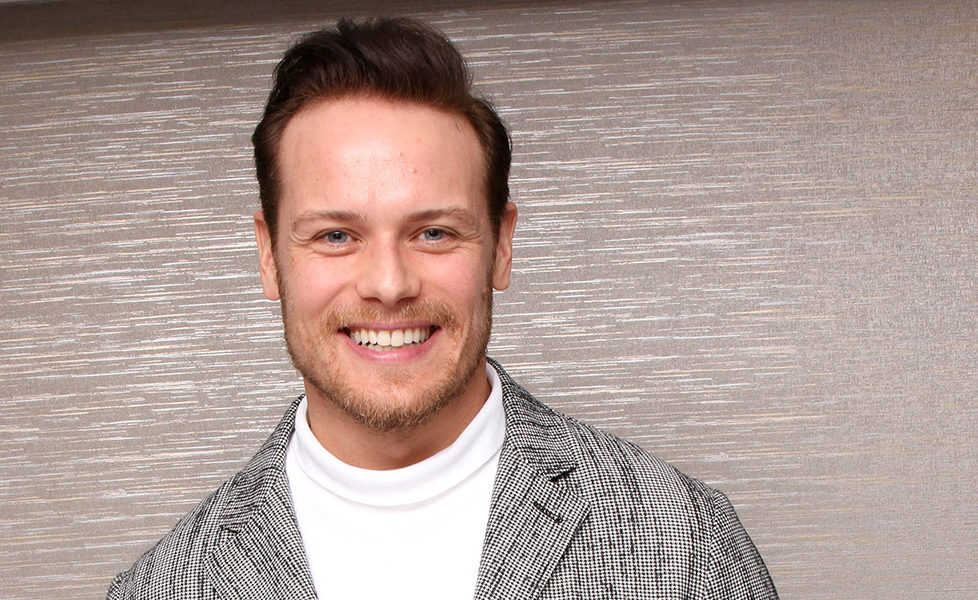 Image: Startraks Photo/Shutterstock
Best known for his role as Jamie Fraser in the hit drama Outlander, Scottish actor Sam has been going from strength to strength with a role in the recent Hollywood blockbuster, The Spy Who Dumped Me and is even rumoured to be in the running for the hotly debated Bond role! But how much do you really know about the star?
Sam Heughan Facts
Sam is actually a natural blonde.
Sam has become a social media sensation and has amassed 1.9 million followers on Instagram and more than 570,000 followers on Twitter.
Sam is a big supporter of Bloodwise and was announced as the charity's Scottish President in 2016. The actor also founded My Peak Challenge to fundraise to help beat blood cancer and inspire its members to live healthier, happier lives.
The shoes Sam wore in Outlander were specially made for his feet.
Sam's breakthrough role was in a David Greig play, called Outlying Islands, in 2002 when he was just 22.
When he starred in the theatre play Outlying Islands he bared his behind, and was complimented in a profile for his "rather pert behind"!

 

Sam spent several hours in make-up for the filming of the final episodes of Outlander Season 1. He said at that time: "The back scars alone are a lot of prosthetic work; it's a long process, three hours of rubber prosthetic latex, applied to the body and painted."

He once starred in a film called When the Starlight Ends in between Outlander filming – the independent film was written by his friend Adam Sigal, who also directed it.
During Sam's workouts in the gym to maintain his physique, Sam uses a resistance band, and was once quoted saying: "I do tailor my workouts… Also, I just discovered the booty band, and well, you might find one in my bag. It really works."
Sam's middle name is Roland.
For his role in Outlying Islands, which came to Edinburgh's Traverse Theatre, Sam was nominated for a Laurence Olivier Award for Most Promising Newcomer in 2003.
Sam was born on 30th April – he shares his birthday with Leigh Francis (aka Keith Lemon) and Hollywood actress Kirsten Dunst.
Sam was in the class of 2003 at the Royal Scottish Academy of Music & Drama (RSAMD) – which is now the Royal Conservatoire of Scotland – and graduated with a Bachelor of Arts in Acting.
The actor has won a whole host of awards for his role in Outlander, taking home the Anglophile Channel Awards' Favourite British Artists of the Year and Best Actor in a Television Series awards.
Sam appeared in three episodes of River City playing Livingston FC footballer, Andrew Murray, in the Scottish soap.
Ever thought Sam would make a good superhero? Well, he has already played Batman in a touring show of Batman Live in 2011-2012.
Fashionable Sam is the Global Brand Ambassador for UK clothing company Barbour, a position he's held since July 2016. Since then he has collaborated with the outdoor brand on three capsule collections, the most recent of which is out for autumn/winter 2018.
Sam said he felt like a "rock star" when he attended a fan event in Los Angeles after filming the first few episode of Outlander. He said at the time:"We got there and we'd sold 2000 tickets. It was like being a rock star. People had been queuing from 6am. I feel like I've stepped on to a rollercoaster and not got off it yet. That whole experience in America was quite an eye-opener."
Before Outlander, Sam was the star of a popular TV ad.  He starred as Hugh Tennent in the Tennent's lager ads to mark the brewer's 125th anniversary!
A young Sam was born in Dumfries and Galloway in the small village of Balmaclellan.
When playing the title role in Batman Live, Sam became a real-life hero for apprehending a thief at a London record shop! Sam made a citizen's arrest in HMV after pinning the thief down for 15 minutes until police arrived.
Sam is a "Scot to the bone" according to Outlander author Diana Gabaldon, who said of Sam: "Oh. My. God. That man is a Scot to the bone and Jamie Fraser to the heart."
Sam shares a similar upbringing to that of his Outlander character Jamie Fraser, as they both grew up on a Scottish farm.
Sam is said to have auditioned for the hit HBO series Game of Thrones seven times for parts including Renly, Loras and some of the Night's Watch members, coming close to getting a couple of big roles! He said this experience actually helped him secure the part of Jamie Fraser in Outlander: "maybe I was more confident…something about this [audition for part of Jamie] one just felt right. This part felt different. I knew this character. I felt a connection with him.
The 39-year-old was recently awarded an honorary degree at both the University of Stirling AND the University of Glasgow which recognised his outstanding contribution to acting and charitable endeavours. Amazing news!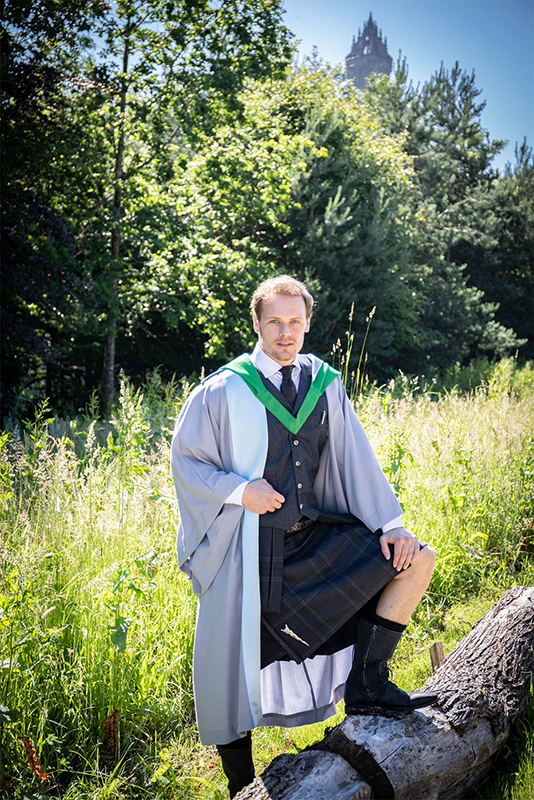 26. He has now launched his very own Scottish tartan!
27. AND a whisky called Sassenach Spirits – is there anything this guy can't do?
28. Recently we crowned him as No.1 on our Hot Scot List (after you guys voted in your THOUSANDS!)
29. His fave TV shows include House of Cards and Stranger Things.
30. But his all-time top show is… Star Trek. Ye, Sam is a self-confessed Trek-geek!
31. Sam was named after a Lord of The Rings character! During a radio appearance, the actor confirmed that his parents named him after Samwise Gamgee.
32. Not only is he licensed in fencing, but he also has a teaching qualification.
33. While he admits he's not the best singer in the world, the star can play the trombone and trumpet!
34. Ever wondered what Sam's handwriting looks like? Well, rumour has it that he writes in all capitals.
35. He was a pescatarian until age 24.
36. Sam only learned to drive at age 35. The first car he properly drove was a yellow Fiat 500!
37. The Scottish star was the first actor they cast in Outlander. Casting directors thought the first person they'd find would be Claire, but they fell in love with Sam from his first audition!
38. The actor says that the most useful advice he's ever received in his acting career is 'to always say yes'.
39. His favourite food is reportedly with eggs… which he eats with ketchup!
40. His favourite pastime is cycling in foreign cities. Copenhagen and NYC, in particular.
41. Sam's net worth is thought to be around £5million – pretty impressive!
Outlander fans can find out even more about the show in Outlander Country, available to buy now!