Sponsored: No.1 for Sustainable Shopping
---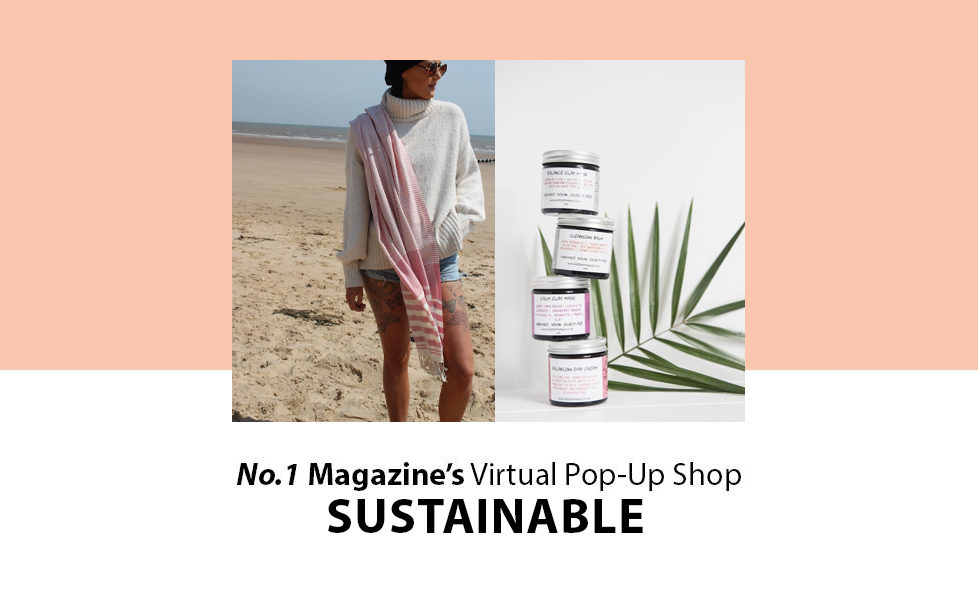 CHECK OUT THE FULL LIST OF BRANDS TAKING PART IN OUR VIRTUAL POP-UP SHOP HERE!
If you're in need of some retail therapy – but want to be sustainable while you shop – then this is the pop-up for you.
No.1's Virtual Shop Sustainable
Browse through No.1's favourite eco-friendly brands!
See something you fancy? Be sure to take advantage of these amazing discounts and deals!
—————————————-
Sustainability… Wouldn't it be great if we could all find easy everyday ways to reduce our negative impact on the planet?
Great news – we can!  Not sure what things to try?  Worried everything 'green' needs lots of extra care and effort?  Don't be. At Reuse Reuse, their mission is to help everyone be more sustainable with ease through their curated range of fuss free, high-quality, reusables.
And by everyone, they mean everyone – even kids; with a plethora of reusable products, Reuse Reuse aims to encourage both individuals and families of all shapes, sizes and ages to live more sustainably.
Browse through their website and you'll find great products for picnics, cleaning up, doing the weekly shop and even for the bathroom.
And they have now expanded their range of products even further to include beautiful eco picture books, natural stationery and eco gifts.
Emily, founder and raw chocolate maker at 'As Raw As' started her business as a way of giving her family delicious and nutritious healthier versions of the treats that they all enjoyed.
Their health and wellbeing – and her love of chocolate – are at the very heart of why she started 'As Raw As'; all of her products are free of refined sugars, dairy, gluten, soy and anything artificial.
The quality of ingredients used is key and all nuts and seeds are activated to ensure optimum nutrition; the realisation that it is possible to provide delicious treats that not only hit the spot with your taste buds but also nourish your bodies is very satisfying!
All packaging is also home compostable, biodegradable and recyclable too!
In a recent collaboration project, As Raw As has teamed up with Necta & Hive Honey to encourage the nation to invest more time and energy into nutritious treats; follow them on Instagram to find out more.
LittleLeaf designs bedding, pyjamas, babywear, hankies and homeware in gorgeous 100% organic cotton.
Everything they offer is certified by GOTS and the Soil Association, which ensures their products are of the highest organic and ethical standards.
This means no pesticides or other harmful chemicals are used, and everyone in the supply chain has been paid fairly and has good working conditions; every stage is regularly independently checked to ensure this.
Their organic cotton uses 91% less water and is made in a solar powered Fair Trade factory. As well as their clear environmental benefits, LittleLeaf Organic products feel wonderful – it's a step up in quality and you really can feel the difference.
It's simply Purer, Kinder, Better!
Wheesht is a skincare company with a difference.
In addition to supplying natural, vegan and cruelty-free products, they are firm believers in social responsibility. With an aim to give customers ethical skincare products they can use with a clear conscience, all their signature glass packaging is reusable.
Wheesht handmakes everything in small batches at their Stirling workshop before shipping.
They also make monthly donations to help provide water and education to girls in Cambodia, via their ethical partnership with Free to Shine.
PomPom is an independent retailer, bringing you original, fun and totally plastic free gifts and products for babies and children. Created by Cecily Henderson and Katherine Rhodes, the concept was born from the overwhelming amount of plastic entering their homes once their babies arrived. PomPom was a natural response to this; they wanted to bring the very best plastic free designs under one roof and make it easy and convenient to shop ethically, without compromising on aesthetics.
Sourcing products from around the world, Cecily and Katherine hand-pick items created by brands that love design and creativity just as much as they do; their desire to be free from plastic works hand in hand with their aesthetic.
As a purpose led business, they are proud to partner with the Marine Conservation Society, the UK's leading charity for the protection of our shores and coast; a percentage of their profits is donated to this worthy cause.
The company is based near to Cambridge, and ships throughout the United Kingdom and globally on request. ​
(excludes Climbing Triangles)
An eco-conscious store, born from a love of the outdoors.
This family run store began in 2017, with a mission to only sell plastic free, organic, natural and recycled products whilst supporting the environment.
This store sells apparel and accessories for the whole family, natural skincare, handmade wooden bodyboards that will last a lifetime, handmade Peshtamel Turkish Hammam towels, reusable drink bottles, organic clothing and a range of backpacks (and breathe)!
Not forgetting their Den Kit range for kids!
A nod to travel and adventure, days out and beach picnics – with an ethical and sustainable array of beautifully curated products – this company honours the beautiful craftmanship of the artisans who make the products.
Brand ethos: reduce, reuse and recycle!
This independent business aims to bring you products that will help you to become a little more eco-friendly.
Established in 2019, Bamboo Buds is striving to become a household name and your go-to store for any and all bamboo products!
This company endeavours to be kinder to our planet, and are excited for you to join them on this journey!
Be sure to read their blog to find out more about why and how they started.
Make and Create is a female led, socially conscious, creative company which focuses on using creativity for wellbeing.
Founded in 2018 by Dr Zoe Watson – a GP with a special interest in mental health,  Make and Create helps people use creativity as a way to quieten the mind and promote a sense of wellbeing. Through running workshops and creating thoughtfully designed craft kits, Make and Create brings creativity to the masses.
They also offer a range of unique, handmade gifts which are designed to boost confidence, encourage self-care or simply spark joy.  From hand poured, soy wax and essential oil candles, to empowering feminist jewellery – there's a thoughtful gift for everyone at Make and Create.
Share some happiness with Neve's Bees natural skincare and gifts!
Neve and her mother are Oxfordshire Beekeepers making a range of pure and natural skincare…with a little help from their bees.
Their range consists of award-winning Lip Balms (in 9 amazing fragrances), Hand Salves, Cuticle Butter, Foot Butter and Gift Sets, with new Aromatherapy Body Oils and Solid Perfumes coming soon.
All of their products are made here in their own workshop on the edge of The Cotswolds using only natural, sustainably sourced plant oils and butters blended with pure, natural, unrefined Oxfordshire Beeswax – nothing else needed!
Neve's Bees strives to be completely sustainable, with recyclable tine, gift packs created using recycled board, linen gift bags, and they are now moving to 100% biodegradable labelling on all of their products.
As well as this, they also donate 5p per sale to The Wildlife Trust to help preserve their beautiful countryside and the wildlife it supports.