Sponsored: No.1 Shopping for Beauty
---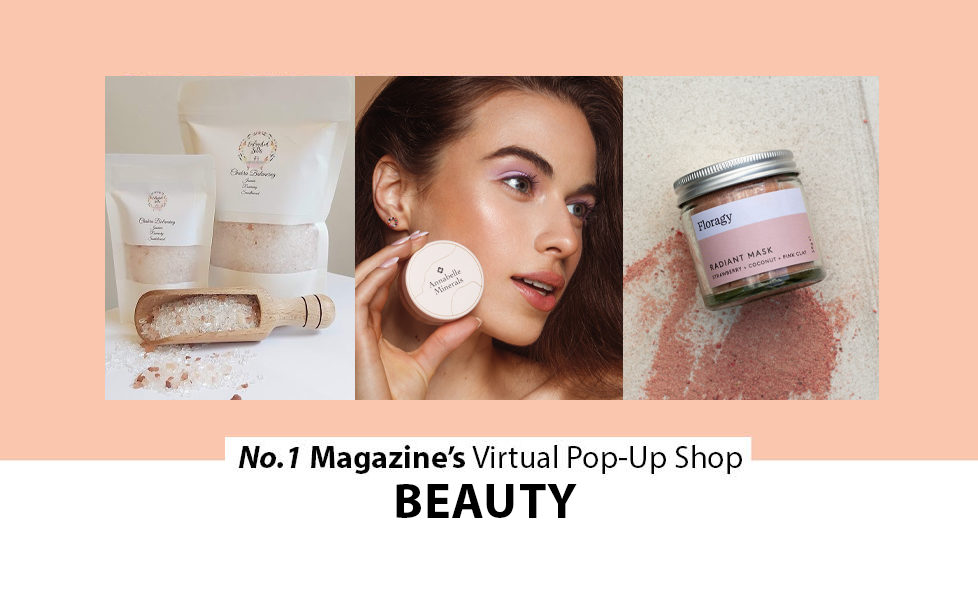 CHECK OUT THE FULL LIST OF BRANDS TAKING PART IN OUR VIRTUAL POP-UP SHOP HERE!
No.1's Virtual Shop Beauty
Look amazing, feel even better: these health and beauty brands have all of the ingredients for a perfectly pampered you!
Browse No.1's favourite make-up and skincare brands.
See a something you love? Make the most of these amazing discounts we have secured just for you!
—————————————-
Annabelle Minerals' cosmetics offer high-quality, natural makeup suited the needs of every skin type – from dry to oily and super sensitive; its mineral makeup is gentle and delicate even for those suffering from rosacea or hyperpigmentation – and gives you better coverage than many of the better-known brands.
Their foundations consist of 22 shades in three different formulas: radiant, matte and coverage. With so many shades in three different finishes, you're guaranteed to find the perfect shade to suits your skin's needs.
Annabelle Minerals will help you to create perfect, natural makeup-up look without clogging your pores – leaving you looking and feeling fresh and ready to go!
The products are also suitable for vegetarians and vegans.
"As a child I suffered from chronic psoriasis and as I got older I became more aware of what I was putting onto my skin and wanted to make skincare products from natural ingredients which would suit sensitive and dry skin types."
Out of this premise, dawsonbrown was born. For the creator, Leigh, it was about turning something that was negative in her life into something positive. Dawson and Brown were her grandparent's maiden and surnames and so her company is, in essence, a tribute to them.
Starting off by making soaps and body products, dawsonbrown has now branched out into candles and melts and has recently launched a sister company – Street Poet Jewellery.
A lot of the inspiration behind the products comes from a love of travel, scents and vibrant colours – find out more on their Instagram.
With vibrant and evocative fragrances inspired by – and proudly created on – the Isle of Arran for over three decades, ARRAN Sense of Scotland encourages you to create empowering connections with nature.
Indulge in their luxury selection of hand care, body care and home fragrance blends; from the fresh and floral notes of After the Rain, to the revitalising freshness of grapefruit and citrus in Glenashdale, discover a sense of Scotland with ARRAN's signature scents.
What are you waiting for? Have a browse through their website and decide which of their glorious scents you think would suit you and your home best!
(Cannot be used in conjunction with any other offer or promotional code.)
Babe, did you know that the average woman uses 1,300 disposable cotton rounds and face wipes every year. Over a lifetime, this is more than 88,000 disposable face pads thrown away… and a single disposable round takes 100 years to decompose… Need we say more?
At Bambu Babe, they believe in a better way of living – keeping up with your current skin care routine while simultaneously doing your bit for the planet!
To help you do just this, they have created luxurious bamboo velvet face pads which can be re-used again and again. Super soft and suitable for all skin types, this is a simple, reusable swap that you'll love instantly.
"Bambu Babe have created the softest, loveliest, reusable, re-washable, pads made from bamboo…these are a must have" – Leanne's Beauty Blog.
KL CBD started as a conversation between two friends, Kim and Lou. Both working mums operating in the same salon, they would pass the time by discussing their respective daily lives.
One day, the conversation turned to the benefits of CBD and how it could potentially change peoples' lives for the better.
From there, they began carrying out extensive research and developed the products you can see on their website today!
Constantly on the look-out for new ideas for products, Kim and Lou are on a continuous journey to find new and exciting products to add to their ever growing range.
Single mum and Reiki Master Teacher Elina, who loves energy healing, spirituality and holistic health, started Enchanted Salts in 2019 as a way of fulfilling her own dreams as well as helping others in the process.
She specialises in providing healing energy through bath salts which are lovingly made by hand in East Lothian using ingredients which are responsibly sourced, vegan friendly and cruelty-free.
With blends infused with essential oils and charged with Reiki healing energy, these salts will not only detoxify and relax your body, but also help you to remain balanced emotionally.
Elina also offers Reiki distance healing sessions and can custom make salts specific to your personal requirements.
Producing a range of skincare products, Floragy prides itself on working in total harmony with nature.
Perfectly balancing their formulas using minimal ingredients and only the best oils from fruits, seeds and plants, ensures this brand's products contain the optimum nutritional properties for your skin.
Striving to promote their belief that small actions can make a big difference, Floragy avoids using any unnecessary packaging for their products and use sustainable materials where possible.
Handmade in small batches in Kent, their products are free from parabens and sulphates, are vegan friendly and are lightly scented with essential oils to truly capture the essence of nature.
Floragy is a simple but highly effective range of skincare which compliments a clean lifestyle!
Temple de Luna is an up and coming, small-batch, natural cosmetics company based in Glasgow. Their luxurious skincare products are vegan, cruelty-free and handmade with loving intentions using high quality, ethically sourced ingredients.
With a focus on being eco-friendly, Temple de Luna strives to be environmentally conscious every step of the way, from product to packaging!
Born from creator Rebecca's own experience with acne & psoriasis, Temple de Luna puts a strong focus on embracing, loving and looking after your skin, with a little help from Mother Nature!
Everyone has a skincare story to tell, and at Temple de Luna it's possible to experience the luxury of incredible skincare products, which truly work, using only natural and vegan ingredients.
This gorgeous, effective skincare helps to manage the damaging impact of stress, air pollution, and other modern-day realities on your skin's radiance and vitality.
As a brand, they believe such factors are the key to so many of our skincare issues; whatever your age or skin type, they are the daily constants that damage your skin's precious barrier and prevents your complexion and your mind-set from being their best.
Freya + Bailey helps you to build stronger, more resilient and even more beautiful skin – while enjoying the journey – with super-natural ingredients that work with your skin's own chemistry and therapeutic aromas.
Also striving to be part of something bigger, Freya + Bailey and proud of their eco-values and carbon offset programme (they plant 15 trees for every employee!); they are mindful with their packaging and a portion of their profits are sent to causes which reduce stress in our communities across the country.
ishga is a certified organic skincare range, sustainably sourced and made on the Isle of Lewis in the Hebrides.
Blending mineral-rich potent seaweed extract with organic ingredients and essential oils, its natural, results-driven products and professional spa-treatments are found in some of the UK's leading spas including Glasgow's Kimpton Blythswood Square, Fairmont St Andrews and Coworth Park in Berkshire.
The word ishga is derived from the Gaelic word for water and infuses healing spring water with a potent extract of Hebridean seaweed with scientifically proven results.
Hebridean seaweed contains a host of polyphenol antioxidants, vitamins, minerals, trace elements and amino acids which nurture and protect the skin.
Their line includes the hero products: Antioxidant Marine Cream and Hebridean Sea Salt Scrub.
(This code is valid until the end of August)
Solasta Skin is a natural, skin and body care brand inspired by the beauty of nature; all products in the range are made with a number of healing plant oils, earth grown exfoliants and dense fruit extracts.
Each and every product is handmade and packaged by Jess with great care and love, with a business mantra of "nourish your skin – nurture mother earth".
The brand was developed by combining her deep respect for the planet, her vegan beliefs and her love of skin care.
Solasta Skin encourages people to practice self-care (even when they are busy with multi-purpose products) and also aims to promote the wonders of natural skin care ingredients.
Breedon Perfumery is the home of all things smelly; from perfumes and aftershaves to bath-bombs and home fragrances!
A family run business, they are committed to ensuring that their customers feel, look and smell amazing, while delivering affordable, quality bath and body care.
They have a retail shop on the high street in the beautiful Cotswold town of Witney, Oxfordshire and you can also browse through all of the smelly goodness they have to offer on their website.