Sponsored: No.1 Shopping for Homeware
---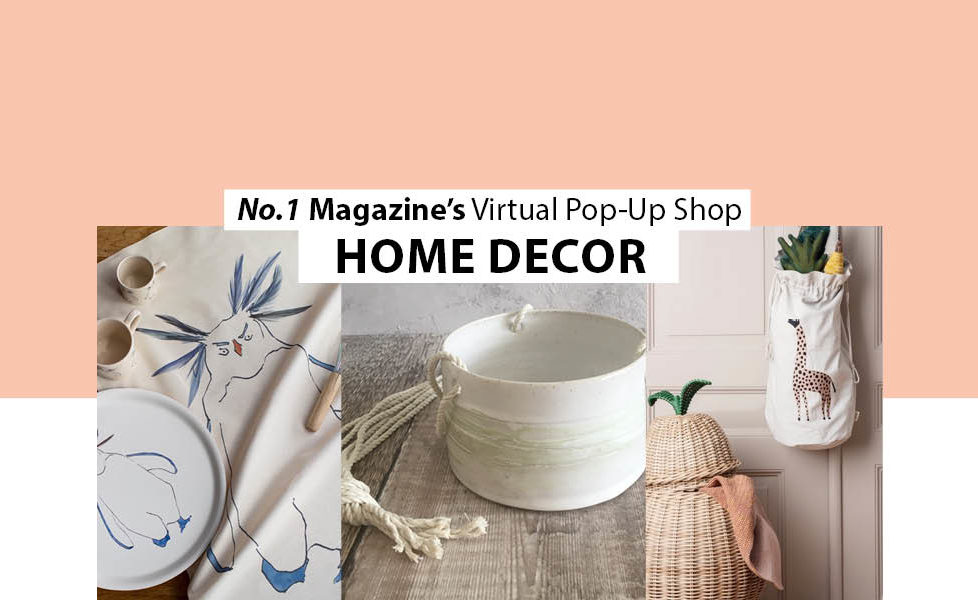 CHECK OUT THE FULL LIST OF BRANDS TAKING PART IN OUR VIRTUAL POP-UP SHOP HERE!
We love, love, love interior design here at No.1, so this particular pop-up shop has got us especially excited. It's got it all – from luxury bedding, to kitchenware and fabulous prints and paintings to match.
No.1's Virtual Shop Homeware
Browse through No.1's favourite homeware brands
See something you like? Put it in your basket and claim your discount!
—————————————-
Cluck Cluck's range of quirky bird designs can be found on cards, prints, gifts & homewares.
This unique and humorous bird inspired collection is designed by artist Victoria Hall from Suffolk with all products made in the UK. The prints and cards are hand finished with real feathers featuring hens, pheasants, penguins, pelicans and more!
The ceramic cream ware comes in three ranges of hens, pheasants & penguins. The kitchen textiles come beautifully packaged, making a perfect gift, or you could always attempt it yourself using the colouring books with feathers!
Lighting up your happy place; FairyDusk are specialists in decorative lighting for your home, your garden and for gifts.
Whether you are looking for some glow in your garden or some sparkle in your home, you'll find something that works for you in their online store, stocking an extensive range of solar, battery and mains powered lighting.
This is the go to destination for decorative LED lighting.
(excluding the Mediterranean Collection)
LivvyB is a new ethical company which designs bedding and accessories alongside adolescents and young adults who are facing challenging times in their lives.
Their aim is to promote confidence and boost self-esteem through the creative process – the young adults help to create concepts and take drawings through to the production process and are paid for their work.
LivvyB also donates 10% of their sales to Mind charity.
Additionally, all of their products are sustainably produced and are made in factories supporting local communities in India.
100% Cotton, 200TC.
With her distinctive black and white bird designs, Sandra Vick aims to bring art and nature into your home on her elegant gift and home ware ranges.
By selling everyday products, like mugs, jugs & candles, Sandra Vick's aim is to make having art in your home more affordable; all designs are based on original paintings.
With a passion for the environment and a desire to raise awareness of beautiful birds in the UK, she uses recycled, biodegradable packaging.
Boxed in recycled card boxes and protected with paper made from old coffee cups, her products make a wonderful gift.
All birds depicted are found in the UK – from the popular puffin to the migrating swallows shown on wires.
Maisie Moo Interiors is an online retailer with a wide range of rustic and country style interior décor accessories.
They stock a variety of products from candle holders and lanterns to blankets and wall art – ideal for styling any room in your home.
Have a browse for yourself or a loved one!
Sarah Leask Studio specialises in watercolour illustration on gifts and homeware products. Her designs are inspired by her island heritage and Scottish culture. Best-selling pieces include her Scotland watercolour map print in her signature rainbow colour scheme, Scottish gin tea towels and coasters featuring Scottish islands and wildlife.
Her colour palette is playful and bright and her intricate details and artistic flourish are what set her artwork apart. Sarah also does commissions, including pet portraits and wedding stationary; feeling that they are so much more personal, this enhances her experience as an artist.
A mix of wall art, stationery and homeware, this Scottish artist's work is not to be missed.
Rosie Hay Ceramics is a relatively new small business which was started by Rosie, based in South Queensferry near Edinburgh.
Joyously creating wheel thrown and slab built pottery pieces from her home studio, each piece she makes is handmade and therefore unique in itself.
Having attended pottery classes over a few years, her love of making grew more and more and at the end of 2019, she had her very own studio built in her garden, which brought about the beginnings of Rosie Hay Ceramics.
Making pottery is such a calming meditative experience for many, and Rosie, who hopes to be doing so for years to come, is looking forward to the journey on which it takes her.
​To follow her pottery journey you can find Rosie on Instagram and Facebook.
Born out of a love of natural materials, functional design and great craftsmanship, Swedish House offers a very personal, thoughtful and considered collection of sustainable, beautifully made and timeless items for the home and personal wellbeing.
Their vision is to encourage a buy less, buy better approach when it comes to shopping, where today's treasures will become tomorrow's heirlooms.