Sponsored: No.1 Shopping For Jewellery
---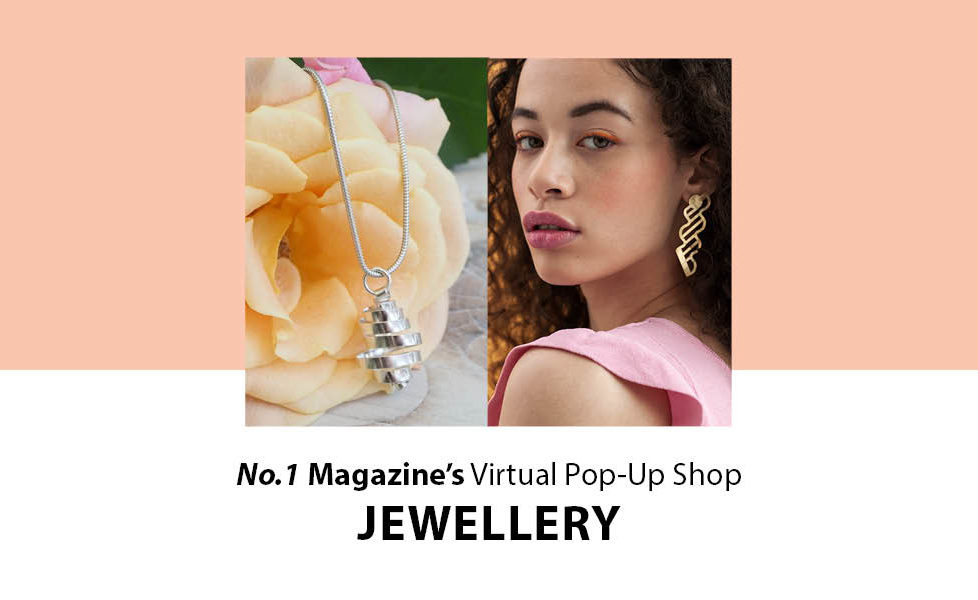 CHECK OUT THE FULL LIST OF BRANDS TAKING PART IN OUR VIRTUAL POP-UP SHOP HERE!
Statement earrings? Check.
Delicate chains and dainty charms? Check.
Chunky rings and stackable bracelets? Check.
No.1's Virtual Jewellery Shop
Browse through No.1's favourite jewellery brands.
With lockdown beginning to ease, it's the perfect time to treat yourself to some snazzy bling to brighten up even the simplest of outfits. We are so excited to get our hands on some of these goodies!
—————————————-
Eco conscious Hannah hand-makes her silver jewellery using sea glass found near her home on the Isle of Wight. All the sea glass which she recycles into her gorgeous pieces is exactly how it was found on the beach.
It can take hundreds of years of being tumbled by the ocean for sea glass to acquire its perfectly smooth, frosted texture and rounded shape which is why every piece of Hannah's jewellery is so unique.
The true value of any gem is not only in its beauty, but also its rareness and colour. When it comes to sea glass, red is one of the rarest colours you can find; its fiery tones would have been achieved by adding flecks of real gold to molten glass.
Hannah is often approached by clients who have found their own special pieces of glass on the shored of Scotland, and she enjoys turning these into original commissioned pieces, which can be worn and treasured for years.
Nmarra's range of bold brass statement earrings frame the face in warm metallic tones. The graphically led designs explore shape and balance, creating eye-catching compositions next to the wearer's face.
These lightweight statement pieces are inspired by architectural details, ancient ruins and folk art. Dress up your ears with playful brass designs for instant outfit joy or send a shiny treat directly to a friend in the post.
All pieces are designed and hand finished in Glasgow, working with Scottish, UK and European suppliers. The striking earrings are made from brass and feature gold plated hooks, stud posts and backs for comfort and range from £22.50 to £26.50 per pair.
Get ready for a barrage of compliments as these bold earrings never go unnoticed!
Delicate silver jewellery inspired by the beauty of the Great British countryside.
Handmade by Anna in her small workshop, each piece is inspired by nature and the gorgeous landscapes she sees when walking her two dogs.
Her designs combine classic shapes with modern twists, making each piece suitable for all ages.
Have a browse, you won't regret it!
Bonnie Roo Designs began as a lockdown love project and has now evolved into an exciting side-hustle, launched early July.
Bold, bright and bonnie – these earrings will liven up any outfit, day or night; the Bonnie Roo style aims to bring you joy and an added level of confidence, going out into the new, post-lockdown world: "New you, new me, new us."
Bonnie Roo Designs drops new collections weekly on their Etsy page to keep all of their vibrant goodies stocked up. Run don't walk, and let's get shopping!
Lucy Stevens began her own jewellery business after attending a ring making workshop which was given for her 30th birthday. After the classes, Lucy felt inspired and began online courses on perfect her technique.
Lucy ensures that every piece of jewellery she makes is something which she would love to wear herself; her business was born from a struggle to find the exact style she wanted in other shops.
After sourcing excellent quality gemstones with both a meaning and healing properties to their name, she fell in love with the concept of creating something beautiful and potentially helpful to people in some way, and her business was born!
Starting out with support from family and friends, L Stevens Jewellery soon grew from the impressive support Lucy gained on social media with the help of excellent word of mouth from her returning customers.
Angel Rocks is a British luxury accessories brand, with a rock n roll vibe and free spirit.
This season's collection is a compelling and lust-worthy mix of necklaces and bracelets, hand-made from solid silver and 18k rose gold.
Angel Rocks believes jewellery is designed to be layered, stacked and mixed, so you can wear your look from morning to night – whatever the occasion!
Their mantra of 'Confident, Unique and Individual' is embodied in each of their pieces, together with a passion for craftsmanship and obsession with quality and detail.
The perfect blend of intention and inspiration has gone into each creation.
Karen Duncan is an Orkney jeweller who comes from a long line of craftspeople. She was the first jeweller in Orkney to become a member of the Guild of Master Craftsmen, in recognition of her silversmithing skills.
Inspired by the shapes and textures of the Orkney landscape and its rich heritage, Karen creates distinctive and beautifully finished pieces, which incorporate geometric shapes and intricate detail.
From her workshop on the island of Burray, Karen develops new designs and applies her keen eye and craft skills to making one-off commissions and remodelling existing pieces.
Karen's versatility, understanding of materials and attention to detail result in jewellery made with passion, care and precision, delivered from her home to your home.
MisGraceful Jewellery is an independent brand based in Shropshire. It was created by Mum and fashion lover, Lorna, in a bid to bridge the gap between High street and luxury brands.
It offers beautiful, on trend, affordable pieces that are designed to be worn every day. Layer and stack your pieces to create your own unique look!
Be sure to check out their Huggie Earrings, of which they offer a fab selection – your ears will LOVE you!
As they only ever use quality materials including sterling silver, stainless steel, 18K gold plate and sparkling crystals, you are guaranteed to be completely satisfied, whatever you purchase!
This year has seen the addition of handmade seed-bead bracelets, shells and bright and beachy pieces to make your summer collection pop!
Here you will find a collection of bold, bright and beautiful pieces of ceramic jewellery, hand crafted by Jaime Duncanson in Stirlingshire.
All statement pieces are created from earthenware clay and draw design inspiration from two key elements – bright colours and minimalist style.
Tied with Twine combines geometric shapes and bold colour palates to create accessories to pair with any wardrobe.
Each and every piece is carefully hand shaped, glazed and kiln fired and due to their handmade nature every accessory made is truly unique.
Tied with Twine is committed to making affordable, beautiful and long lasting jewellery and accessories to be worn and enjoyed each and every day.
Handcrafted sterling silver jewellery with the occasional splash of colour from a gemstone.
These simple and elegant designs range from simple pendants which go with any outfit, to vibrant statement pieces to brighten up your look.
Turn heads in this unique and elegant jewellery, or treat a loved one to something special from Trish Young!
Having made jewellery for as long as she can remember, Jess Metcalf now makes and sells her gorgeous pieces around Wales. Her jewellery is handmade using sterling and fine silver with the occasional sprinkling of gold and gemstones.
Not only does she have a wide selection ready to buy, but she welcomes commissions and enjoys a challenge!
Due to the intricate handmade nature of her work, every little Piece of Pretty is different – no two will be the same, which is something that makes it even more special; a unique treasure for you or a loved one.
Karen from PonyPonyPony creates one off pieces of eco-jewellery using recycled sterling silver, making it sustainable without compromising on quality.
Every piece is handmade, unique and intricate with individual with textures, oxidisation and quirky stones. Browsing through their site, you'll find quirky earrings to brighten up any Zoom call, as well as chain mail knot bracelets and statement rings.
Have an idea in mind but can't find what you want in any shop? Pony Pony Pony love to create custom pieces for their individual customers – just get in touch and tell them what you fancy!
They also offer a "Ring in a Box Kit", which allows you to send a loved one everything they need to have a custom ring made – much more fun than your run of the mill gift voucher!
Beautiful and colourful glass jewellery melted and formed by hand in Edinburgh.
Helen's technique, known as lampworking, dates back to Ancient Egypt where oil lamps were the prominent heat source for melting and welding jewellery.
This particular art of jewellery making has a rich history in various ancient cities, including Murano and Venice, and has enjoyed a recent resurgence across the Globe.
Enlighten yourself in the beautiful art of lampworking while browsing through Helen's online store.