Sponsored: No.1 Shopping For Fashion
---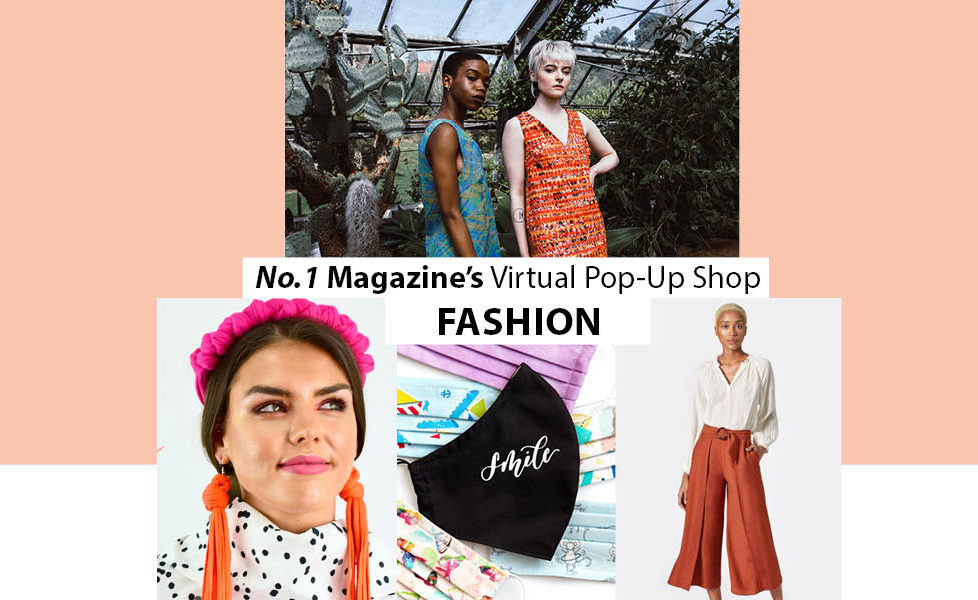 CHECK OUT THE FULL LIST OF BRANDS TAKING PART IN OUR VIRTUAL POP-UP SHOP HERE!
Statement handbags, pre-loved vintage goodies, professional sportswear, handmade one-of-a-kind scarves and so much more! We are so excited to be working with each and every one of these fabulous fashion brands.
No.1's Virtual Shop Fashion
Browse through No.1's favourite clothing and accessory boutiques.
These discounts are now live… so, what are you waiting for? Fill up your basket!
—————————————-
As a fast fashion boutique, they are your one stop shop, from comfy casuals to brunch outfits and items perfect for you going "out out" too!
Their majestic stock is updated regularly, so if something catches your eye don't hesitate to put it in your basket – avoid missing out as many items will not be repeated!
The new kid on the online retailer block, Kiwi Killer is a Glasgow based brand, run by local girls.
This style led, sister loving, customer orientated site has everything a fashion lover could wish for – graphic tees, sleek blazers, casual dresses, gorgeous blouses, and accessories to make any outfit pop.
Follow them on Instagram to find out more about what they have to offer.
Before Sally Textiles & Design is an independently run fashion label focusing on bold and bright patterns on sustainable textiles. The textile & surface designer behind the brand designs & creates beautiful clothes that are made to stand out from the crowd. Each piece is unique & made independently by creative Emma, sourcing materials and fabrics that are exclusively made in the UK.
She has recently released a homeware range, creating beautifully colourful ceramics & cushions in prints that tie in with the boldness of her clothes. As we approach the warmer months she has already showcased parts of her capsule summer collection with more new releases on the way.
Each piece is consciously made with sustainability in mind and built to last in your wardrobe. Find them on Instagram and have a scroll!
Reazzon (pronounced reason) believes that clothes are far more than just seasonal trends; they represent our personalities, what we believe, and can also portray our VALUES.
What is your reazzon for wearing what you are wearing? This company sells t-shirts which are comparable to a blank canvas – allowing you to wear your values on your t-shirt.
As well as launching quarterly limited-edition collections on relevant and recent themes such as Racial Equality, Gender Equality and Climate Change, all of these tees are made from 100% fair trade organic cotton.
Cover Appeal, run by sisters-in-law Tan and Sal, is an online Boutique whose mission is to bring joy back to your wardrobe!
They want you to embrace the joy in dressing up – or down – whatever your age!
Helping women who may be stuck in a style rut, they take the stress out of shopping and hope to encourage their customers to have fun in the process.
Doing the legwork for you, Tan and Sal keep you up to date with a mix of styles from classic to seasonal key trends, carefully selecting the most exciting and unique pieces for you to browse at your leisure.
Lorna Quinn has owned The Dress Shop – an iconic boutique renowned in Glasgow – for 25 years. Now, with lockdown easing, Lorna is delighted to have opened the shop doors once again whilst simultaneously offering her stunning collections online.
As summer is now upon us – and with its flurry of different weather forecasts – Lorna has a style to suit everyone and every day! And to further benefit her customers, the entire shop now has 30% off – available both online and in store!
Lorna's clear fashion direction has inspired woman from all over the country; if anyone would like some fashion assistance, Lorna is just a call, DM or visit away. Enjoy this season's discounts and treat yourself – economy – by shopping local.
Harris Blu Sportswear is an online active wear store which sources unique, high-quality sportswear brands from Australia and the US, bringing them together right here in the UK.
Born from a passion for working out and feeling good while doing it, this should be your go to destination for stylish sports gear.
Whether you are looking for a new squat proof set or are in need of a new staple legging for your down days, where better to start than with the most exciting brands from around the world?
Working out or lounging in, Harris Blu has got you covered.
Harris Tweed can only be handwoven at the weaver's home in the Outer Hebrides of Scotland. It is the only fabric in the world that is governed by its own act of Parliament and the only fabric produced in commercial quantities by truly traditional methods – it's as authentic as it gets!
Double width Harris Tweed (150 cm wide) is available from as little as a quarter of a metre (25 x 150cm), and is perfect for clothing, soft furnishings, upholstery, a d craft work projects!
With a wide range of Tweed cloth, ladies and gents clothing, Harris Tweed bags with genuine leather and matching accessories, there is plenty to choose from on their online shop.
If you have any queries or questions, don't hesitate to call them on 01859 502040 and their team will be more than happy to help!
A carefully curated edit of designer clothing, shoes and accessories from all your favourite LUXURY brands such as Isabel Marant, Stella McCartney, Rixo, Victoria Beckham, and so many more!
Shop the best collection of luxury wardrobe staples and special pieces, all at up to 70% off the RRP.
Hand-picked pre-loved collections that are timeless, classic and in immaculate condition, allowing you to say 'no to fast fashion' and start to build a sustainable, luxury wardrobe for a lot less money!
If you need a little help finding your sustainable style, book a Virtual Personal Shopping consultation with The Pod and they'll help you to build a wardrobe that works for you – season after season, year after year.
"Bags lovingly made by our family for yours."
Annie with ALEX is a mother/daughter collaboration, designing and creating contemporary bags that fit into your – and your family's – lifestyle.
Their bags are designed with multiple uses in mind, so that they can be used for not just one occasion, but many. For example, their classic waterproof storage bag – perfect for your bathroom essentials, or turn it into a shopping tote bag, or even a beach bag! You can even reverse it for a different look altogether.
Made out of Cotton Canvas, French Provincial Linen & Luxury British made Wool, all of these bags are washable so that you can keep them just as fresh as they day you buy them for years and years to come.
Hand Made in Hertfordshire.
'Editing life with a splash of Colour' is the company mantra behind The Colourful Edit, founded in 2015, by Stylist Lauren Kate Jamieson.
The Colourful Edit accessories add a pop of colour and a splash of style to your outfit to make it totally your own. Lauren's handmade creations have been designed out of a passion for colour and feeling stylish and looking unique. She believes the key is to dress your neck in colour, which in turn will unlock and enhance your natural features. Each style has been specifically created with the female shape in mind, so there is a specific elegance to every shape.
All these colourful designs are handmade from recycled cotton, so not only will they leave you looking great, but you can feel happy in the knowledge that you are purchasing something totally sustainable.
JAX Jeans Boutique is an online, stylish, go to shopping destination for the perfect luxe smart casual look.
Their eclectic range of beautiful quality clothing showcases an 'elegant with an edge' style for both men and women.
Stocking designer jeans, cashmere, silk tops, stunning dresses, shoes, bags and jewellery from all over the world ensures that there is always something available for everyone that is fresh and original.
All brands are handpicked by owner Jax Meehan, a stylist for over 15 years who is always on hand to answer your style, fit and fabric questions.
JAX Jeans are looking forward to welcoming you to their website, and should you have any queries, don't hesitate to contact Jax via their social media channels… Happy Shopping!
Mirka is a bridal wear designer with experience spanning over 30 years. They create bespoke wedding attire and offer a truly personal experience for each and every one of their customers.
During lockdown, Mirka launched NHS Scotland For The Love of Scrubs and brought together hundreds of garment makers across the country to produce over 10,000 sets of scrubs for NHS and care workers in Scotland.
She has now diversified her business and is making reusable face masks for individuals and businesses across the UK.
Browse through Mirka Bridal's eclectic mix of washable face coverings – you are sure to find one to fit every outfit!
Woolly Pigs is created by Linda Roche, a lifestyle blogger and content creator from Ireland.
They are all 100% handmade knitted items – each personally and lovingly created by Linda.
In 2019, she decided to take her passion for knitting to the next level and share it with the whole world!
As they are all handcrafted there will never be too many of each item- each is limited edition; the aim of Woolly Pigs is to share beautiful unique knitted items that can't be bought on the high-street.
"I want everyone who purchases a Woolly Pigs product to feel special and the love that went into creating it for them. Made with love, from my home to yours." – Linda
Ruby Kite is an independent British brand, founded by designer and printmaker Tamara Williams and Joy Leese, which specialises in luxury silk and cashmere scarves and accessories.
Having spent over 30 years creating and designing for brands worldwide, they thought it was time to turn their truly individual artworks into unique statement pieces themselves.
Inspired by nature, their ideas always start with drawings, from a love of composition and visual space through to the energy and freedom of abstract line work. Unique textures are explored through different printmaking techniques, including gypsum, which translate beautifully onto each scarf before printing in small batches.
Ruby kite is always original with limited editions that stand-out in a world of mass production.
Toria Lee is a lifestyle brand based in Marlow Buckinghamshire selling handmade and sustainable sweatshirts and tees, hair accessories, jewellery, cosy knitwear and socks, sparkly shoe laces, cashmere and so much more!
This fabulous boutique is full of treasures – browse through their online store today and keep up to date with their latest additions on Instagram.
Based in Gourock, West of Scotland and established in 2009, Parma Boutique sells fashion gifts and accessories which are classic and timeless. Operating exclusively online, they select and supply quality key wardrobe staples which will last a lifetime.
Browse through chunky knits, floral summer dresses, face masks, hair accessories and more!
If you love what you see, check out their sister company, Parma Vintage, which strives to mix vintage finds with modern pieces to create fun and unique outfits. Shop their collection on Asos Marketplace!