Paige Turley: 'I Am More Loved Up Than Ever'
---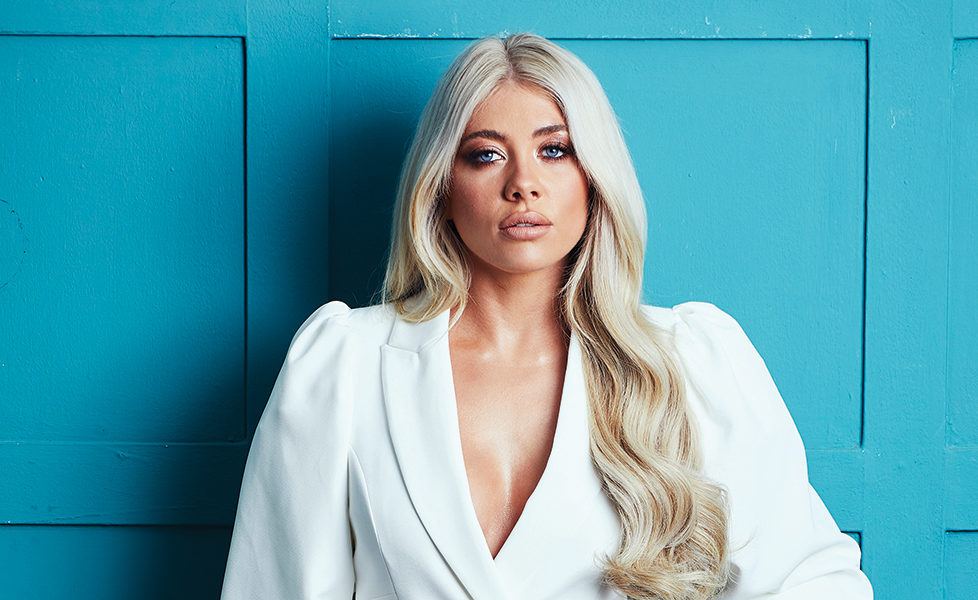 Image: Nicky Johnston
Since Paige Turley, 22, won Love Island earlier this year, she's won over the nation's hearts…
Paige Turley Interview
The West Lothian-born star was once simply known as an ex BGT contestant and 'Lewis Capaldi's ex' (the one he supposedly wrote Hold Me While You Wait about), but now she's rightly making headlines in her own right. Not only is she a reality TV show winner, but she's also ready to challenge her ex in the charts by getting into music, all with a new beau in tow.
Having met in the sun-soaked villa, Paige and boyfriend Finley Tapp, hit it off right away and even survived the wild-card of Casa Amor. They were crowned the winners and, unlike many Love Islanders, Paige and Finn confidently say their love is set to last. But they faced another challenge after being forced to spend 24/7 together (again!) during lockdown.
We chat with Paige about how the show prepared her for close proximities, what she loves most about Scotland and why she's still finding it difficult to get her head around her new fame…
It feels like a lifetime ago that we left the Love Island villa – so much has happened since then. Things were a bit of a whirlwind at the beginning. We were going to a lot of events and photoshoots, and people would even come up to us in the street and ask for a picture. It was so surreal!
We still keep in touch with the other contestants. Shaughna [Phillips] and I message nearly every day and Finn's got a group chat with the boys. We got really lucky this year though and made some great friends. It's nice to keep in touch with people who know exactly what you've been through. It's one thing explaining the experience to other people, but when you're chatting with those it's nice. They're the only people who can understand it all.
Love Island definitely gave us some experience with being cut off from everything. We've had good practise for lockdown but things are a little different, I guess. In the villa we weren't allowed a TV or our phones, but in Scotland we don't have the sunshine or a beautiful pool to relax at!
Until now, we've been living out of a suitcase and in hotel rooms. So it's been nice to get a bit of a break, go home and see my family again. It was hectic to say the least. We've not even had a chance to spend our prize money yet as we actually received it during lockdown. We've not even been on a shopping trip or anything. I bought a MacBook though, but that's as far as we've got. It's burning a hole in my pocket a little!
I've also introduced Finn to yoga which he loves – I'm kidding, he's as stiff as a board! But it's good fun. It's been a mix of YouTube tutorials and apps that we've been using. I used to go to Hotpod Yoga in Glasgow and one of the instructors emailed me to say they're offering online classes. It's a good way to spend an hour of your day! Plus, it's always nice to support local businesses, especially during an unusual time like this.
I'd say we're more loved up than ever during lockdown, but Finn might say differently! We're still in the honeymoon period of our relationship and we started our journey in close proximity, so I think it would be harder for us to be away from each other for ages. The only problem I've found is that Finn needs a little bit of a shove to help do the chores!
Before lockdown we didn't really get a chance to see much of Scotland together. We were just so busy and Finn only really visited Scotland once beforehand. He visited for a weekend and we went to Edinburgh, and the second time he came to visit was for lockdown. I can't wait to show him around Glasgow though, that's where you have the best night out!
I'm now planning to focus more on my singing career. Music is definitely what I want to venture back into. With the spare time I've got right now, I've been writing more and it's nice to reflect. I've got a lot to write about. I also can't wait to get to the studio and record, but I won't be rushing into anything though. I think it's got to feel good and sound right, I need to be 100% happy with it.
Hopefully Lewis [Capaldi] will give me a few tips if I need it. He's certainly bashing out a lot of number one hits anyway! I'd be in very good hands, that's for sure.
My life has completely changed since being in the public eye – I feel so naïve to it all. My papa is so sweet – he cuts out every newspaper or magazine that I've ever been in and keeps it for me. He always says, 'I'm collecting them for you for when this is all over'. It's insane! I see myself on the front of magazines and it still hasn't clicked that it's actually real and this is my life. I just feel like a normal girl!
Make sure you never miss a copy or any of our exclusive interviews! Why not treat yourself to a No.1 magazine subscription here…