The Doctor Working On A Coronavirus Vaccine
---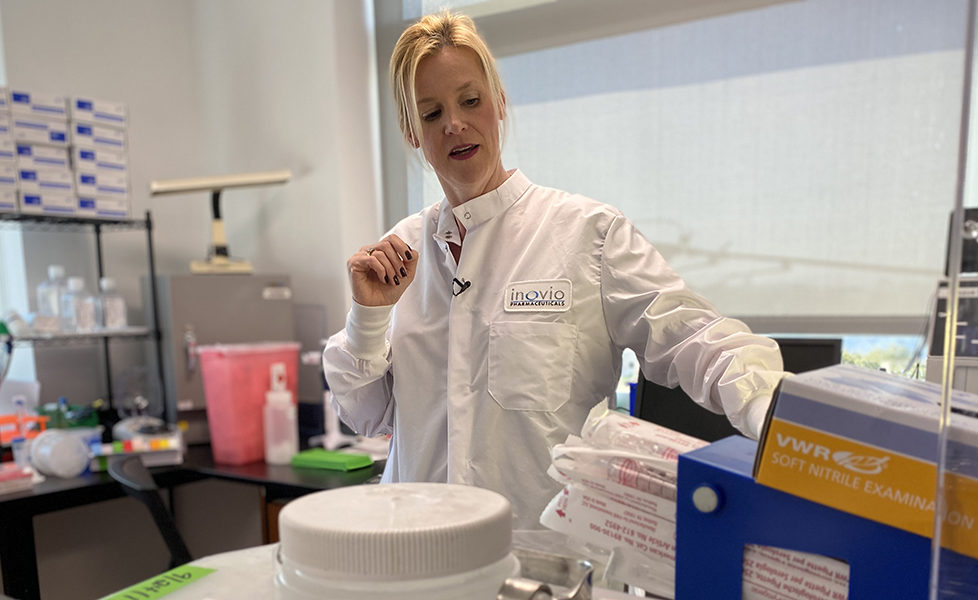 Image: Tarryn Mento / KPBS News
Dr Kate Broderick, 42, is the senior vice president at Inovio Pharmaceuticals in San Diego.
Doctor Working On A Coronavirus Vaccine
I oversee a diverse team of scientists, bioengineers and manufacturing experts. I'm lucky to work with such dedicated people – it makes my job really exciting and enjoyable. I've always been fascinated by science and medicine, so helping to find the coronavirus vaccine has been very rewarding.
I moved from Dunfermline to San Diego for a job at the University of California. I hadn't planned to stay but things changed and I applied for a scientist position at Inovio 15 years ago. I love that I get to help change lives for the better.
However my job can be very fast paced with long hours. At the end of a particularly hard day, I usually vent with a bottle of wine!
Every morning I get up at 4am. I start my day off with yoga, have my breakfast with a cup of tea and then head off to work for 5am. I spend most of my morning catching up on emails or meeting with the team on where we're at with medical developments.
The funding boost from the UK government to Inovio to help develop a coronavirus vaccine has been a massive help. Vaccine development in general is very expensive, but trying to do it quickly and under really difficult conditions, such as the pandemic, makes it even more challenging. But the additional funding from our supporters is unbelievably helpful – it helps us get closer to the vaccine quicker. Every investment helps bring forward the date that the vaccine is ready. That's when we can help save countless lives.
I think people find my job interesting, especially during the current crisis. I get a lot of questions about when the covid-19 vaccine will be ready. However, it can be difficult telling them it will still take a while yet. The person who asks me the most (usually on a daily basis) is my sister because she always comes to visit me in California for her holidays! Joking aside though, we are working as hard as we possibly can but realistically we can expect the wait to be 12 months.
We need to get this vaccine to the people who need it most. In my mind that is frontline medical staff who are risking their lives every day doing their jobs.
I usually leave the office at 5pm. This means I can go home and spend time with my family. We have dinner together and then all go for a walk with the dog. However, I usually do a bit more work  when the kids go to bed and then crash out around 10pm.
My husband Steve is immune compromised, so we have to be really careful. It means that my two kids are very aware about my work and know why I'm not around as much as I'd like to be right now.
It can also be hard trying to explain everything to kids about what's going on. But I'm amazed at how well they're adapting. Just like every other child around the world, they've been pulled from school and can't see their friends, but they're doing an amazing job and make me so proud.
Being a part of a dedicated team that is helping to create a vaccine is a career highlight. It's a scary time but I've never experienced such dedication and drive to come up with a vaccine solution against covid-19. It is an honour to be part of that effort.
My top lockdown tip would be to try and get a little fresh air. A simple walk can help with any feelings of cabin fever and will really clear your head. I think it's all about trying to find some positives in our new normal… whatever that may be.
Dr Broderick thanks the UK Government's £210 million funding boost which has helped speed the vaccine creation. When going to print, the UK is thought to be the leading contributor to the international fund to find a vaccine, and the total amount stands at £744 million.
For more Day In The Life Of features, be sure to check out No.1 magazine. Pick up a copy here!