No.1 Visits: Skeabost House Hotel
---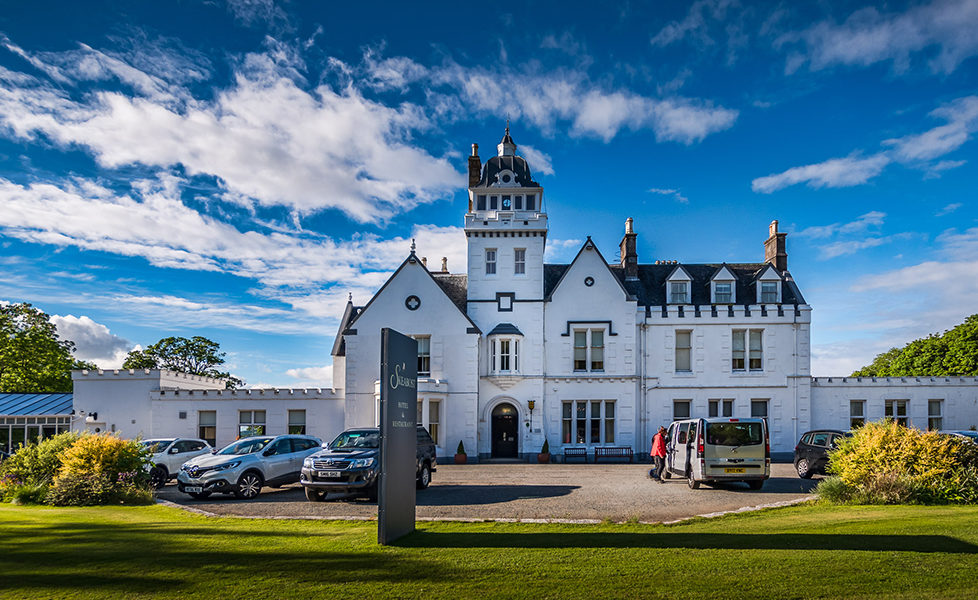 Image: Skeabost
No.1's photographer, Eve, headed to Skye and soaked up the stunning views.
Skeabost House Hotel Review
A five hour drive from Glasgow takes you through stunning Scottish scenery including Glen Coe, Shiel Bridge (with its famous roadside goats), and across the Skye Bridge onto one of Scotland's most magical islands.
That morning, I had a 4am start and two photoshoots on one of the windiest days of the year. Sideways rain and 60mph winds battered my drive so I was delighted to step through the doors of the Skeabost House Hotel and be met with a toasty foyer.
The 18 bedroom, four-star hotel is part of the Sonas Collection – a group of boutique hotels owned by Anne Gracie Gunn on the Isle of Skye. The historic building dates back to 1871 and sits just 10 minutes from Skye's main town of Portree, which makes it the perfect base to explore the island. It's also the only hotel on Skye to have its own golf course if a game takes your fancy!
I stayed in the hotels' MacDonald Suite – a beautiful room complete with four poster bed and roll-top bath in the bathroom – exactly what you want to see after a long day of being very cold and damp! So I immediately immersed myself into what might be the best bath of my life. I found a cosy robe in the wardrobe, popped the kettle on and just sat, taking in the beautiful room around me. Total bliss!
If a pre-dinner drink takes your fancy, the hotel features a cosy cocktail bar, complete with the Island's best gin selection and a roaring open fire. There was only one thing on my mind though – food. Armed with a magazine, I made my way down to the grand wood panelled dining room to have dinner for one. The menu featured an array of local produce, including Skye venison.
But after facing that wind, the thought of a toasty bowl of soup was on my mind. I started with the tomato and red pepper soup, and then couldn't see past the Isle of Skye Ale battered fish and chips. It was the softest, juiciest fish I've had with crisp batter and thick fresh chips. Stuffed, I had to admit defeat and bow out of dessert.
Instead, I ordered a coffee and was asked if I fancied drinking it fireside. Of course, the answer was yes. And I'm pleased to report that the hotel's lounge features sumptuous sofas and a roaring fire – the ideal spot to relax after a day of exploring.
Exhausted, I headed back to my suite and tucked myself under the thick duvet on the four poster bed. I live in the city and I'm used to the roar of city traffic and seagulls squawking at all hours, but I noticed a sound I hadn't heard for a very long time – silence. All of a sudden it was 8am, my alarm was blaring and I had slept for an impressive 10 hours straight.
The next morning on Skye was a very different one to the day before – the wind had died down and there was a hint of the sun in the sky. In order to appreciate the view and stunning morning light, I chose a seat next to the window to have breakfast. Options included Mallaig smoked haddock, Stornoway black pudding and traditional highland porridge (served with whisky if you'd like it!) but for me, it was the full veggie breakfast with coffee, juice and multiple rounds of toast. My own personal breakfast heaven.
Since the rain had stopped, I decided to walk off my rather large brekkie and go for a wander around Skeabost's grounds. The hotel looks out on Loch Snizort and it makes for impressive viewing. I found myself a bench and sat, taking in the silence and the incredible views before my drive home began.
From the Old Man of Storr to the Fairy Pools, there's so much you have to see on Skye. But one thing's for sure… Skeabost House Hotel should be top of your list.
Visit: Skeabost House Hotel, Skeabost Bridge, Isle of Skye, IV51 9NR
Website here
T: 01470 532202
From £269 for B&B. Please note, this review was carried out berfore lockdown. Contact the hotel for future booking info.