Sponsored: Health And Beauty
---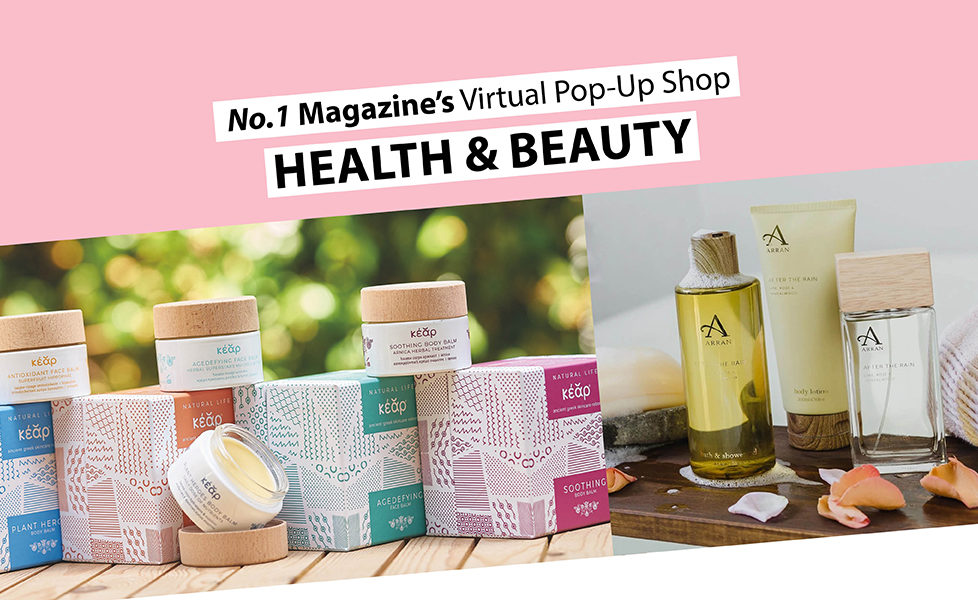 Looking good, feeling great! These health and beauty brands will leave you feeling perfectly pampered…
No.1's Virtual Shop Health and Beauty
Why not get involved this Thursday (4th June) and treat yourself at our virtual pop-up shop? From make up to soaps and skincare, have a browse through their luxury cosmetics and impressive discounts…
This award winning make-up brand uses all natural ingredients and their products are designed to work for each and every skin type.
Striving for dewy look this summer? Then dive into the Annabelle Minerals range of lightweight make-up and enhance your natural beauty. Their radiant foundations will ensure you have a healthy glow, and their soft focus effect helps to reduce a build up of sebum.
Maximise your glow by indulging in Annabelle Minerals' brand new luxury multi-functional oils – Stay Essential, Stay Calm and Stay Pure. Each oil caters to a specific skin type with specific needs.
Plus their illuminators are infused with vitamin E, protecting skin cells and improving elasticity. Grab yours now to achieve the ultimate summer glow.
OFFER: Get 10% off your order using code NO1FLASH at checkout!
Indulge and inspire your senses with ARRAN Sense of Scotland, home of luxury soaps and fragrances made from only the finest quality ingredients. For over 30 years, this company has been producing luxury soaps and fine fragrances with vibrant and evocative aromas, all inspired by the beautiful Isle of Arran.
Welcome the refreshing scents of the outdoors into your home with ARRAN Sense of Scotland's selection of hand care, body care and fragrance blends.
From the fresh and floral notes of their After the Rain range, to the revitalising freshness of grapefruit and citrus in Glenashdale, discover a sense of Scotland with ARRAN's signature scents.
OFFER: Discount of 30% for No.1 readers – use code ARRAN30 at checkout!
Inspired by the ancient Greek word for the heart, κέᾰρ® (Kear) brings back to life timeless natural skincare. Ancient cosmetic formulas are now shaped into potent and unique products that meet the needs of today's fast-paced daily personal care routine.
The power of Greek elements, ingredients, and scents, blend in harmony to create clean skincare that is safe, multipurpose, non-toxic, cruelty-free, and fit for all. Equally effective on eyes, neck, décolletage, and even hands, heels, and cuticles. Not to mention it's all eco-friendly!
Kear skincare line includes thirteen-star products, explicitly created to enable them to maintain the best functions of your skin.
All are produced locally according to tradition, in certified labs and are dermatologically and microbiologically tested.
OFFER: Use code KEAR20 for 20% off your order!
Alpha Clinic is the first Cosmetic and Reconstructive Surgery Clinic in the North of Scotland. Conveniently located in the West End of Aberdeen, they provide a discrete, specialist service offering advanced surgical treatments to improve appearance and quality of life – with minimum down time. This clinic aims to build lifelong relationships with our clients and improve their confidence through cosmetic surgery.
Established by Mr Thanassi Athanassopoulos DM FRCS(Plast) to improve your appearance according to his exacting standards. This close knit team is dedicated to providing you with safe and effective procedures in a discrete comfortable environment.
Alpha Clinic offers all non-surgical and surgical cosmetic surgery procedures.
"As a child I suffered from chronic psoriasis and as I got older I became more aware of what I was putting onto my skin and wanted to make skincare products from natural ingredients which would suit sensitive and dry skin types."
Out of this premise, dawsonbrown was born. For the creator, Leigh, it was about turning something that was negative in her life into something positive. Dawson and Brown were her grandparent's maiden and surnames and in essence is a tribute to them. The company started off by making soaps and body products, branched into candles and melts and has recently launched a sister company – Street Poet Jewellery.
A lot of the inspiration behind the products comes from a love of travel, scents and vibrant colours – find out more on their Instagram!
OFFER: Use code DB25OFF for 25% off all products!
Savannah Beauty is  a premium award winning salon. Established over 20 years ago, it has a very loyal customer base and is situated across three locations in Glasgow and Bridge of Allan. After many clients stating that they are running out of their favourite skincare products available from the clinic, the team has now decided to retail online. Purchase Clarins and Skinade through the online shop or Vouchers Via the website!
With the increase in use of hand sanitisers, it is likely that the skin on a lot of peoples' hands has been drying out – the Clarins hand cream available from the Savannah Beauty website is perfect for soothing and moisturising sensitive areas.
The perfect way to treat yourself or a loved one; Savannah Beauty is also able to wrap products as gifts.
OFFER: Post and packing free or safe drop off.
Deerieo is not just another natural skincare brand. Inspired by the Scottish landscape, Deerieo offers specialised artisanal products crafted in micro-batches to ensure ultimate perfection. Deerieo ritual is a celebration of your individual needs, nature, finest ingredients and the art of creating luxurious skincare that gently delivers visible results.
Their range is expertly formulated to soothe, rebalance and rejuvenate the skin that needs special care and is suitable for all skin types including sensitive, combination and inflammation prone skin.
All products are handmade using the finest botanicals and naturally-occurring actives to bring you comfort, confidence and optimise your skincare routine. Sustainable, cruelty-free, vegan, palm oil-free and recyclable packaging – with Deerieo you really can have it all!
OFFER: 15% off and FREE postage and packaging for one day only!
Black Palm is a cosmetic and lifestyle brand based in Scotland with a focus on the Zero Waste Movement.  Their mission is to bring refill stations to every zero waste store in the UK and beyond!
Strong believers in 'Support Small',  they regularly attend markets and host events #BlackPalmClub collaborating with other small businesses and growing our eco focussed community.  Beautifully packaged, Black Palm products are made from ethically sourced ingredients, made in small batches and are 100% Vegan Friendly!
This company is all about doing their bit for our planet. Cruelty free, small batch, non-toxic ingredients good for both you and Mother Earth – check out their Instagram for more information.
Pronounced 'care-leeg'. Kærlig is Danish for caring. Also sold in Harvey Nichols, these high-end, skin-kær lovelies come from a direct result of company creator Amy's experiences with breast cancer.
Diagnosed with an aggressive cancer, she needed to focus on her mental and physical well-being. As a single Mum of teenage boys, she had to dig deep to find the strength to teach her boys the life-skills of positivity and resilience.
Amy originally turned to making skin-kær products because chemotherapy and radiotherapy left her skin dreadfully dry and cracked and meant she was unable to use ordinary cleansing products. Naked was born from this time; she didn't just need a soap, but a soap that would look after her skin.
There is now an ever growing range of super-gentle skin-kær products for you to benefit from and enjoy. Each has added luxurious essential oils to make washing your skin feel it is being fabulously pampered as well as gently cleansed. Naked has nothing added, it is just gorgeously bubbly and gentle. They come in a refillable glass bottle so that our world is being loved too!
OFFER: Free amber hand sanitiser with every order over £25