Sponsored: Gifts And Treats
---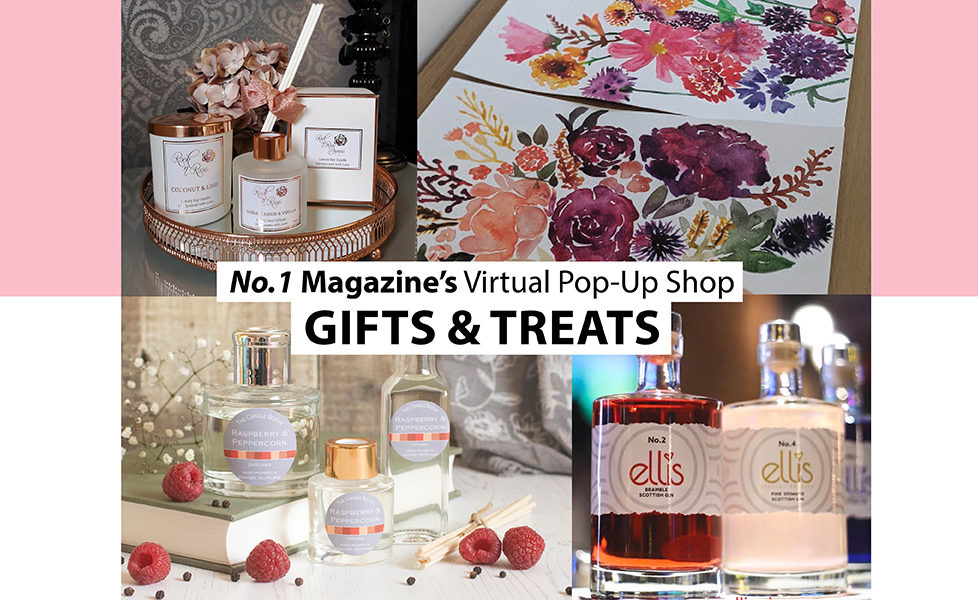 During lockdown, it's so important to do whatever we can to keep spirits up, whether that means treating yourself to a fancy bottle of gin or sending something special to a loved one.
Why not get involved this Thursday (4th June) and treat yourself at our virtual pop-up shop…
No.1's Virtual Shop Gifts
Check out the shops below who have teamed up with No.1 to bring luxury products and some exclusive discounts to our fabulous readers for one day only…
Hand poured by Ali Mac overlooking the Summer Isles in the North West Highlands of Scotland, each of these candle has its own unique memory or story from this beautiful part of the world. The Scout-Dog range is inspired by her beach loving Collie with a Sea Salt and Driftwood scent, while the White Horse range will splash your senses even when you're stuck inside.
These soy wax candles are sealed in a reusable amber jar – the perfect packaging to take highland vibes with you on any journey. They are also extremely environmentally friendly; they use 100% Eco Soy Wax, Natural Cotton Wicks, Cruelty Free + Vegan Fragrance Oils / Essential oils, and Plastic Free Packaging.
OFFER: Use code westcoast15 for 15% off the entire collection!
Based in rural Stirlingshire, Ailleagan Art is run by Scottish Artist Miriam Emerton. From her studio in the middle of the hills, she produces a range of handmade cards and jewellery using prints from her original landscape paintings. Miriam works predominantly in acrylics and mixed media. Not surprisingly, her work is inspired by her surroundings; Scotland's beautiful heartland and also from visits to some of the many unique and unspoilt islands around its coasts.
The name 'Ailleagan'  is taken from the Gaelic word meaning 'Little jewel or treasure'. In her work Miriam aims to create wearable artwork and gifts which celebrate the beauty of Scotland's landscapes and capture a little moment in time, for each of the places she paints.
To make life a little easier, all orders from Ailleagan Art are sent out gift wrapped, with the option to write cards, or add a gift message to be sent directly to the recipient. Ailleagan Art is also committed to sustainability and as such all their handmade cards and jewellery packaging is plastic free and made from 100% recycled materials.
Browse Miriam's shop online and for updates on paintings and jewellery, finer her pages on Instagram and Facebook.
OFFER: Use code No1MAG for 10% off all jewellery!
Indulge yourself and your home with the luxurious scents of Rock n Rose Aromas. Choose from a wide range of soy candles, stylish reed diffusers and natural wax melts. Rock n Rose Aromas offers opulent scents in contemporary monochrome and rose gold packaging – at affordable prices.
These products are all lovingly hand-poured by mum of 2 Kelly in her home in Fife – completely handcrafted from start to finish! She was inspired to start her own business last year after finding her true passion in candle making.
These stylish candles and reed diffusers make the perfect addition to any home or a lovely gift for someone special.   Find them on Facebook and Instagram to find out more.
OFFER: Use code NO1FLASH for free delivery and 10% discount!
Ellis Gin is a premium range of small batch naturally coloured and flavoured Scottish gins – all distilled in Glasgow.
This company bring fun and vibrancy to the gin market, with two colour changing Gins and a Pink Gin which has a mystical gold shimmer!
Their No.2 Scottish Bramble Gin is beautifully floral but has a little spice. It comes in a glorious shade of red, but add mixer to see it turn to orange. Best served with tonic water or ginger ale… Yum.
For those who love all things mystical, try the No.3 Butterfly Pea Gin. Flavoured and coloured using the exotic Asian Butterfly Pea flower which gives it the beautiful blue colour, add your mixer to see it turn to a luscious lilac. Truly Magical!
Perfect for this warm weather, No.4 Pink Shimmer Gin is subtly flavoured using strawberries.  Deliciously smooth with a mystical shimmer to catch in the sunlight.
OFFER: Lockdown Pack – usually £23+postage – is £20+free postage this weekend AND all large bottles reduced from £30 to £27!
Email info@ellisgin.com to order and quote No1popup.
The Candle Bothy offer soy wax candles, wax melts, reed diffusers and car scents in 12 vibrant and long-lasting scents. All products are lovingly hand-poured in their studio in Dundee.
Their candles come in 3 – reed diffusers in 2 – different sizes to suit any room and all budgets. They are packaged in stylish white carton packaging, making the ideal gift box!
Soy wax is vegan, made from renewable sources and ensures a clean and slow burn. Their wax melts come in packs of 8 in recyclable waxed paper bags – all sustainable and environmentally friendly.
Another popular group of products are their reed diffuser refills which give off a constant aroma to relax any room.
Additionally, the Candle Bothy offers a choice of gift sets. You can order directly from their online shop and presents can be sent directly to a recipient, including a personal gift message.
Follow them on Instagram to see their latest updates and promotions.
OFFER: Use code NO1MAGAZINE for exclusive 10% discount plus FREE SHIPPING on orders over £25!
Rory & Ruby creates and collates a unique range of organic and eco clothing, gifts and goodies for babies, young children, mums – perfect for celebrating life's milestone moments. Everything they sell is ethical and sustainable, and a lot of their products are inspired by the seaside, a link to Rory & Ruby's coastal location in St Andrews.
Choose from a selection of exclusive gifting options for baby showers and new arrivals, or one off treats for a special little star, loved one or friend. Perfect presents include letterbox lovelies, luxury gift sets, subscription joy boxes and welcome to the world hampers, all beautifully wrapped and delivered to their door to help you reach out and show how much you care while you can't be together.
OFFER: Free UK delivery!
Uig Candles is a small business based on the Isle of Lewis, Outer Hebrides. Since 2017, they have been making hand poured luxury 100% soy wax candles using premium fragrance/essential oils – all inspired by the beautiful nature and scenic surroundings of the Island. They pride themselves on their impressive selection of scented candles, soy wax melts, diffusers, hand wash and body wash.
As well as this, they have a luxury, monthly candle subscription box that contains a large soy wax candle that is made from an exclusive fragrance along with other lovely goodies and it is delivered directly to your door. This is a lovely treat to yourself or makes a wonderful gift to brighten someone's day during these difficult times. You can sign up for a rolling subscription or can pay for three months upfront to make some savings. Free UK postage included!
OFFER: Use code GLAMOUR10 for 10% off all products! (Subsciption box not included)
Championing real Scottish produce, this small business based in the Outer Hebrides offers you the opportunity to give a 'taste' of the islands – all wrapped up in a bespoke gift box.
Whether it's for birthdays, weddings, Christmas, a christening or a holiday memento, they have a range of gift boxes to suit.
This would also be the perfect pick-me-up to send to a loved one who you've been missing due to the current UK lockdown.
Visit their online shop and see what's on offer!