Sponsored: Fashion, Lingerie and Accessories
---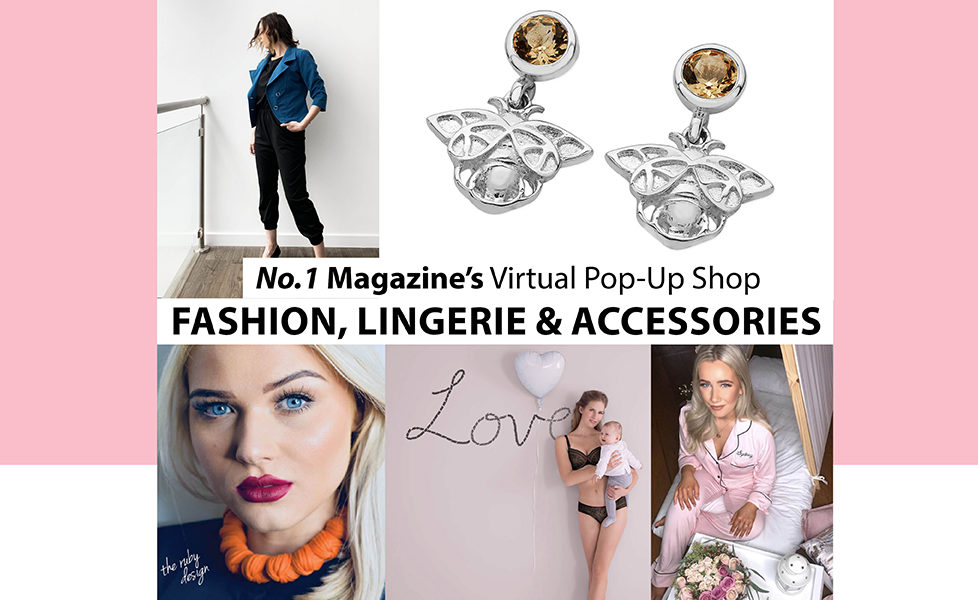 It's no secret that at No.1, we love all things fashion.
We are so excited to have teamed up with these amazing retailers from across Scotland and the UK to bring some amazing products and impressive discounts for our readers.
No.1's Virtual Shop Fashion
Why not get involved this Thursday (4th June) and treat yourself at our virtual pop-up shop? From comfy clothes – perfect for working from home – to glamorous accessories for when you feel like making an effort, have a browse through our virtual pop up shops…
Born in Orkney and raised in Burray, Karen Duncan has always been surrounded by beaches, ocean and beautiful landscapes. Inspired by her home and heritage, she began making jewellery in her teens and it soon became an impressive career, spanning over three decades.
You can see her maritime heritage in each of her unique pieces, with designs reminiscent of pebbles, seaweed and bubbles. Karen has also taken much inspiration from Orkney's involvement in World War Two. Her popular Blocks Collection is inspired by the Churchill Barriers which were built in the early 1940s in response to the sinking of HMS Royal Oak in 1939.
Wearing a piece of Karen Duncan Jewellery is like wearing a little piece of Scotland. Her necklaces, pendants, earrings and brooches would make the perfect gift for a lover of the country, or a meaningful treat for those who call it home.
Before Sally Textiles & Design is an independently run fashion label focusing on bold and bright patterns on sustainable textiles. The textile & surface designer behind the brand designs & creates beautiful clothes that are made to stand out from the crowd. Each piece is unique & made independently by creative Emma, sourcing materials and fabrics that are exclusively made in the UK.
She has recently released a homeware range, creating beautifully colourful ceramics & cushions in prints that tie in with the boldness of her clothes. As we approach the warmer months she has already showcased parts of her capsule summer collection with more new releases on the way.
Each piece is consciously made with sustainability in mind and built to last in your wardrobe. Find them on Instagram and have a scroll!
OFFER: Use code SALLY10 for 10% off the entire range!
Littletheorem is a knitting pattern designer with a passion for beautiful, wearable knits. She loves creating simple wardrobe staples with a twist as well as intricate heirloom pieces. Her patterns reflect the clothing she loves to wear and knit herself – from cosy, chunky cardigans perfect for cuddling up in, to delicate lace shawls which are so addictive to knit.
During these unprecedented times, many of us have found happiness in the simpler things in life – baking our own bread, growing vegetables from seed, and learning new crafts – like knitting!
Whether you're new to knitting or have decades of experience; if you're looking to knit a simple first hat or a Fair Isle sweater-dress, Littletheorem Knits has a knitting pattern to suit.
OFFER: 25% off all knitting patterns with code NO1MAG!
Since arriving in Scotland 17 years ago Swedish born Jennie Lööf has worked in professional theatre; designing, creating and sourcing costumes for countless productions. Now she is bringing her skills and expertise to the public with 'Jennies Wardrobe' – a professional brand for sustainable fashion and creativity. Her passion for all things vintage and her desire to keep clothes from filling up landfill sites form the basis of this shop's ethos. All items are either one-off unique pieces – made by Jennie herself – or specially selected vintage garments, many of which can be altered especially to your size.
Based in the Southside of Glasgow, Jennie also runs sewing classes, a treasured skill she began learning at seven from both of her Grandmas.
OFFER: Use code NO1SHOPPING15 for 15% off the entire collection!
Nephtali Couture is a ready-to-wear African print clothing line, founded by the French and Congolese designer Belocine Musolo. Prince's Trust award winner of The Most Promising Newcomer, Nephtali Couture is a fun, bold and elegant line, aiming to bring more colour to your world!
Hoping to inspire people of Scotland, the UK and the world to feel happy, confident and unique with their African touch, this brand is as distinctive and special as it is gorgeous.
Each one of their products are handmade in Scotland, with traditional fabric ethically sourced from East Africa.
OFFER: Use code #No1Sales for 20% off!
Lucy Stevens began her own jewellery business after attending a ring making workshop which was given for her 30th birthday. After the classes, Lucy felt inspired and began online courses on perfect her technique.
Lucy ensures that every piece of jewellery she makes is something which she would love to wear herself; her business was born from a struggle to find the exact style she wanted in other shops.
After sourcing excellent quality gemstones with both a meaning and healing properties to their name, she fell in love with the concept of creating something beautiful and potentially helpful to people in some way, and her business was born!
Starting out with support from family and friends, L Stevens Jewellery soon grew from the impressive support Lucy gained on social media with the help of excellent word of mouth from her returning customers.
OFFER: Quote No1Mag when you pay for a 10% discount
Dress the Part is the passion project of a Glasgow fashion student, whose mission it is to help women find their true style personality rather than falling victim to fad fashions and outfits they will wear once – or not at all! They carefully curate seasonal collections which reflect timeless styling and affordable luxury, in sizes 8-24.
A wide range of casualwear, occasionwear, outerwear & accessories can be bought in their Glasgow boutique or on their website. Here you will find an exciting range of European brands who understand that for modern women less is more, time and simplicity are luxuries and comfort is key. Their designs are versatile, fashion-forward and made to last: expect to pull these pieces out of your wardrobe year after year, endlessly inspired by the styling possibilities that each garment offers!
The DTP Instagram and Facebook provide helpful tips for looking classic while nodding to the season's best trends.
OFFER: 15% off with code LOVENO1
In a world of throwaway fast fashion, overflowing landfills and frighteningly progressive climate change, the fashion industry needs a reawakening. To address, and to take advantage of the gap in the market, a new slow fashion brand based in Edinburgh, Scotland was created – Beira.
Its story began with the two founders of the brand, Flavio Forlani and Antoinette Fionda-Douglas, seeking out to produce beautiful timeless clothing that is ethically and sustainably sourced – and which didn't cost the earth. They took an innovative and radical approach to production and sourced all the luxury raw materials through embracing the circular economy.
Creating limited edition products using beautiful tailored designs rooted in Italian craftsmanship, Beira focuses on timeless and elegant investment womenswear for the economically conscious consumer.
OFFER: Luxury products at affordable prices.
'Editing life with a splash of Colour' is the company mantra behind The Colourful Edit, founded in 2015, by Stylist Lauren Kate Jamieson.
The Colourful Edit Accessories add a pop of colour and a splash of style to your outfit to make it totally your own. Lauren's handmade creations have been designed out of a passion for colour and feeling stylish and looking unique. She believes the key is to dress your neck in colour, which in turn will unlock and enhance your natural features. Each style has been specifically created with the female shape in mind, so there is a specific elegance to every shape.
All these colourful designs are handmade from recycled cotton, so not only will they leave you looking great, but you can feel happy in the knowledge that you are purchasing something totally sustainable.
OFFER: Free delivery for ALL of June with code No1FREEDELIVERY
Paul makes silver and enamel jewellery for men and women in a unique, contemporary style. Every piece is a one-off, and he regularly works on commissions with clients to provide exclusive, personalised results unlike anything available in the shops or bought from a distance.
Under the name Jagged Jewellery, Paul is beginning to establish a reputation for originality of design and had hoped to spend much of 2020 developing his range and getting his work out and about to fairs across Scotland. The lockdown has put an end to traditional fairs, for the time being, so he is delighted to be taking part in this virtual pop up!
Visit his online shop or follow him on Instagram for more information.
OFFER: Free postage for No.1 readers with code FREEDEL!
Make bra fitting and shopping as easy and fuss free as possible with Bellewren Lingerie. Since their first day in business, Bellewren has been offering their customers only the best when it comes to well made bras, quality lingerie, expert fitting and going the extra mile in customer service.
Of course the UK lockdown has brought challenges in itself, let alone for bra fitting, but with a wealth of knowledge and experience, their expert fitter Melanie can offer online style and bra fitting advice via messenger or email to make shopping with us a piece of cake!
Recognised as Lingerie Guild Approved Fitters – the Gold standard in UK bra fitting specialists – this company will always do their utmost to ensure you are as happy as possible with your purchases.
Take a look at their Instagram for more pictures and information.
Lorna Quinn has owned The Dress Shop Glasgow for 25 years, an iconic boutique renowned within Glasgow but never has there been a time like Covid19. Lorna has revolutionised the shop by launching her boutique online and embracing the might of Social media, her new shop window. The Dress Shop's collections have evolved over time with Lorna's clear fashion direction.
'I want to offer stunning collections for every woman for every day, offering quality stylish collections at a reasonable price point.'
Lorna's hard work has not gone unnoticed as takes her store to a new level, creating a solid online community where she shares her collections and lifestyle ideas to uplift and inspire her growing community of followers.
OFFER: Use code Launch20 for 20% off her entire online range!
AV.Lounge is a pyjama and loungewear business that caters for both adults and children. Selling a selection of fabrics, from Jersey to Satin the are known for their vibrant prints and comfortable styles.
Their personalised embroidered pyjama sets are perfect for special occasions – be it a birthday, hen party or wedding – and their loungewear is the perfect get-up for working from home! Their gorgeous range also includes a line of casual outfits, perfect for nipping to the shop or for staying comfortable while travelling.
AV.Lounge have recently launched a custom collection alongside their mainline range, where they cater bespoke, one of a kind tracksuit sets which can be worn casually or dressed up with a heel.
OFFER: Use code NO1MAGAZINE at checkout for 10% off your order!
Harris Tweed can only be handwoven at the weaver's home in the Outer Hebrides of Scotland. It is the only fabric in the world that is governed by it's own act of Parliament and the only fabric produced in commercial quantities by truly traditional methods – it's as authentic as it gets!
Double width Harris Tweed (150 cm wide) is available from as little as a quarter of a metre (25 x 150cm), and is perfect for clothing, soft furnishings, upholstery, a d craft work projects!
With a wide range of Tweed cloth, ladies and gents clothing, Harris Tweed bags with genuine leather and matching accessories, there is plenty to choose from on their online shop.
OFFER: Free gift wrap is available on request – all you have to do is ask!