Real-Life: How To Work From Home Like A Pro
---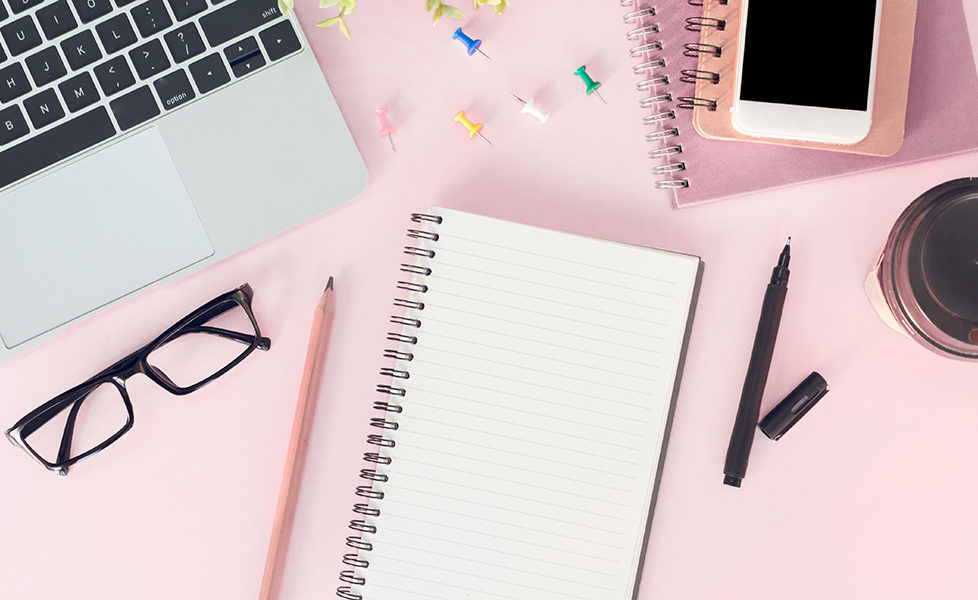 Image: Shutterstock
The current state of the world has pushed many of us into the unknown – including working from home for the very first time.
This new change in routine doesn't compare at all to the bravery of our frontline workers, but it can often be a little tricky to get into a new working mindset.
That's why we've interviewed four Scottish women on how they've adapted to the change, and their top tips and tricks…
Working From Home Advice
'Routine and a good night's sleep is important for me'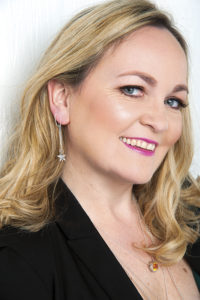 Rosalind Morrison, owner of Sweet Rosie Jewellery, spends her days making jewellery and being creative. Her homeworking tips include…
I realised quickly that I would have to set an alarm. If I didn't, I got a bad night's sleep, waking up time wondering what time it was. I get my best work done in the morning – it's when I'm most productive so I wanted to be up and ready.
I do 10 minutes of yoga to get moving every morning. It's only 10 minutes so it doesn't feel like a huge commitment before work. I eat breakfast, then I go for a walk to keep myself moving. It means I can drop off any orders or pop to the shop if I need to collect milk. It's good for my head and my health. I like peace and quiet in the morning.
It took me a while to get into a rhythm with things and I'm adapting all the time. I now book appointments for around lunch-time when I'm stopping anyway. After that, I eat my lunch and sometimes do another 10 mins of yoga. I also go for a walk before dinner – it's like the commute to work – and my evening walks signals the end of my working day.
When I'm really busy I avoid household tasks. I don't put on a load of washing during work time. It can be a distraction thinking about hanging a washing or having to bring it in when it starts raining.
I try to keep a routine rather than having a spontaneous lie in. It means I don't run out of steam later in the day. However, working from home right now can feel like there's no escape. I'm still doing web orders, which are doing well as people order more online, and chatting to clients by phone about commissions.
'Dance breaks and Zoom calls are getting me through'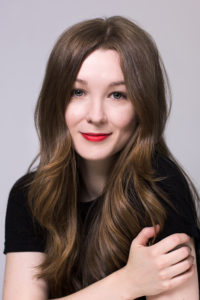 Eve Conroy, No.1's photographer, misses the hustle and bustle of the office. Her advice to stay motivated includes…
It's been a strange adjustment for most of us who don't normally work from home. Although I'm used to spending large amounts of time alone (I can spend six hours a day driving to and from shoots depending on where they are in the country) I've still found it a huge adjustment not  having my colleagues around. Where we would normally just ask questions across a desk, a small question can easily now snowball into an anxiety-inducing chain of emails. Microsoft teams' MSN style messenger has been a saviour for this.
Zoom calls have also been great. Not only to talk about work, but to have a chat outside of our own households too. Even if it's just to exchange Netflix recommendations!
For the first couple of weeks I would float around the house with my laptop working in different spots. I was unable to get comfortable working in any of them (at this point I really missed my office chair) Now, I've made myself at home at the kitchen table. It means I'm close to snacks (massive bonus) but also rooted in one place where I can close the door and be away from distractions.
As silly as it sounds, having a pet has been a hugely help to me at the moment. Just when you feel the tensions of a work day beginning to get to you, a little furry face appears looking for a warm lap to sit on. It really does help to reduce my stress levels.
If I'm editing images or creating graphics, I love to have the radio on. BBC Radio 6 Music is my favourite and Lauren Laverne's breakfast show always plays great tunes. I often yell through to my husband 'DANCE BREAK' and we have a shimmy in the kitchen. It's good to move and to take my eyes away from the laptop for five minutes.
'Exercise is key for keeping me motivated'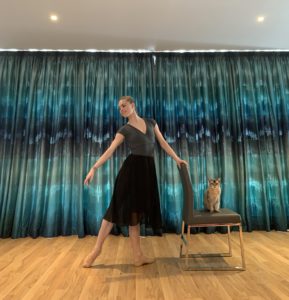 Bethany Kingsley Garner, a ballerina with Scottish Ballet, has transformed her living room into a dance studio…
My typical working day right now is very different to what I'm used to. I'm an early bird and get up around 7am – I find that it helps to structure my day. On a 'normal' work day though I get up earlier, before I got up at 6:15am, so I'm giving myself a bit of a lie in. I also start my day by going for a run near the River Clyde.
I then do some stretches, sort out music for the day and get prepared by doing a floor barre. That's a ballet stretch that helps me prepare for class – which we're now offering online! Scottish Ballet are hosting weekly classes on a Friday at 11:30am via their Facebook page to people's living rooms. I have a little bit of spare dancefloor material that I put down in the living room so I can do the movements properly and wear the correct shoes. I also put down a lot of yoga matts too in order to jump around freely. It is a unique career to try and adapt to homeworking.
Lunchtime has become one of my favourite parts of the day. I'm now able to have it with my husband, and that never happened before. Lockdown has also given me some more spare time. I recently started learning sign language, and I'm using video calls to stay in touch with my teacher.
I think creating a work-life balance can be hard when you're working from home. I found it quite bizarre at the beginning. My home is my sanctuary where I would relax after a long day, but now I also have to see it as a place of work and somewhere I need to push my body.
It's great that I'm able to work from home though and I've worked out ways to adapt. I've made a little work-out station in the living room and that's helped me. It's like going to my studio for the day. Plus, something as simple as lighting a candle in the evening can help to separate work and relaxation time too.
Keeping busy has been my lockdown motto. I know that doesn't work for everyone, but so far it has for me. When I have a productive day, it makes me feel good. But I also need to learn to be kind to myself on the days where I don't feel motivated to do anything either.
'Getting ready like I normally do each morning is crucial to my day'
Amber Zoe Livingstone, Radio Presenter on Pure Radio Scotland, is bringing feel-good tunes to the nation during this time…
I start most mornings with yoga, because it calms me during this time. It also keeps me in a routine and makes me feel refreshed and stretched. Then it's the crucial element to keeping me sane during working from home – I get my shower and actually get ready, I mean properly ready, including changing into clothes and a little make-up to make me feel like 'me'!.
My working wardrobe has definitely changed though. It's less heels, more slippers, and nothing with a waistband!
I have been doing a video podcast via Zoom for my show on Pure Radio with a new guest every day. We focus on how they're powering on through lockdown. I then edit the audio, schedule the video and then prepare my show. I've been avoiding the news at times and mostly focussing on positive articles, empowering posts on social media and trying to spread the word of what people have been doing through this pandemic to help others.
I live with my boyfriend who is also a radio presenter. He's still working in the studio but also hosts a show later on at night, so he stays downstairs while I'm doing my show in the spare bedroom. But I do have to keep shouting at him to be quiet while playing Call of Duty on the PS4!
My new 'office' is the spare bedroom with a fold-down table, but I'm still able to do most things that I normally would in the studio. The Pure Radio team have all been adapting to give people a little bit of escapism – for example, I've been working to find guests and chatting to them for my video podcast series (Pure Powering On), helping develop the Pure Radio website, trying to help local businesses and doing Instagram takeovers for various pages.
I'm loving working from home and the slower pace of life – for a long time I have been burning the candle at both ends. It's meant that I'm often late for things, cramming in appointments, meetings, work and fitness classes in one day and ending up making myself ill! But being forced to slow down has been a huge benefit for me and I love being around my home comforts. I think this time will make us all stop, prioritise and see what's important in life. I do really miss the team at work and seeing other people as I am a very sociable person though, I miss chatting to them all in person and not over Microsoft Teams!
My top working from home tip is to get yourself ready to be in the 'working zone'. Get changed every day, and try and establish a routine, write down a to-do list every day and tick as you go. Schedule meetings, stick to them, it's good to have some structure. If you eat a little more than normal and snack a lot, who cares? This is a difficult time, don't be too hard on yourself and that goes for exercise too. Do what makes you happy!