39 Things You Didn't Know About Richard Madden
---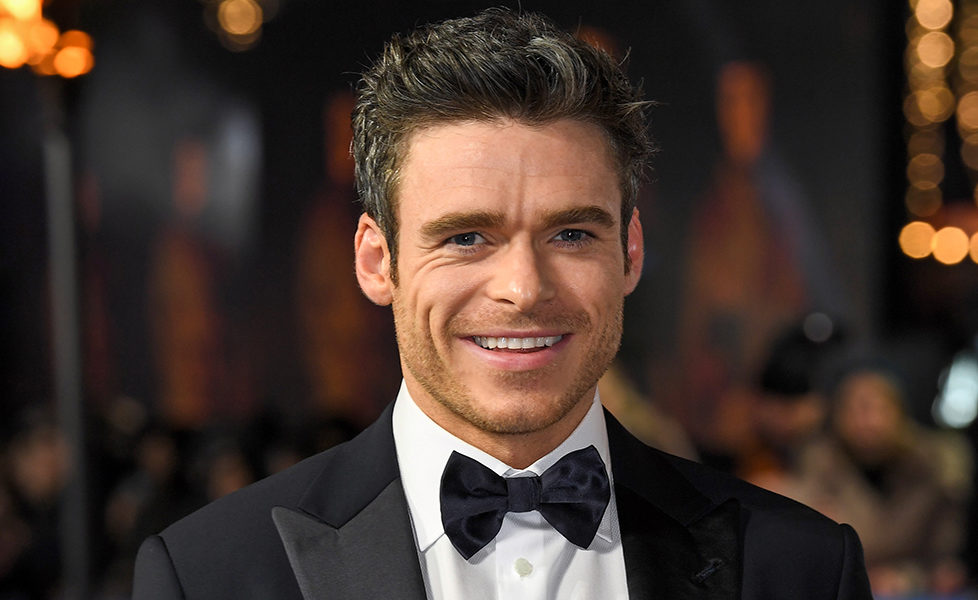 Image: Anthony Harvey/Shutterstock
Originally known as Game of Thrones' Robb Stark, Richard Madden has now graced our screens as Prince Charming in Cinderella and also David Budd in The Bodyguard. But how much do you really know about the Scottish star?
Richard Madden Facts
1. Richard Madden is 5 feet 11 inches tall.
2. And was born on the 18th June 1986.
3. Which, astrology fans will be keen to know, makes him a Gemini.
4. Scottish born and bred, Richard first lived in Elderslie in Renfrewshire.
5. His dad was a former Senior Fire Officer while his mum was a Teaching Assistant.
6. The reason Richard actually got into acting was to combat his "crippling shyness." In fact, he once described his childhood self as "a nervous kid and not great socially".
7. He then went onto study at the Royal Scottish Academy of Music and Drama (RSAMD) in Glasgow.
8. And, the star will soon be recognised with an honorary doctorate from the Royal Conservatoire of Scotland for his contribution to drama. Amazing!
9. The star first made his big screen debut in the 2000 film Complicity.
10. And is now thought to be worth a staggering… $6 million!
11. But he still remains true as ever to his roots as Richard's uncle revealed to The Sun that the star's young niece Eilidh is Richard's "biggest fan" and she "follows him everywhere."
12. In 2009 Madden won the Scottish Style Award for Most Stylish Male.
13. He was also named one of Scotland's "most eligible men" by The Scotsman newspaper in 2010.
14. Despite this however, Richard revealed he's been asked to alter his appearance over the years. He told Mr Porter magazine: "I've done loads of jobs where I've been asked, or told, I need to lose weight — or I need to be in the gym every day."
15. He also isn't afraid to speak out about the unrealistic weight standards that are often expected of actresses and actors. He told British Vogue, "It doesn't just happen to women, it happens to men all the time as well."
16. Now the actor admits he hopes to ditch his newfound reputation as a sex symbol. The 32-year-old told the Daily Star: "I worry about it affecting my job. If people go, 'Oh, you know, he's that hunky thing', that undermines that actually I am an actor."
17. Richard has also revealed his desire to flee the limelight by buying a house in the remote countryside of Scotland.
18. To play his Game of Thrones character, Robb Stark, the actor had to learn how to ride a horse.
19. And would train around three to four times a week in order to feel confident enough when on set during season one.
20. Richard actually had no idea that his character would die. He didn't find out reading the books, but accidentally when he was googling the character!
21. After doing their scenes, Kit Harington (Jon Snow), Alfie Allen (Theon Greyjoy) and Richard used to have sword fights on the set because they were excited to get to play with weapons.
22. And, in an interview with The Sunday Times, the actor admitted: "People think I am [rich], because of Game of Thrones, but you know, when I signed up for that I was 22, with f*** all on my CV, so I was paid f*** all."
23. Along with fellow Scottish actor Sam Heughan, Richard is on the list to be tipped as the next James Bond.
24. But has also admitted he'd love to play a villain at some point in his acting career, and has told fans to "watch this space".
25. Richard has been cast in Rocketman, the upcoming film about Elton John's early career. The star will play the singer's manager and former lover, John Reid.
26. When Madden was playing John Reid, Elton John's first boyfriend and manager in Rocketman, he became really good friends with the singer himself. Richard said, after spending time with Elton, that he was "surprised to find out how shy he actually was."
27. But don't think the star will becoming a singer himself any time soon! The actor joked in interviews that it was far out of his "comfort zone" and he was grateful for autotune.
28. The actor has also branched out from on-screen acting to theatre. Many fans may remember him starring in a Globe Theatre production of Romeo and Juliet in London and on a British tour, while still a student at the Royal Scottish Academy of Music and Drama.
29. However, he says Bodyguard will always have a special place in his heart and told The Guardian, "every moment working with Keeley [Keeley Hawes who played Julia Montague in Bodyguard] was a joy."
30. His dating history includes some famous faces, including English actresses Jenna Coleman and Ellie Bamber.
31. Richard claims his favourite movies are Jurassic Park and Betty Blue.
32. But his all-time favourite Disney movie is Inside Out – and has even admitted crying while watching it!
33. And, as well as starring in it, the star revealed he would watch Cinderella all the time as a child. He told NOW: "I had two sisters so they'd make me watch these sort of films all the time but I loved them!'
34. One of Richard's favourite hobbies is running. Although suffering an ankle injury a couple of years ago, he has now reassured fans he is back to "doing what he loves" and is "back on his feet" by running half marathons.
35. The actor has also been cast in Marvel's latest movie, The Eternals, as character Ikarus.
36. It is clear to see that Richard loves to goof around by showing fans a few #throwback pictures, including this one…
37. The star secured a spot at number 3 on our Hot Scot list!
38. Although they've since made it into an amazing TV show, Richard actually payed Callum McGregor in the stage production of Malorie Blackman's Noughts and Crosses in 2008.
39. He was recently cast as Ikaris in the superhero film The Eternals, which also stars Angelina Jolie. We can't wait to see it on the big screen!