Fun Ideas for Celebrating Easter At Home
---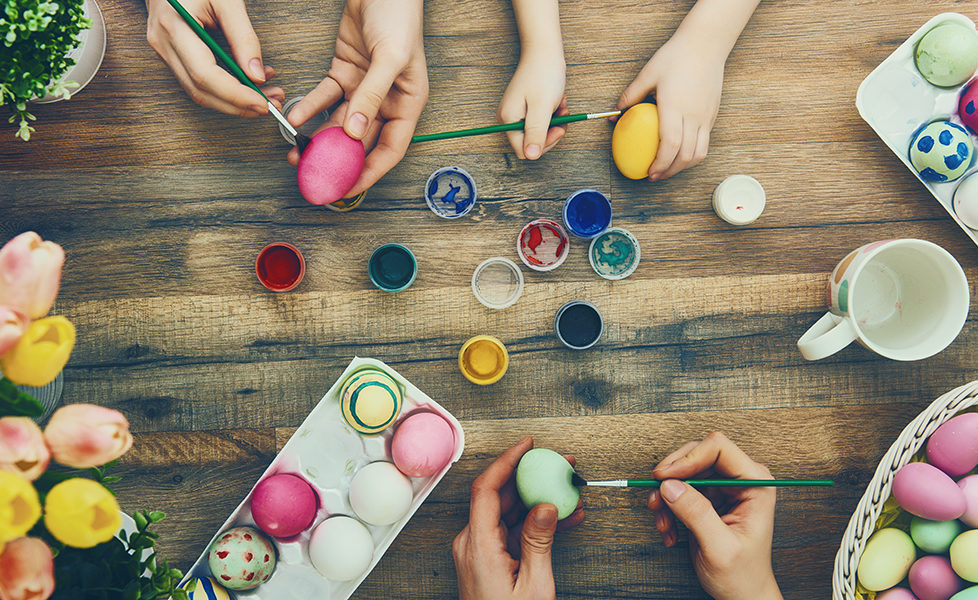 Image: Shutterstock
Easter might seem a little bit different this year but we've got you covered with these fun activities…
Easter Activities At Home
Get creative
It's time to really get hands-on this Easter and pull out all the arts-and-craft stops!
From decorating eggs (all you need to do is hard boil them) with some paint or felt tip pens, to creating an Easter bonnet, there's many ways to keep kids occupied.
Treat yourself
Nothing says Easter quite like your favourite chocolate egg, right? Well, now's the time to treat yourself to one (or two!) as you relax in front of the sofa watching a family movie.
Dress up
If you're anything like us at No.1 loungewear has become your go-to outfit… so why not change things up? It is an occasion after all!
Traditionally, many people visit church at Easter in their 'Sunday Best', so why not look out that midi dress or jumpsuit in the back of your wardrobe! Maybe even put a little make-up on and style your hair too?  It's time to really set the tone (and give your trusty leggings a chance to wash and dry before they're next outing…).
Create a scavenger hunt indoors
Treasure or scavenger hunts don't always have to take place outside!
Take a look around the house for 'nooks and crannies' to see where you could hide little treats for kids (or adults, of course!) to find along the way. Then, make up clues or riddles to help find them and before you know it, your afternoon is filled with fun!
Hangout (virtually) with family
Easter can often mean spending time with family (aside from it signalling the time Cadbury brings back their creme eggs), and this year might be a little hard if you can't see them.
However, with many apps and ways to reach out virtually  – simply give them a video call to really feel connected. Why not even make an Easter-themed quiz to really get everyone involved.
Make a lovely Easter lunch
As we're all stuck indoors, why not make this the time that you really perfect that recipe you've been meaning to try for ages?
Whether you go for a full Sunday roast or something a little more simple, a good meal always helps to brighten up the day. And, while you're going to all that effort anyway, set the table like you normally would for a 'fancy' dinner to really celebrate.
Create a new tradition
Rather than focusing on all the ways that things are a little different this year, use your at-home Easter as an excuse to start a new tradition.
Using one of our tips above, it could be time to make this into a yearly thing!