5 Ways To Keep Positive Right Now
---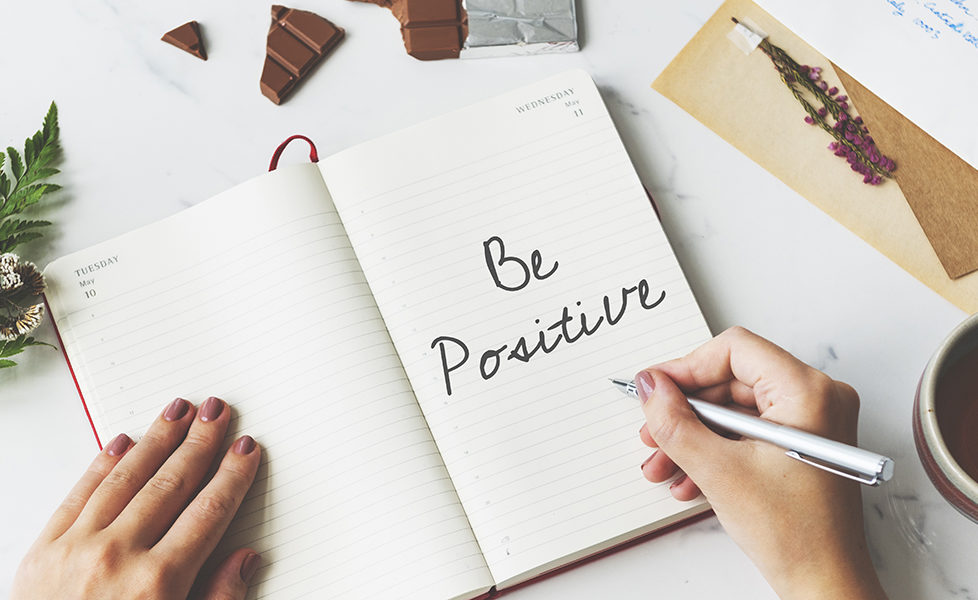 Image: Shutterstock
As the world faces uncertainty, our own personal well-being can really feel the impact too.
But No.1 aim to remain a source of escapism and comfort during this time. We want to help anyone looking for a little pick-me-up or advice on how to relax.
That's why we've partnered up with mental health professionals, Headstrong, to offer you simple ways to stay positive and keep your mood up during a time like this.
We spoke to company director, Brian, and here's what the experts have to say…
How To Keep Positive
Accept the new (and temporary) normal…
Our lives are ruled by thousands of repeating patterns: we go to work at this time, we pick the kids up at this time, we have mince and tatties on a Monday etc. However, at the moment, all of these patterns are unavoidably changed and that is really unsettling for your mental health.
Your mind loves normality and certainty but because the world keeps changing, your mind can naturally fall into anxiety and worry. The quicker you can find a new normal, a new routine, that fits your current situation the better.
Why not set yourself a daily diary; do a fitness class or work out on YouTube, go for a nice walk of the weather allows it? Or maybe read a book you've been meaning to read for ages and, if you really want to go for it, put it in a schedule that means you know what you're doing every day when you wake up.
Set yourself goals…
We all need a reason to get out of bed in the morning. Normally that's getting to work, getting the kids out the door and all the patterns we talked about before.
But the current situation means all these things are disrupted. At times like these it's way too easy to get an attack of the 'why bothers' and just live in your jammies worrying about literally everything.
However, to beat those isolation blues, set yourself little daily and weekly goals and make sure you get off the couch and do them.
Maybe even things you've been meaning to do but always said you don't have the time. Clean the freezer. Wash the dog. Empty the 'stuff' drawer (you know you have one!). Make sure every day has at least one achievement and you'll stay much happier.
Connect when and where you can – especially if you live on your own…
It's easy to miss just how much work or being out of the house nourishes us socially.
When you speak to people about the weather or about the stupid thing your cat did last night you can easily dismiss these conversations as nothing important. But it is these little social interactions and cheery 'good mornings' that stop us feeling isolated and alone.
Now, we need to think of other ways to reach out. Pick up the phone, download Skype and have a virtual party, call an old friend, connect to your family. Just because you're physically isolated doesn't mean you have to be socially isolated.
Be careful who or what you listen to…
Your mental health is hugely affected by outside information. At the moment there is a lot of fake and misleading information floating about that can easily make you scared and anxious.
That why it's important that you listen and follow the advice of those who are trying to help and control what's happening. You have the choice to trust that the world is making decisions to help you or you have the choice to live in fear.
So, check your sources and don't overwhelm yourself with too much useless information.  Make good choices and ask yourself 'does this sound realistic?' Filter on everything you read and listen to.
Know your 'Circle of Influence' and remember that you can't control everything…
What is in your 'circle of influence'? If you can keep your attention on things you can actually change and influence you'll be much happier and much more relaxed.
You can't change government decisions and, unless you're a microbiologist you can't influence a vaccine for the virus!
But you can make good dinners, you can get off the sofa and go for a walk, and you can speak to your family and spend time just being together.
Identify your 'circle of influence' and put your attention on what you can do, what you can change and what you can make better.
For more tips like these, visit Headstrong.