We Seriously Can't Wait For Outlander Season 5
---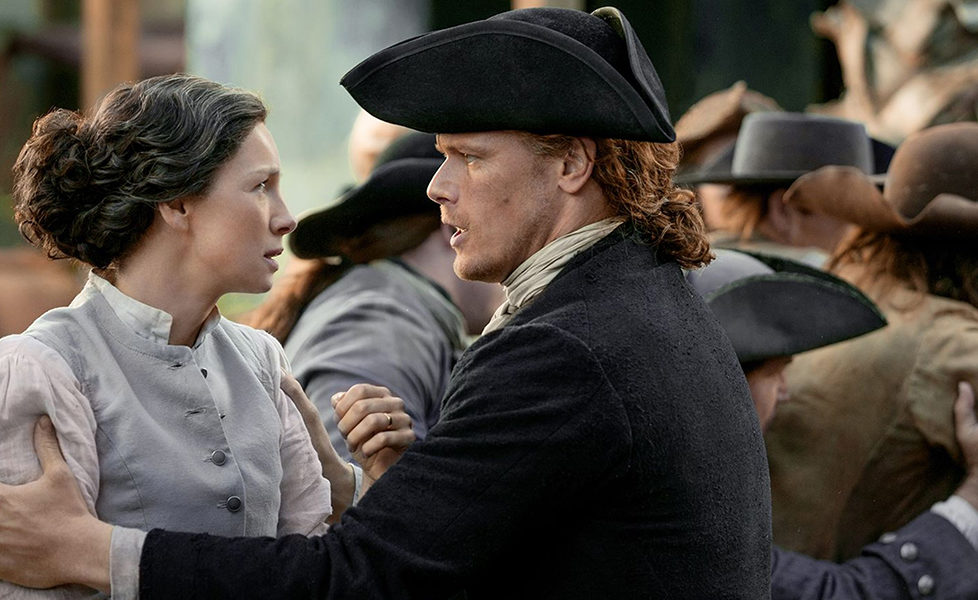 Editorial use only. No book cover usage. Mandatory Credit: Photo by David Bloomer/Hbo/Kobal/Shutterstock (9276497ab) Caitriona Balfe, Sam Heughan "Outlander" (Season 3) TV Series - 2017
After a tediously long wait, Outlander season 5 is set to hit our screens this (Monday 17th February) on Amazon Prime.
The highly-anticipated fifth season is largely based on Diana Gabaldon's book, The Fiery Cross, and follows Jamie Fraser (Sam Heughan), Claire Fraser (Caitriona Balfe) and their family's adventures at their new North Carolina settlement, Fraser's Ridge.
We're incredibly excited for the new season and all its surprises to land, and these are the reasons why:
Outlander Season 5
The Cliffhanger 
In an interview with American publication Oprah Magazine, Sam Heughan has hinted that season five may end on a cliffhanger. He said: "The greater objective of the season is that they know this war is coming, and Jamie's on the wrong side. He's doing it because he needs to provide for people.
"He's really stuck between a rock and a historic hard place. I think that's going to probably culminate not this season, but in the next season."
Since Starz handed Outlander producers a double commission in 2018, the writers could have decided not to tie up the end of this season because they know they have time to resolve it.
Whatever happens, we're on the edge of our seats already!
Claire and Jamie's Relationship
Sam also said in the same interview that Claire and Jamie have "still got it" relationship-wise! He said that despite the two characters now being grandparents and having a "different kind of fire", they're perhaps "hotter than ever".
Roger and Jamie's Potential Bromance
Richard Rankin, who plays Roger MacKenzie in the show, told the same magazine that Jamie and Roger's relationship is a huge, exciting element of the new season. They will apparently be trying to find common ground, and there will be ups, downs, peaks and troughs which may leave viewers confused.
However, Richard said he and Sam had a lot of fun portraying the complicated relationship, which suggests there could be a bromance forming by the end of the season. He said: "[The relationship] is really, really good, it's great. I think it's gonna be one that the fans and the viewers really enjoy watching and seeing come to life."
Time Travel
Caitriona Balfe, who plays the headstrong Claire, has teased the return of yet more time travel in this upcoming season. She said to Oprah: "I wish I could tell you so many things but we're not allowed. But, you never know, it's [time travel] always an element of our show."
Our nerves can't take it!
Characters in Danger
Jamie and Claire are always finding themselves in trouble, but somehow always manage to get themselves out of it. Just as things are looking rosy for the pair at their new family residence at Fraser's Ridge, viewers can expect imminent danger.
In one of the trailers for the show, released on February 8th, war draws closer to the Frasers' door. Claire says to Jamie, "I've done everything I can to make this a safer time but it's not."
In her interview with Oprah, Sophie Skelton, who plays Brianna Fraser, said: "Everyone has their own trauma this season. I'd say Bree, Roger, and Jamie all go through a lot. Claire has a tough time…it's all in very different ways! Can't really give too much away on that."
She said to expect more heartbreak… as if we've not experienced enough in the first four seasons!
The Wedding
One heartwarming moment to look forward to, though, is Brianna and Roger's wedding, which happens in the book, too. Parade released some breathtaking pictures of Brianna in her dress, and Jamie about to give her away.
It wouldn't be Outlander without romance, after all!