Vegan Recipes To Try Out This January
---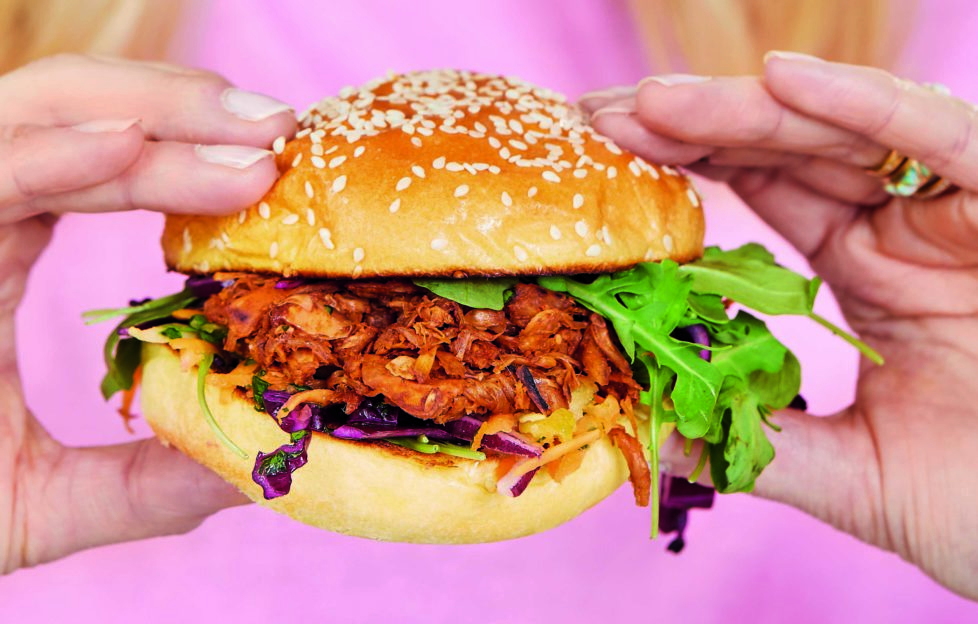 TV and radio presenter, Fearne Cotton, give us her take on some delicious vegan versions of classic favourite dishes…
Fearne Cotton Vegan Recipes
Jackfruit burgers and slaw (pictured above)
Serves 4
Ingredients
For the slaw:
• ¼ red cabbage, cored and shredded
• ¼ red onion, finely sliced
• 1 carrot, grated
• 1 apple, cored and grated
• 1 tsp Dijon mustard
• 2 tsp sherry vinegar
• 1 tbsp extra virgin olive oil
• Small handful of flat leaf parsley, leaves only, finely chopped
• Sea salt and freshly ground black pepper
For the burgers:
• 2 x 400g tins jackfruit
• 2 tbsp olive oil
• 3 garlic cloves, crushed
• 200ml BBQ sauce (any type)
• 4 burger buns, halved
• Small handful of rocket
Method
In a large bowl, combine all of the slaw ingredients, season well and set aside.
Drain and thoroughly rinse the jackfruit and pat it dry with kitchen paper. Put the oil into a non-stick pan and set over a high heat. Add the jackfruit and stir-fry for 4-5 minutes, until beginning to colour.
Add the garlic and fry for another minute until aromatic. Add the BBQ sauce, reduce the heat and simmer gently, stirring frequently, for 25-30 minutes until the sauce is thick and the jackfruit is tender. Once tender, use two forks to shred the jackfruit.
Preheat the grill to high. Toast the inside of the burger buns under the grill. Top the bases of the buns with the rocket and a little of the slaw. Add some pulled jackfruit and some more slaw on top.
Finish with the tops of the buns and serve immediately.
Mac and cashew cheese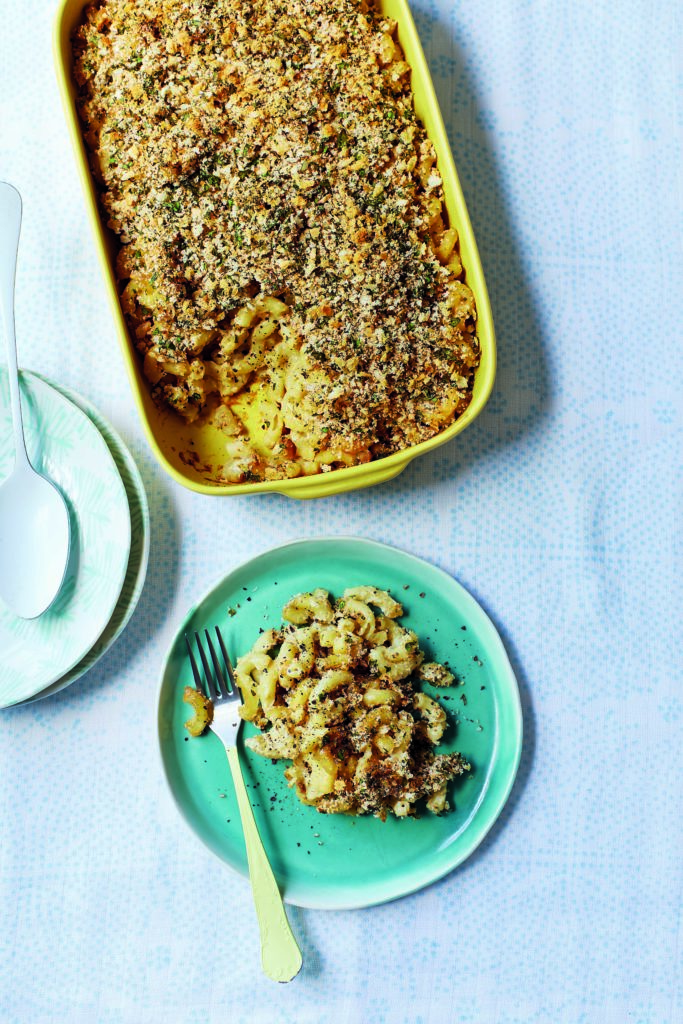 Serves 4
Ingredients
• 100g cashews, roughly chopped
• 350g macaroni
• 220ml soya milk
• 1 tbsp miso paste
• 2 tbsp nutritional yeast
• 4 garlic cloves, crushed
• 2 tsp Dijon mustard
• 2 tsp lemon juice
• 30g fresh breadcrumbs
• Small handful of flat leaf parsley, leaves only, very finely chopped
• ¼ tsp sweet smoked paprika
• 3 tbsp olive oil
• Sea salt and freshly ground black pepper
Method
Cover the chopped cashews in boiling water and soak for 30 minutes. While the nuts are soaking, bring a large pan of salted water to the boil and cook the macaroni, according to the packet instructions. Drain and set aside.
Preheat the oven to 200°C/180°C fan/400°F/gas mark 6.
Drain the nuts thoroughly and transfer to a blender or food processor together with the soya milk, miso paste, nutritional yeast, garlic, mustard and lemon juice. Blitz until completely smooth.
Transfer to a saucepan and set over a medium heat. Bring to simmering point and cook for 6-8 minutes, stirring constantly, until thick and creamy. Remove from the heat and combine with the cooked pasta.
Transfer to a medium casserole dish. Scatter over the breadcrumbs, parsley leaves and paprika. Season and drizzle over the olive oil.
Bake for 15-20 minutes until the breadcrumbs are crisp and golden. Serve immediately.
For more tasty recipes like these, be sure to pick up a copy of No.1 each month!
Happy Vegan by Fearne Cotton is published by Orion Spring, £20