20 Karen Gillan Facts Every Fan Needs To Know
---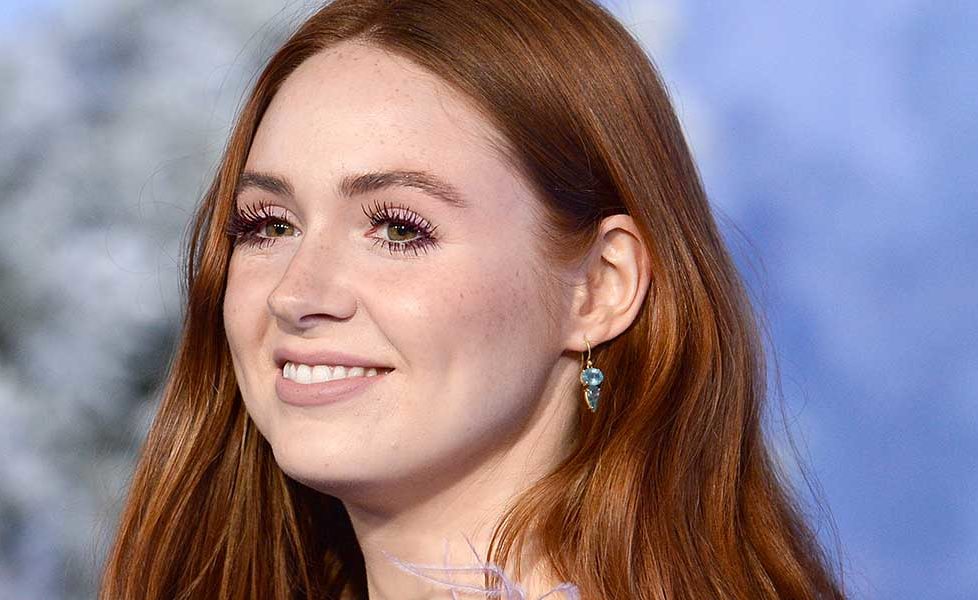 Photo by Broadimage/Shutterstock
Here are twenty unmissable facts about Scot starlet Karen Gillan you NEED to know…
Since starring in the iconic Doctor Who, Karen Gillan has reached new dimensions in her acting career. From Marvel's Guardians of the Galaxy to the Jumanji film franchise, Karen can do it all.
No.1 have rounded up some of the most surprising facts about the unstoppable Scottish star who is taking Hollywood by storm.
Karen Gillan Facts
1. Karen has played the piano from a young age and considered going down a musical path instead of pursuing a career in acting.
2. As a child, Karen suffered from crippling stage fright.
3. Karen is starring in an upcoming action thriller Gunpowder Milkshake alongside Game of Thrones' Lena Headey. The film, set for release in 2020, is female-focused and sees Karen play an assassin. By the looks of her Instagram, we wouldn't mess with her!
4. The original 1995 Jumanji is one of Karen's favourite movies of all time, along with cult classics A Clockwork Orange and The Shining.
5. She loves all things gothic.
6. Karen's most beloved piece of jewellery is a cross given to her by her grandmother. She told The Evening Standard: "She was the one who gave me the determination to do all this; in a weird way I am living out her dreams."
7. During Karen's time as Amy Pond, the famous daleks were altered so they could match her height of 5' 9".
8. Karen loves nothing more than a good old rummage around in vintage shops – a hobby she shares with her dad who first inspired her passion for vinyl records.
9. Karen has previously stated that one of her dream roles would be fellow Invernessian, Lady Macbeth. She also has her sights set on playing a Bond villain. She told Interview, "My dad used to tell me when I was younger, 'You don't want to be a Bond girl; you want to be a villain.' "That stuck with me." We are definitely on board.
10. When she was 19 she was scouted by fashion designed Allegra Hicks to walk in her London Fashion Week show.
11.Before taking on the role of Nebula, Karen had to work out for two months to bulk up. When she wasn't shooting she did fight training every day. But this wasn't the only battles she faced. While filming Jumanji in Hawaii, Karen revealed to Vanity Fair that she couldn't use bug spray because of her full-body fake tan: "It was like a battle between fake tan versus bug spray versus sunscreen."
12. Karen shaved her head to play the role of Nebula in her first Guardians of the Galaxy film. However, thanks to CGI she was able to keep her famous red locks for the remainder of the franchise.
13. In 2006, Karen was cast in the Scottish detective series, Rebus. She had to drop out of London's prestigious Italia Conti stage school where she was enrolled at the time in order to take the part.
14. She worked in a London pub before she was able to find consistent acting work.
15. Karen is a vocal supporter of greater diversity for female roles in the film industry.
16. Karen wrote, directed and starred in her directorial debut, The Party's Just Beginning which was nominated for a Scottish BAFTA.
17. She can do a hilarious Britney Spears impression.
18. Karen told The Guardian that she lives "with a consistent, subtle homesickness all the time" when she is in Los Angeles, and pines for her hometown of Inverness. She has dreams of escaping to the Highlands in the future.
19. She loves horror films and shot amateur home movies as a teenager with her dad, even using ketchup for the gory scenes!
20. Karen is quite the joker and loved to play practical jokes on her Jumanji: The Next Level co-stars Kevin Hart and Jack Black.
Words by Bethany Ferguson.