Exclusive Interview: Elaine C. Smith
---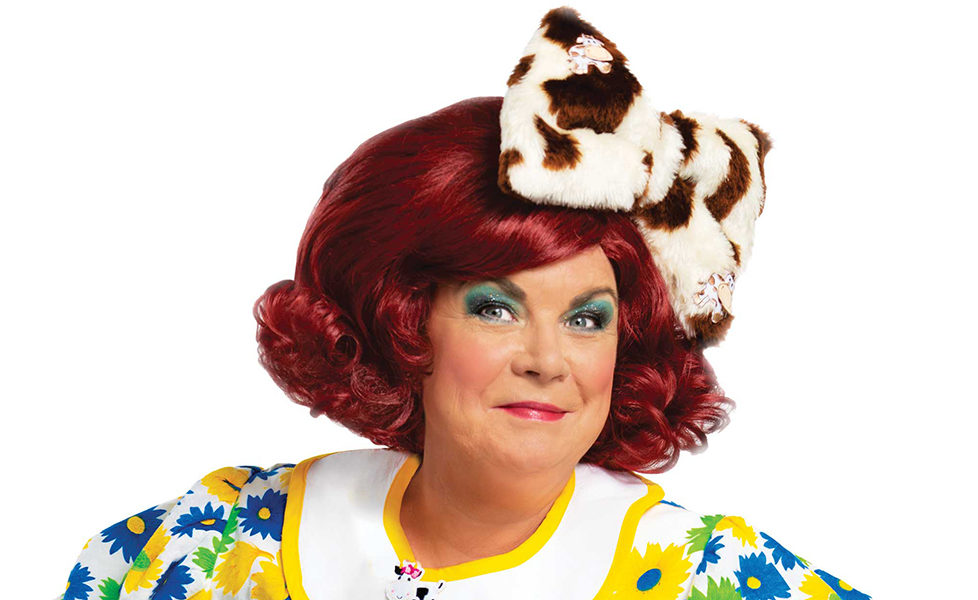 Image: King's Theatre
Actress Elaine C. Smith, 61, proves that Scottish pantomimes are truly the best in all the land…
Elaine C. Smith interview
There's nothing quite like a Scottish panto. Pantos give people a chance to gather together – no matter what background, religion or political stance. It really does bring Scottish people together at Christmas time.
Rehearsal days can be very tiring. However, they don't last long! Even though we're there from the crack of dawn until late at night, they only go on for around two weeks. Pantos are always such a quick turnaround. It's intense as you do two shows a day for two weeks.
People think we live and breathe Christmas all year round. Although I'm sent ideas for my costumes a few months in advance (so I can decide what I like or don't like, and what I feel comfortable in), I don't actually start panto until much later. This year we started on the 11th November and the panto begins on the 30th. It is one of the biggest shows of the year.
We cram in a lot during rehearsal time. I also try to think of more ways to bring my character to life. I usually get them to dress up as a celeb who is really current, so this year I'm donning a Cher costume to resemble her in Mamma Mia! 2. I'm also going to be flying across the stage in a helicopter!
It is great to be back with some of my old pals too. My Two Doors Down co-star, Jonathan Watson, and Johnny Mac are both hilarious. They're fantastic to work with and I love having them by my side to perform at The King's.
After all these years, I still find panto nerve-wracking. The excitement never waivers though; there is always something that draws you back in. This is my 24th panto and the thought of putting a little bit of light into someone's life is amazing, especially when the world can feel like a dark place at times.
I remember my first panto. I was performing with actor Gerard Kelly and he told me how much hard work it is. I said 'Well I'm not working down a pit', but halfway through our shows when I was starting work in the dark and finishing in the dark, I realised that is exactly what it's like.
I once travelled all over Scotland to perform. However, I have a granddaughter now and I don't want to be away for eight weeks at a time, especially at this time of year. There's nothing like getting home to your own bed – it is a total luxury. Plus, I still need to do my own Christmas shopping!
When you're training to be an actor you're often made to feel that panto is a lesser form of theatre. Some think, 'Oh panto is so easy', but actually you need a special skill set and a lot of actors can't do it. I knew I made the right decision to do it when my mum became very ill.
She was diagnosed with breast cancer. I wasn't in panto that year – I think we were filming Rab C. Nesbitt, and it was my daughter Katie's [now 30], 10th birthday. I was taking her pals to the panto but it was the last thing I wanted to do. All I could think about was the cancer and the awfulness but I so clearly remember sitting in the audience with a row full of kids when the lights and music came up. They started singing When She Loved Me from Toy Story 2, and that was me gone. I was greeting!
But then the next minute I was laughing and I realised I wasn't thinking about cancer. I realised in that moment what panto is all about. It gives people an escape and brings them happiness. That's the thing about Scottish panto – it is for everyone! Kids enjoy themselves and their grannies too.
The audience's reaction is what really makes a show. You never really know if they're going to like the show or not. Unlike TV where you can do a scene again if it isn't working, with panto you need to know how to turn things around quickly.
I don't have any superstitions. But I do like to play music before I go on stage.
The villain is really exciting in this year's panto, Jack and the Beanstalk. We made it the giant's wife rather than the giant, and Jack's female friend will be the one to fight the giant.
Hopefully this will provide more role models for girls. We need to show that they're no longer just the princess that is waiting for a guy to save her and change that way of thinking.
Jack and the Beanstalk runs at the King's, Glasgow from Saturday 30th November until Sunday 5th January.
Make sure you never miss a copy or any of our exclusive interviews! Why not treat yourself to a No.1 magazine subscription here…