No.1 Visits: SKYbar and Monboddo
---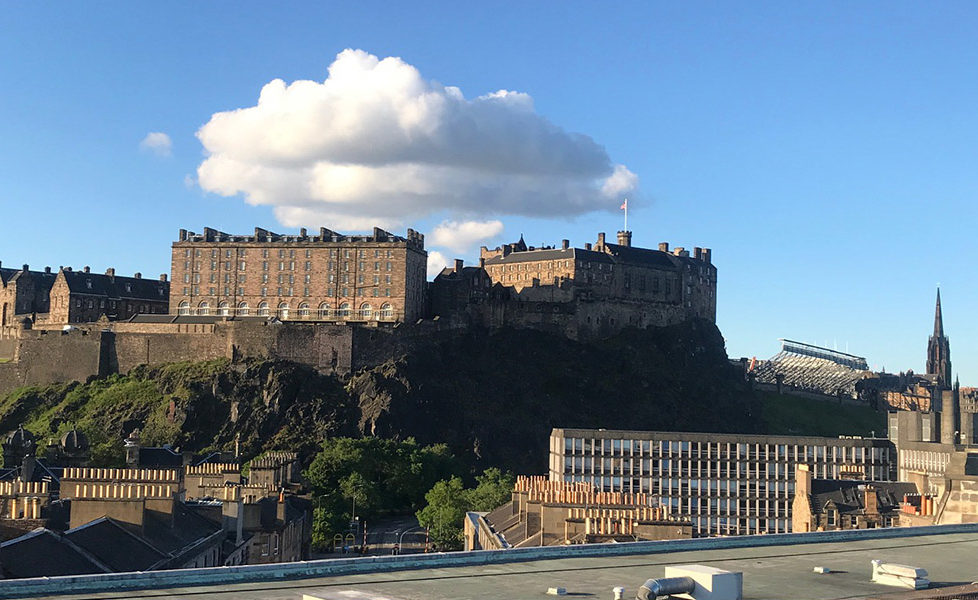 If you're on the hunt for a stylish rooftop bar near Edinburgh's Grassmarket, then you are in for the ultimate treat here…
Skybar and Monboddo review
When I arrived at DoubleTree by Hilton in Edinburgh's city centre, I knew right away that I was in for a treat.
For once the Scottish sun was actually shining, the hotel was bustling with people and a stunning view of Edinburgh Castle was right in front of me.
Now, I don't know about you, but whenever I visit Edinburgh, I often find there aren't a lot of rooftop bars to pick from. So when I heard the Hilton were opening their luxurious rooftop cocktail bar the first Thursday of every month to the public from 6pm to midnight, I jumped at the chance to check it out.
Although the SKYbar itself can be hired out for private events for up to 180 people, such as birthdays, Christmas parties, summer BBQs and even weddings, the Hilton have only recently started opening it up to the general public – making it feel all the more luxurious and exclusive.
However, in the interest of lining our stomachs before a couple of Aperol Spritzs on the balcony, we headed downstairs to their signature Monboddo restaurant.
Guests can in fact dine at SKYbar with a private BBQ and personal chef for just £40pp, but we opted for a relaxing, sit down meal before indulging ourselves in the lovely view of Edinburgh Castle.
As we were seated in Monboddo, I couldn't help but notice how bright and spacious the restaurant was – perfect for a relaxing bite to eat!
We both started off with haggis bon bons (because who can resist!), priced at £8, and noted that the dish arrived piping hot and carefully presented.
The food was a feast for the eyes as each bon bon was placed on a bed of neeps and tatties, and served with a creamy and very moreish whisky sauce.
For main course, I opted to try out one of their seafood dishes – mussels and fries (priced at £12). The mussels were sautéed in garlic, white wine, cherry tomatoes and parsley, and were delightfully fresh. All mussel-lovers know the dread of unopened shells, but I'm happy to report there were none to be seen.
My dining partner decided on Balmoral chicken that was accompanied by haggis, creamy mashed potatoes and carrots, coming in at £14.
However, while the food was delicious, it was worth noting the hotel doesn't offer huge portions and the restaurant was quite quiet. However, I suspect because it was a Thursday night and everyone was making their way to the SKYbar instead and it would definitely not stop me from returning.
We did swither over the dessert menu, but decided to order a cocktail to head upstairs with instead… because no view is complete without one in hand.
I opted for an Aperol Spritz while my dining partner indulged in an Espresso Martini, the ultimate after dinner treat.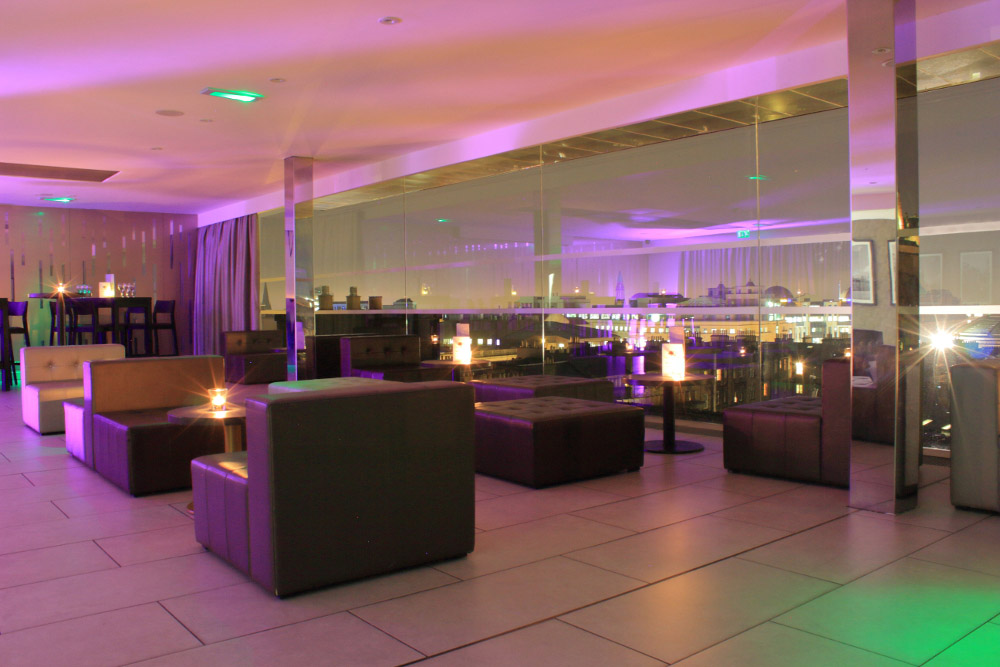 Plus, just to top up on the allure and mysterious vibe of SKYbar, guests can only access it through one specific lift. The main elevators in Doubletree take you directly to guest rooms, but the SKYbar lift takes you straight to the top. Perfect for adding to that VIP experience.
And, as I stepped out of the lift, I was not only greeted with an unforgettable view of the Castle but an array of drinks on offer too – not your average pop-up bar here.
Plus, if there is a light rain shower guests don't need to worry as the indoor seating area offers the same stunning view from their floor-to-ceiling windows.
However, you best be quick if you want to see Edinburgh from the clouds as SKYbar don't take bookings. We'll race you!
SKYbar Edinburgh Doubletree by Hilton, Conference Centre, 5th Floor, 34 Bread Street, Edinburgh, EH3 9AF