No.1 Visits: Stobo Castle Health Spa
---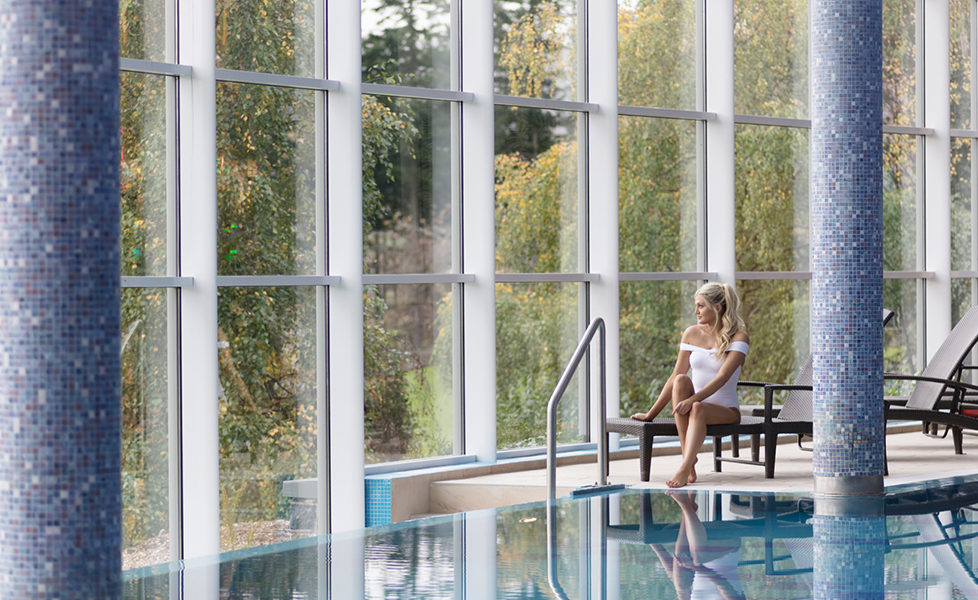 Image: Stobo Castle
We head to the stunning Stobo Castle for a review…
Since having my second baby a year ago, 'relaxation' seems like something of an abstract concept…
At night, once the kids are in bed and any chores have been done, there's usually less than an hour to 'relax' before hitting the hay. But as a working mum-of-two, even then there's always something to be done, or planned, or Googled ('Baby rash', 'Is the content of this nappy normal?', 'Fun days out to occupy two demanding toddlers'…). Women, champion multi-taskers that we are, always have at least 100 tabs open in our brains at any given moment, and I'm no different.
So when the chance to visit Stobo Castle came up, happily falling on a date when grandparents (aka babysitters) were in town, I was thrilled. A whole 24 hours in a luxury destination spa, sans kids… nothing could have sounded more idyllic.
So, as we drove along beautiful country roads to Peeblesshire, I was getting rather giddy about the promise of being 'relaxed', but even then, I don't think I really imagined it would be possible. I was wrong. I'd barely checked in, found our room and looked out the famous Stobo dressing gown and slippers when I felt the omnipresent tension in my shoulders starting to lift. Miraculous!
Our luxurious room certainly helped with the instant feeling of calm. The view was beautiful, looking out over the immaculate grounds of the castle, with rolling hills in the background – I felt a world away, not 90 minutes from Glasgow.
After getting into our dressing gowns, I was keen to get to the spa so not a minute of our time away would be wasted. I may have started to relax, but old habits die hard, and rushing about to maximise time efficiency is now part of my DNA.
However, once firmly stationed on a bed of bubbles in the hydro pool, even my primal urge to rush was starting to ease. I think I went into a trance, waking only when the bubbles stopped to sleepily reach behind me, never once opening my eyes, and hit the button again.
After dragging myself away from my lovely bubble bed, I contemplated being active and doing a couple of lengths or hitting the gym (LOL) but decided instead to lie on one of the sun loungers stationed at the floor to ceiling windows.
The heat coming from the pool, the gentle background sounds of the spa and the hypnotic scenery made it impossible to keep my eyes open.
So, after a little cat nap, the cocktail bar was calling. Set upstairs, overlooking the spa pool, we found an unassuming door that gave nothing away as to the hidden gem inside. Decked out in tropical palm prints and wicker chairs, with old school jazz music playing in the background, it felt more like we'd stumbled into a 1920s speakeasy than a bar at a spa hotel.
But even the bar is super relaxed, everyone was still in their robes and slippers, sipping on everything from Pornstar Martinis to fantastical gin concoctions. The bar staff were unbelievably knowledgeable about cocktails and great at suggesting just what would hit the spot.
One or two… okay, three cocktails later, it was time to head back to our room to get ready for dinner. The dining room at Stobo has a really inviting vibe to it. On our visit it was lively, with all tables filled, but the size of the room also makes it feel quite intimate.
After a couple of big, juicy fillet steaks, accompanied by a few glasses of super dry, perfectly chilled white wine and a generous helping of cheesecake, we were stuffed to the gunnels. By that point, the huge luxury bed back in our room was tempting me, so we called it a night. After all, we'd had a terribly busy day lounging around.
The next morning I had a treatment booked. I'd been looking for something that catered to uber sensitive, allergy prone skin like my own and The Made for Life treatments ticked all the boxes.
They're designed to 'provide a window of time to disconnect from daily stress and reconnect with nature and stillness.' And because the ingredients are all natural, the treatments are ideal for those with sensitive skin and are so gentle that they're even suitable for those living with or recovering from cancer.
I opted for the Soft Touch Therapy (£45 for 25 minutes) which promises to use 'a sequence of slow, soothing movements to induce a deep sense of relaxation, enabling you to find peace and enjoy the moment.'
It was a truly lovely, relaxing treatment that felt like the perfect slice of 'just for me time' with an expertly trained therapist gently massaging and soothing my back and shoulders until I felt like I was floating on a cloud.
Needless to say, my experience of Stobo Castle was perfect from start to finish, so much so that I may need to prescribe myself a yearly visit in the name of that all important and often overlooked self-care.
Overnight stays from £125 per person, per night including all meals and use of the spa facilities
Visit: Stobo Castle Health Spa, Stobo, Peeblesshire, EH45 8NY, 01721 725 300
If you fancy winning a stay at Stobo, we've got a one night stay up for grabs at our next No.1 event! Find out more here…