What Not To Miss At The Edinburgh Fringe 2019
---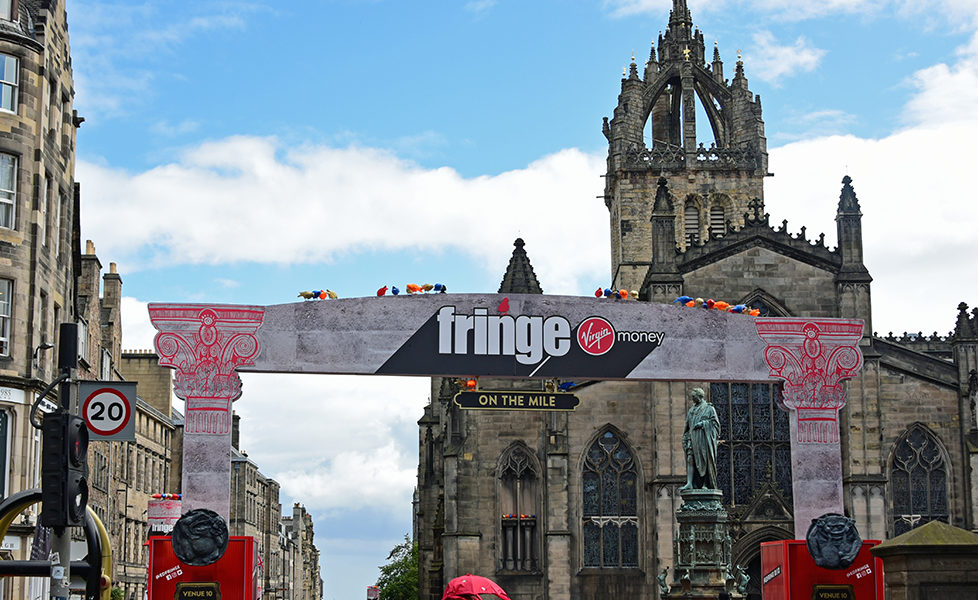 Image: Getty
The Edinburgh Fringe Festival returns to Scotland's capital city for another year from the 2nd – 26th August.
With show-stopping shows from some of the world's best performers in comedy, music, theatre and dance – you do not want to miss out! We've rounded up a selection of the best things to see and do at the Fringe this year so you can start planning your calendar now…
Bible John
This one is for you true crime fanatics! An all-female cast go back in time to 1969 to explore the story of three women murdered at the Barrowlands Ballroom in Glasgow by a serial killer, nicknamed Bible John. This drama will take you on a journey through the murders in 1969 before fast-forwarding almost 50 years to present day where four women, obsessed with true crime, are desperate to solve one of Scotland's darkest cases.
Where: Pleasance Courtyard, Pleasance Above
When: 31st July, August 1-12, 14-26. 3:50pm
Tickets priced from £11, available here.
Museum Late: Fringe Fridays
Have you ever wondered what night at the museums are like? Here is your chance to explore the National Museum of Scotland in Edinburgh after hours! Across three different late night parties at the museum, guests will enjoy three hours of exciting and unique entertainment from music, dance, comedy and theatre performances – alongside bars to grab yourself a drink and free entry to the new exhibition Wild and Majestic, what more could you want during the Fringe?
Where: National Museum of Scotland
When: August 9th, 16th and 23rd, 7:30pm
Tickets priced from £18, available here.
The Dolly Parton Story
The Dolly Parton Story returns to the Fringe after receiving standing ovations from audience members in previous years to tell the story of the Queen of Country. This story-telling musical is a must-see featuring renditions of the singer's most iconic songs including Jolene, 9 to 5 and Coat of Many Colours.
Where: theSpace @ Symposium Hall, Amphitheatre
When: 2nd-25th August, 12:30pm
Tickets priced from £12.50, available here.
Thrones! The Musical Parody
The Game of Thrones musical parody at the Fringe has been a complete sell-out since it began in 2015 and with the end of the HBO series, this show is likely to sell out again. Updated with new material from the most recent and final season, Game of Thrones fans can enjoy over an hour of a hilarious take on the beloved drama series.
Where: Assembly George Square, Gordon Aikman Theatre
When: 31st July – 25th August, 10:30pm
Tickets priced from £15, available here.
Baby Wants Candy: The Completely Improvised Full Band Musical
Baby Wants Candy, an Edinburgh Fringe sell-out from 2015-2018, is back for another year. As the title hints, this musical is completely unscripted with the comedy ensemble taking audience suggestions to create brand new, hilarious shows every night. Some fan favourite titles include Kanye West Side Story, Nicola Sturgeon; Hypnotis Comes to Life and Tinder in the Animal Kingdom. This unpredictable and entertaining show is one that you should definitely add to your Fringe Calendar!
Where: Assembly George Square Studios, One
When: 31st July – 25th August, 8pm-9pm
Tickets priced from £12, available here.
Ben Hart: The Nutshell
Following his appearance of Britain's Got Talent 2019, the multi-award winning magician and West End Star, Ben Hart returns to the Fringe after popular demand. With rave reviews from previous years and shows at this year's Fringe already selling out, this show is not one to miss with endearing and clever magic tricks that go beyond your imagination.
Where: Gilded Balloon at the Museum, Auditorium
When: August 18th, 24th-25th, 9pm
Tickets priced from £10.50, available here.
Edinburgh's Greatest Hits – The Story of the Capital's Music
For all the music lovers out there, this unique take on a walking tour is definitely one for you! Walking through the streets of Edinburgh, you will explore the stories of the cities musical history from those who have stayed, played and made music here. This is the perfect activity during the Fringe for those looking to explore Scotland's capital city whilst immersing themselves in the arts – not to mention that the tour finishes in one of Edinburgh's most-loved folk bars!
Where: Outside Edinburgh's Festival Theatre (Meeting Point)
When: August 2nd-3rd, 7th, 9th-10th, 14th, 16th-17th, 21st, 23rd-24th, 11am
Tickets priced from £12, available here.
The Guilty Feminist: Live Podcast
The Guilty Feminist, a podcast loved by females with over 60 million downloads since it launched in 2016, is returning to the Fringe this year for another live recording. Over three days, the comedian podcast host, Deborah Frances-White, discusses modern feminism and our own personal downfalls as 'feminists' that undermine the typical ideals of being a feminist.
Where: Pleasance Courtyard, The Grand
When: 2nd-4th August, 4pm
Tickets priced from £15, available here.
Circa: Humans
Ten acrobats prove how capable humans can be and show us how our bodies, connections and aspirations all form who we are through a breath-taking performance with thrilling stunts. With tickets at £20, this five-star performance from the Australian circus ensemble is one not to miss!
Where: Underbelly's Circus hub on the Meadows – The Lafayette
When: August 2nd-6th, 8th-11th, 13th-18th, 20th-24th, 7pm
Tickets priced from £12, available here.
By Erin Gaffney