No.1 Visits: Dunkeld House Hotel
---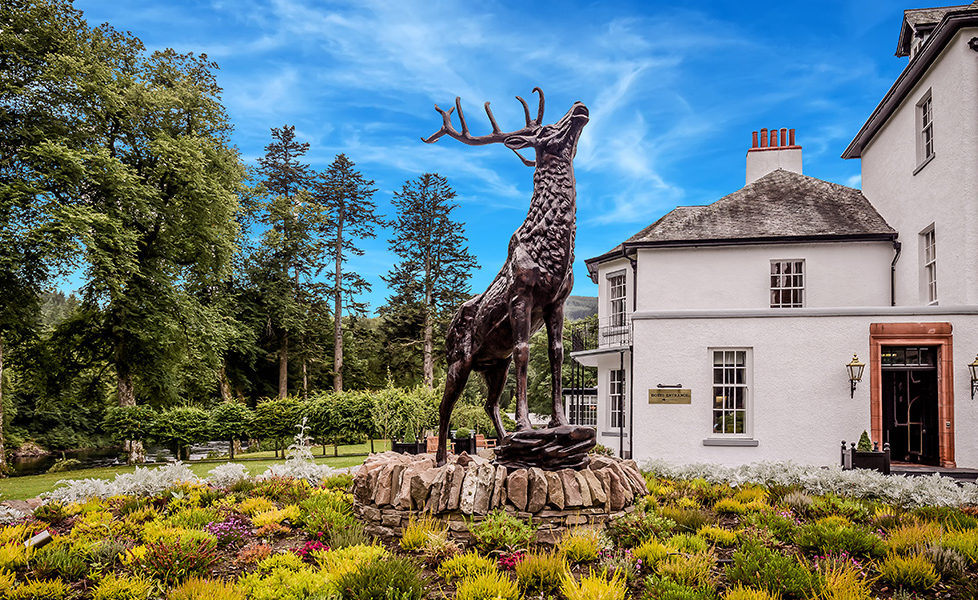 Image: Dunkeld House Hotel
Sally Hampton takes a relaxing break at this Perthshire retreat to discover all that this beautiful hotel and its stunning grounds have to offer…
Just an hour and a half from Glasgow or Edinburgh and in easy reach of other Scottish cities, Dunkeld House Hotel is a perfect rural escape – even for the geographically challenged among us!
Despite the fact that the house boasts the most beautiful entrance gates on the main road, I somehow managed to drive past them twice and got myself totally lost…
But I'm so glad I did finally find my way up the sweeping drive to this stunning country hotel. What a balm for the senses it is. Set in 280 acres of gorgeous park and woodland, it sits right on the banks of the River Tay. With a selection of rooms, suites and lodges, there's accommodation to suit everyone. Even on a Tuesday evening, there was a nice buzz about the place without ever feeling crowded.
There are some lovely welcoming touches on arrival. You're asked if you'd like a complimentary dram and a cute little platter of sweet treats await you in your room.
With plenty of lovely gardens to explore, plus a stunning pebble beach just metres from the front door, I took a stroll while waiting for my room to be prepared and instantly felt my shoulders relax. There's pretty patchy mobile reception and functional WiFi adding to that air of peace and tranquility.
If sightseeing is your bag, you'll find The Scottish Crannog Centre, Scone Palace, Pitlochry Dam's new visitor centre and Blair Castle all less than half an hour's drive away.
If you're feeling energetic, cycle along the banks of the Tay on easy paths, walk to the Hermitage or Bruar Falls or take a Land Rover driving experience.
Or, of course, you could relax and unwind with all the four-star facilities on site. I chilled out before dinner with a dip in the pool which boasts stunning views of the Craigvinean Hills. There's a sauna, steamroom and whirlpool bath. While I didn't trouble the onsite gym, it looked very well equipped.
For some serious pampering, you can book an organic Ishga treatment in the luxurious spa or upgrade to a package including afternoon tea, lunch and/or cocktails.
All that relaxation is frankly exhausting but, never fear, the bedrooms are havens of overstuffed cushions, faux fur throw (yes, really!) and luxurious bathrooms. I was pleased to see biscuits on the tea tray, too. No one wants to expire with starvation between lunch and dinner, after all!
Talking of dinner, DBB gusts have £33 to spend on the dinner menu, plenty for three courses. There's a choice of cosy dining room or a conservatory area with splendid views. I started with a gorgeous artichoke salad that wouldn't have looked out of place on Masterchef, then a more traditional loin of pork for main. The warm plum frangipane tart as an out and out treat for dessert. I restrained myself from licking the plum syrup off the plate but only just!
After a great night's sleep in glorious silence, breakfast was calling. Isn't it amazing how nothing very much at all can really stimulate the appetite… I'm happy to report it was everything you would expect from a Scottish country house hotel – haggis, porridge, toast and marmalade – plus a selection of fruit, cereal, yoghurt and the full cooked selection. In the interest of balance I'd have to say the coffee wasn't earth-shattering but it did come in a quality vacuum pot so was good 'n' hot.
For an indulgent short break in beautiful countryside, Dunkeld House Hotel is hard to beat. It is also the perfect venue for a stunning wedding. I can't imagine a better backdrop for bridal photos than those beautiful grounds complete with one of Scotland's most iconic rivers.
I, for one, will definitely be searching for an excuse to return!
Prices start at £94 per room per night.
Visit: Dunkeld House Hotel, Blairgowrie Road, Dunkeld