Sponsored: Caroline Marshall My Story
---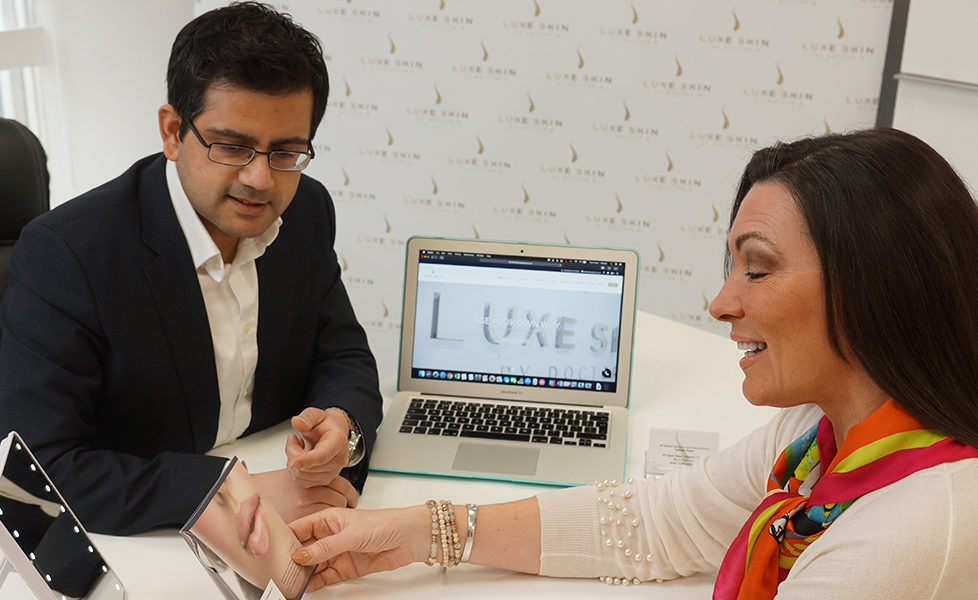 How to Look 10 Years Younger
Caroline Marshall
This story is the end result for myself after treatments recommended by Dr Q. It has been an amazing journey and an education as I chose to have non-surgical cosmetic treatments from Dr Q. I was looking for a lift in my facial appearance and a boost in my self-confidence and, ultimately, to look like I did 10 years ago. I chose a photograph from a modelling photo shoot when I was 46 and following my treatments with Dr Q I am absolutely delighted and thrilled with the results.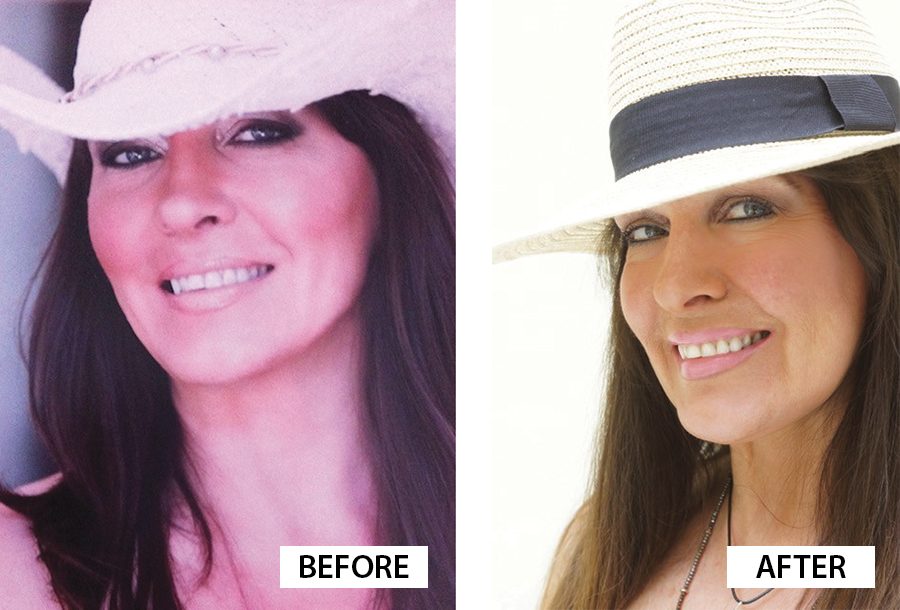 As I reach 57 this year, my headshot photo taken this month following my treatments gives me the confidence and sparkle back that I had been looking for. As you can see the profile photos of before and after show clearly the difference to my jawline, cheeks and chin area. The subtle enhancement makes such a difference to my overall appearance with more defined cheeks, smoother and more defined jawline and softer appearance around the mouth and chin.
The HIFU treatment (High Intensify Focused Ultrasound) reduced the jowls and stimulated collagen which resulted in a lifting and tightening of the skin. This was a very comfortable and non-invasive procedure named Levura HIFU. It was used over the cheeks, jowls, jaw and chin. The treatment took around an hour and I felt some heat pulses during the procedure. This wonderful treatment can be used on other areas of the body such as arms, hips, thighs and stomach.
In the second session, Dr Q used a dermal filler called Juvederm Volux to add volume to specific parts of my face. Dermal filler is a gel made up of Hyaluronic acid which is a substance already present in the skin. With age, there is a reduction in Hyaluronic acid, resulting in dehydrated and wrinkled skin. Dr Q used the Juvederm Volux filler in the jaw margin which pulled back and lifted the jowl folds. I was nervous about this procedure at first as it involved needles, but it was not uncomfortable at all with very little swelling and no bruising.
I believe that Dr Q's experience and knowledge as a GP and working with patients in A&E allows him to pay close attention to detail in application of all his procedures. His friendly approach to his patients and his lovely manner is definitely the main reason women and men attend his clinic and are always delighted with his honest approach in his consultations and advice. This leads to the various type of clients Dr Q has seen over the years and the new clients he is assisting as he expands his clinic across the country.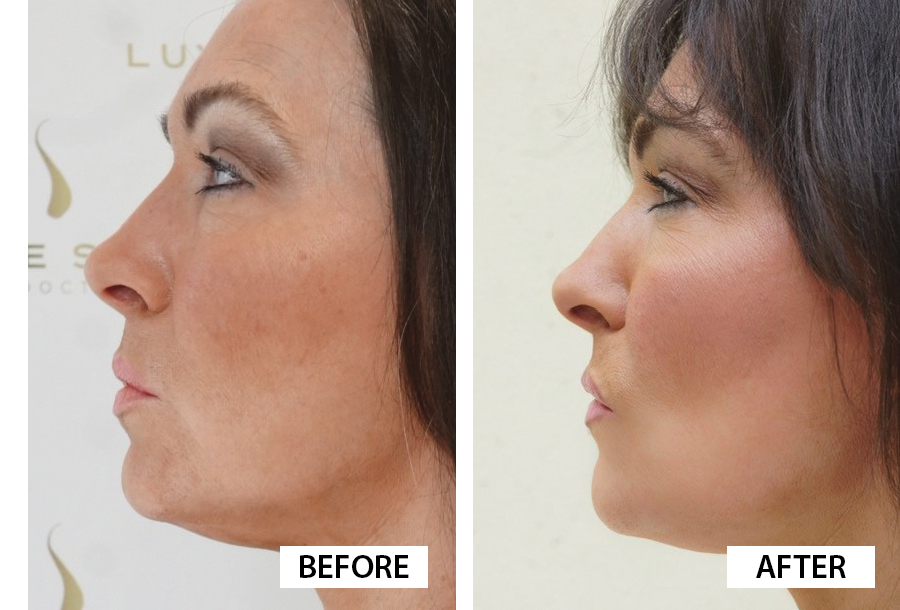 "We see patients from the age of 18 to 70+ years and each individual has different needs," explains Dr Q. "Some people want to enhance their looks whereas others want to restore their appearance to the way it was many years ago. Every client has individual requirements that need to be factored in. Quite often clients don't want to show that they have had cosmetic treatments and just want to look great without any tell-tale signs. There are many treatments across our portfolio of aesthetic and beauty that can be carried out in a lunch hour or after work. Our city centre clinic in Glasgow is open until 8pm on most weekdays. Caroline is feeling very positive and empowered following her treatments and she certainly looks amazing, as you can see from the before and after profile photos and the headshots taken 10 years apart."
I, Caroline would recommend Dr Q to anyone who wants to age without ageing. You will get the best advice in the business from a true expert in the aesthetics industry, using the best available products, in a clinic grade treatment facility which is welcoming with a boutique and exclusive feel.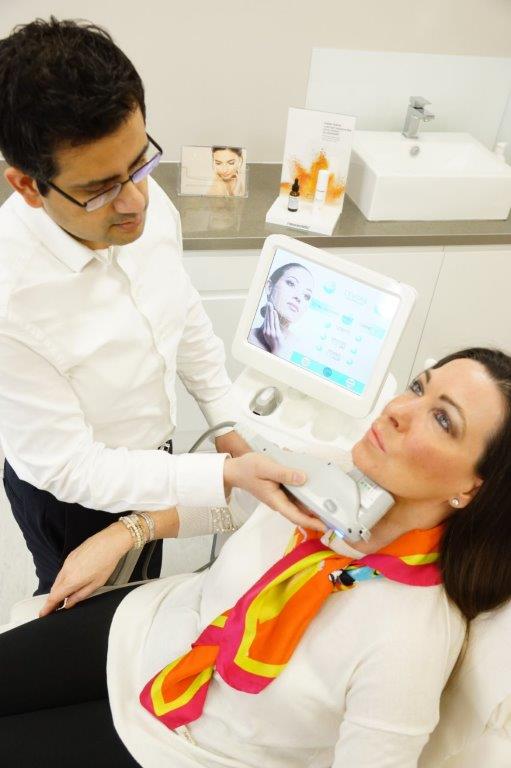 Q&A With Doctor Q
Q. What should a patient look for when choosing a cosmetic clinic?
A. The results of non-surgical treatments are very dependent on the practitioner. When deciding on a cosmetic clinic, you should look at the qualifications and experience of the practitioner, the products they are using, the results they have achieved, their customer service and after care. The clinic should be regulated by Health Improvement Scotland which is the regulatory body for independent clinics.
Q. Why is there a large price variation between practitioners?
A. The main reason for price difference is the expertise of the practitioner. It depends on the number of years they have been practicing as well as how much time and money they have invested in their own education and training. Practitioners who charge more have put in a lot of effort in improving their skills and keeping up to date in this ever-changing field. The quality of products and the premises of the clinic also have an impact on the cost. High quality products cost more because the manufacturers have invested a lot in research and development. Good clinic premises are essential in providing a clean and comfortable clinical environment to reduce risk.
Q. How can botulinum toxin improve lines and wrinkles?
A. As skin loses its firmness, the muscle causes wrinkles and creases to form in the skin when it moves such as around the frown area, forehead and eyes. Botulinum relaxes the muscle so that it does not scrunch the skin. This results in smoothing of wrinkles. And as the muscle is not continuously scrunching the skin, the creases or lines start to fade.
Q. How do dermal fillers help with improving folds and lines?
A. Dermal fillers are a gel made up of hyaluronic acid. This substance is already present in skin and is responsible for maintaining its plumpness by attracting and holding on to water. A reduction in hyaluronic acid results is dehydrated and wrinkled skin. Dermal fillers bind to the skin, attract moisture and plump it up. This improves the hollowness and hydrates the skin. By placing dermal fillers in specific areas of volume loss, the skin folds are pulled back and the face appears lifted.
Q. What is a thread lift?
A. This procedure involves placing 4-6 threads on each side of the face. After numbing the face, the threads are inserted from the hairline above the ear and brought down to the nose, mouth and jowls. The threads have little anchors that latch on to the skin and this causes a mechanical lift. As the thread absorbs over 3 months, collagen is stimulated, further tightening and lifting the skin. The results last up to 18 months.
Q. I am interested in non-surgical cosmetic treatments but I am scared of looking overdone like some celebrities?
A. If treatments are done in a skilled manner and the products are placed in the correct parts of the face you will not look fake or overdone. The practitioner needs to choose the right product, the correct quantity and place it in the right site to produce great results. Just as over use of products can give a unsatisfactory appearance, under use of products will also produce sub-standard results.
Luxe Skin by Doctor Q
227 Ingram Street, Glasgow, G1 1DA
T: 01415731473
E: info@luxeskin.co.uk
www.dermalfillersglasgow.co.uk