Scotland's Hidden Hotspots Revealed!
---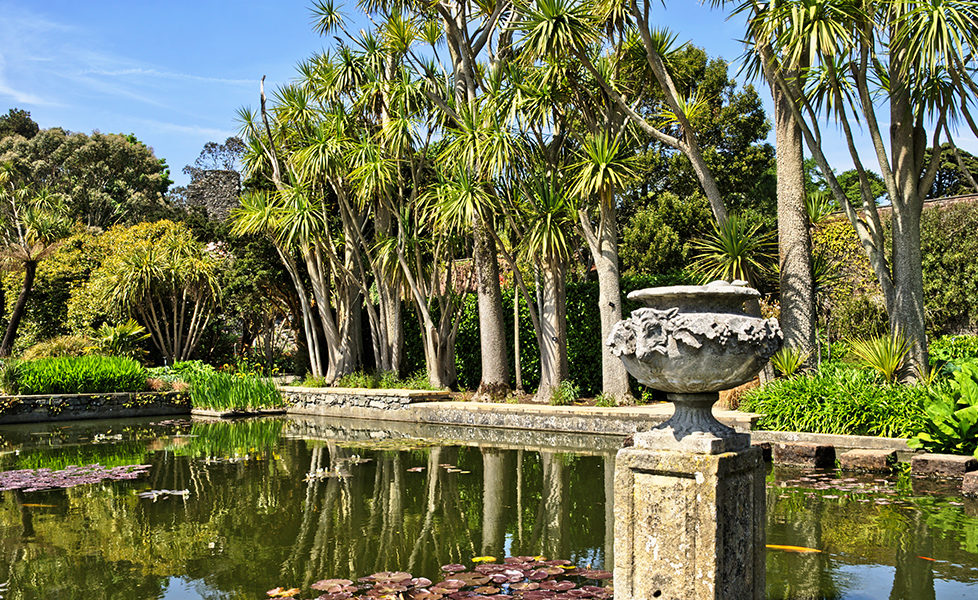 Image: Istock
We all know that Scotland is an amazing place to live, and these hidden hotspots only add to its beauty…
We've rounded up some favourite and most secret Scottish locations that should be part of your next road trip across our beautiful country!
1. Logan Botanic Gardens, Dumfries and Galloway
This gorgeous garden could well be Scotland's most exotic thanks to its wide range of plants from the Southern Hemisphere which thrive in its grounds.
From Himalayan poppies to African daises and New Zealand forget-me-nots, plus a striking palm tree or two, Logan Botanics is an ideal place to while away an afternoon in Scotland.
2. Pier Arts Centre, Orkney
The picturesque cobbled streets of Stromness are home to a variety of galleries and shops, but if you're looking for something a bit bigger, the Pier Arts Centre by the harbour plays host to local and international exhibitions.
Free to enter, it was first established in 1979 to house author, peace activist and philanthropist, Margaret Gardiner's collection of British fine art, and is still going strong today.
3. Mungo's Den, Isle of Skye
Escape the hustle and bustle of everyday life and completely unwind in this charming cottage.
A former post office and telephone exchange, the cottage was renovated with a green ethos and, where possible, the furniture and fixings follow the 'reduce, reuse, recycle' mantra.
Comprising a bunk room ideal for kids, a king bed and sitting area upstairs in the mezzanine level, spacious bathroom with free-standing tub and open plan living room and kitchen, the cottage boasts wonderful views of the Cuillin Mountains and is only three miles from the famous Talisker Distillery.
4. Harris Distillery, Isle of Harris
If you love gin, this hotspot is for you. You might know and love Harris Gin with its instantly recognisable blue bottle, but did you know that you can visit the distillery where it is made?
Harris Distillery is the island's first, and is known as the social distillery. Its doors are open six days a week for anyone looking to find out more about their award winning gin and soon to launch Hearach single malt whisky.
Tours are available and there's a shop selling the distillery wares along with local books, gifts and fine wines as well as a cosy cafe on site, which serves homemade soups and cakes – a great place to stop for a spot of lunch.
5. Balcony Cafe at Climbing Centre, Glasgow
While you may not expect to have an excellent dinner in a climbing centre housed in a converted church, you'd be wrong when it comes to the Balcony Cafe and its seasonal pop-ups with the Flavabomb Kitchen.
Chef Liam Mcalpine cooks up five flavoursome dishes all with unexpected twists or 'Flavabombs' as he likes to call them. The team often host veggie only nights, and will always have vegetarian and vegan menus.
At only £34 per person (for the carnivore menu), with a bring your own bottle option, this is a brilliant and budget friendly way to spend a Saturday night.
6. Dornoch Beach, Sutherland
This award winning beach is situated on the tranquil Dornoch Firth and stretches from Dornoch Point to the mouth of Loch Fleet Nature Reserve.
Nature lovers can enjoy a leisurely stroll along the golden sands before visiting a Site of Special Scientific Interest adjacent to the beach, which features nesting birds, flora and fauna. Or cure any hunger pangs with a visit to Harry Gow Bakery in Dornach, which has been baking rolls, cakes and pies since 1979.
7. The Highland Chocolatier, Grandtully
If good quality chocolate and a decadent cake are your bag then a trip to this charming Perthshire shop, museum and cafe is a must.
Opened by award winning chocolatier, Iain Burnett, chocoholics can browse the picture perfect chocolates in the shop before heading to the cosy cafe via a small, interactive museum.
Serving coffee, tea and a selection of cakes, diners can also book in for a chocolate tasting session. Our favourite has to be the classic hot chocolate served with whipped cream – perfect for warming up after exploring the pretty village or walking in nearby hills.