Easy Easter Lunch Recipes To Try Now
---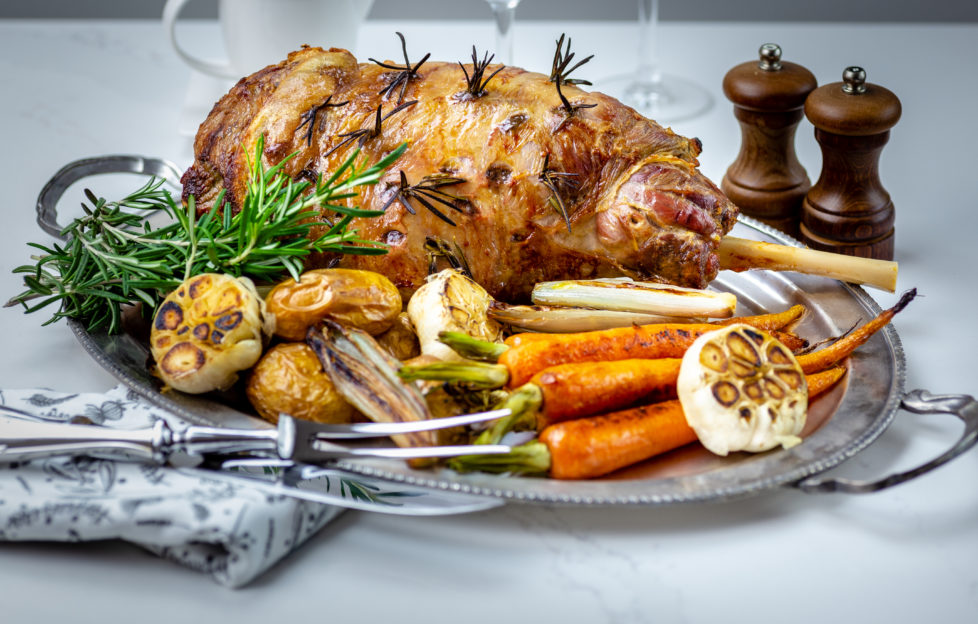 Otro, located in Edinburgh's buzzing west end, is renowned for its Sunday roasts. But if you're looking to recreate one at home this Easter, then Executive Chef Maciek Szymik has shared his favourite recipes for an unforgettable three course meal.
Spring vegetable pistou soup
Serves 4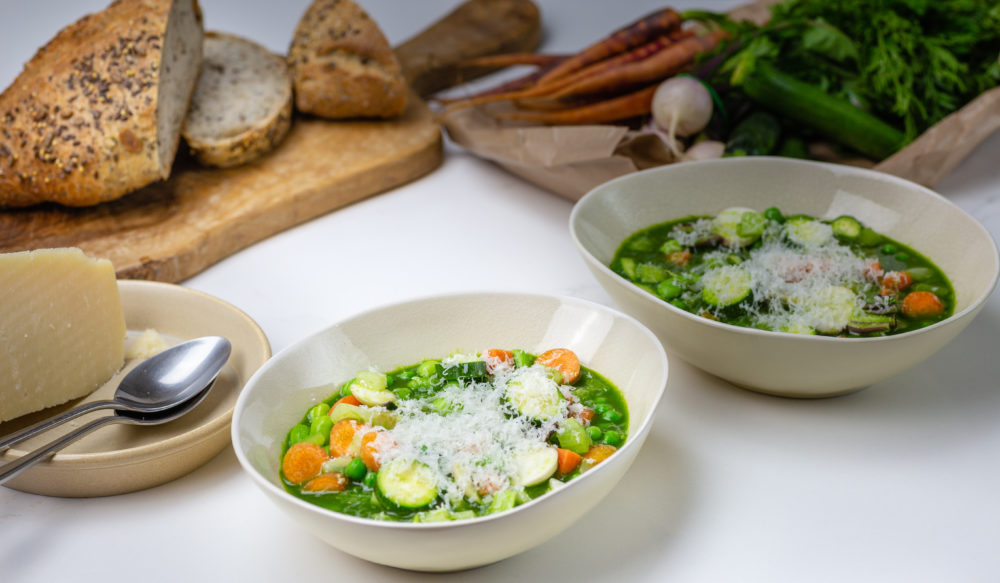 Ingredients 
For the pistou:
50g basil leaves
100g extra virgin olive oil
4 garlic cloves peeled
Salt and pepper
For the soup
4 tbsp of extra virgin olive oil
1 small onion ,1 carrot , 1 celery stick chopped in small dice
½ bulb of fennel chopped in small dice
1ltr of chicken or vegetable stock
A few handfuls of chopped young vegetables such as carrots, courgettes, turnips, peas and broad beans for the garnish.
Freshly grated Parmesan to finish the soup
Method
To make the pistou, blanch the basil in boiling water for a few seconds. Drain and drop into iced water to stop cooking. Squeeze out any excess water and transfer basil to the blender. Add garlic, some salt and pepper and olive oil. Blitz to a smooth purée adjusting seasoning if necessary.
To make the soup, heat up the olive oil in a large pan. Add the onion, celery, fennel and carrots, and cook for few minutes. Season with a little sea salt and pepper. Add the chicken or vegetable stock and bring to boil. Boil for 5 min then add rest of the young vegetables. Cook for further 2 -3 minutes.
Mix some of the pistou paste in to the soup (you may not need all of the pistou, taste to your liking). Sprinkle with some grated Parmesan and serve with crusty bread.
Roasted leg of lamb
Serves 6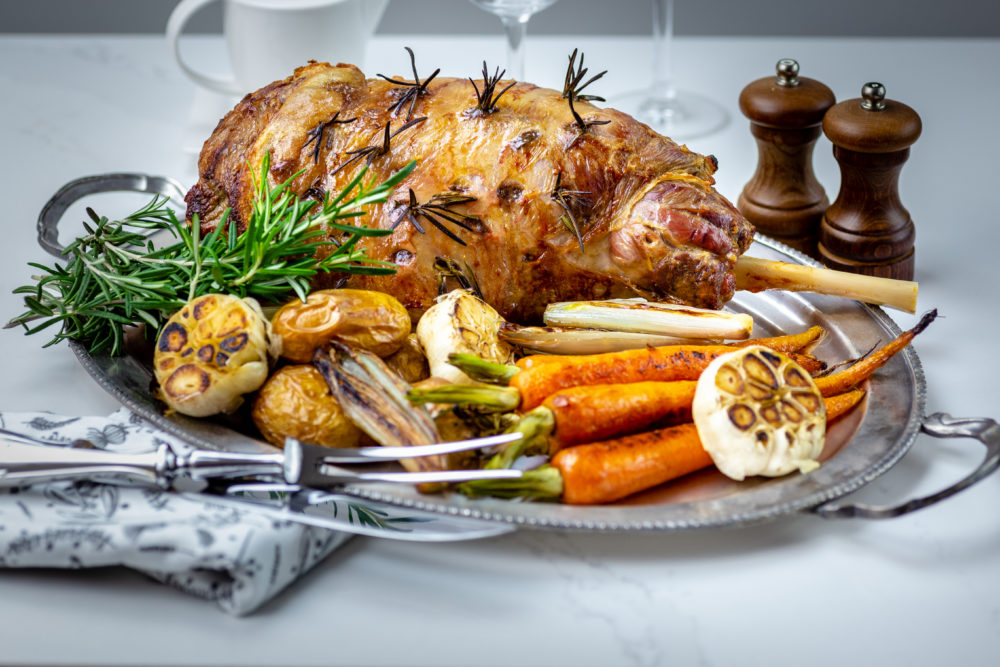 Lamb and anchovies were made for each other. The anchovy doesn't come across as fishy tasting, it simply lends a savoury note that blends beautifully with the meat.
Ingredients
1.5kg leg of lamb on the bone
For the lamb marinade:
3-4 rosemary sprigs, leaves removed
2 tbsp of olive oil
1 tbsp capers chopped
3 anchovies fillets chopped
6 garlic cloves chopped
zest and juice of two lemons
Finely chop the rosemary and mix with olive oil, capers, anchovies, garlic, lemon zest and juice.
Method
First marinade the lamb: Make several small 1-inch-deep slits in the lamb with a paring knife, then rub marinade over entire surface of lamb, pushing some of it into the slits. Marinate the meat, loosely covered, at room temperature 1 hour.
Cook the lamb: Preheat the oven to 210C/425F/gas mark 7. Lay the leg onto a roasting tray and sprinkle over some sea salt and pepper. Roast for 30 minutes, then turn the oven down to 190C/375F/gas mark 5 for further 30 minutes or until the lamb reaches a core temperature of 58°C (for medium). Allow to rest in a warm place for 15-20 minutes before carving and serving.
Passion fruit posset with toasted coconut meringue
Serves 8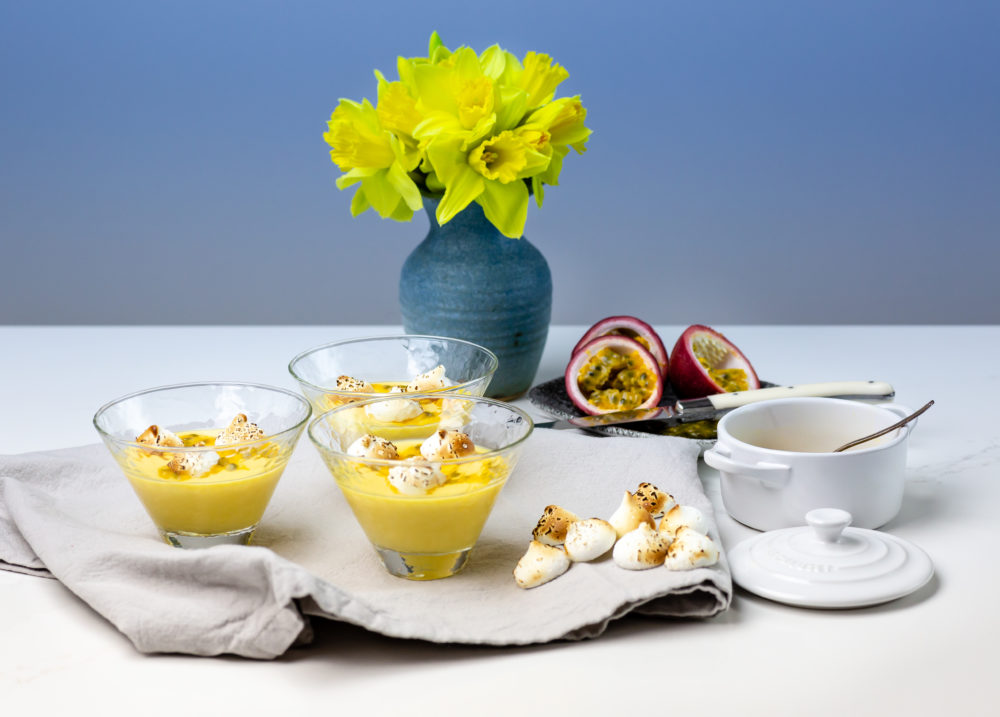 Ingredients 
For the meringue
150g caster sugar
75g egg whites (from about 3 eggs)
desiccated coconut
For the posset
480g cream
220g caster sugar
180g passion fruit juice (strained from about 12-15 passion fruits)
4 spoons of passion fruit pulp (from 2-3 passion fruits) for the topping
Method
Make the meringue. Preheat oven to 90°C. Line baking tray with non-stick baking paper. Use an electric mixer to whisk egg whites until soft peaks form. Gradually add sugar, a tablespoon at a time, whisking well between each addition, until sugar dissolves.
Once all the sugar has been added, continue to whisk on high for few min. Pipe meringue onto lined trays. Sprinkle the meringues with desiccated coconut. Bake meringues for 1 hour 30 mins. Turn oven off and leave meringues in the oven to cool completely.
For the posset. Bring the cream to a boil in a saucepan. Add sugar and return to boil, then add passion fruit juice. Boil for 1-2 min whisking constantly. Pour the mixture in to the glasses and refrigerate to set for about 3 hours.
To serve
Using blow torch, lightly toast the coconut meringue. Top the posset with reserved passion fruit pulp and meringue. Serve.