Rock Rose: The Story of the Caithness Gin
---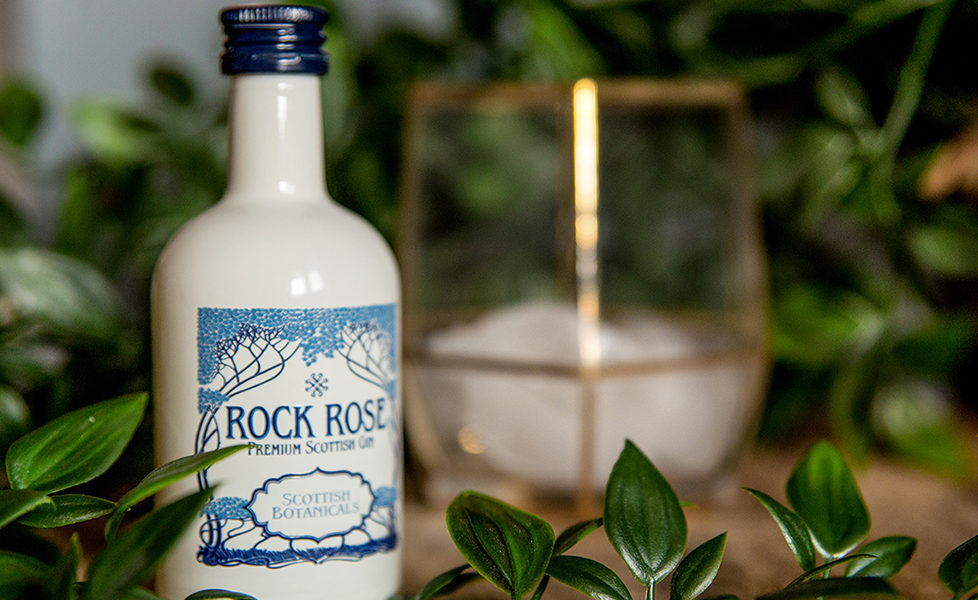 Created to shine a light on the area of Caithness, we speak to Dunnet Bay Distillery co-founder, Claire Murray…
I studied hospitality and tourism in Edinburgh before moving home to Caithness to live and work. My husband, Martin, was working offshore in the oil industry at that time and then his work moved to France. I had just had a baby and I was back and forth between there and Caithness. At that time we were already talking about having a business together.
After about a year, Martin's company wanted him to go out to Angola. We had always harboured the hope of coming back to Caithness. We wanted to create a business that would help to promote Caithness and that would use my skills in tourism and Martin's in chemical engineering.
Martin has always had an interest in whisky and making whisky but the costs are too high. We talked about it for a long time and did lots of research and we settled that we would make gin as we both really enjoy it. We decided that we would move home and go for it.
Martin had the experience to set up the distillery and do the distilling. I took on the creative side such as the marketing and being involved in the bottle design, it all came about quite organically.
Creating Rock Rose
The bottle came before the gin. We had the design finalised in December 2013 and we put it out online. We had quite a big following before we had even launched in August 2014. To us it was really important that the bottle was amazing. When you are looking at a shelf full of wines, it's usually the bottle that you are drawn to. We wanted to get the bottle design absolutely right so that it was appealing to lots of different people and it could be reused and kept and would be iconic.
Creating the gin itself was totally new for us. We both know what we liked and we knew that we wanted to use local botanicals that would help showcase Caithness. We had aims that we were setting out, we knew the kind of drink that we wanted to create and then we just had to experiment. There were over 55 experiments of different gins that we were trying just ourselves to get the right taste!
World renowned herbalist Dr Brian Lamb is Martin's sister-in-law's dad and we went for walks with him. He would show us different things that grew locally and he made Martin taste a few weird and wonderful things! He introduced us to Rhodiola rosea which is one of our hero botanicals. It's a plant that grows in the rocks all around Caithness.
It is the root part of the plant that we use. It has a strong rose aroma so that's how the name, Rock Rose, came about, from the idea of a rose in the rocks. It was a bit of a eureka moment! I think it's lovely because the Vikings, which are a big part of our history up here, used to forage for that botanical because it was thought to give them extra strength for their journeys.
I think the most nerve-racking thing was after we had launched Rock Rose. We had built it up on social media and put it on pre-sale and it sold out in under 48 hours purely from the demand created, I think it was about 800 bottles. After the first batch went out the door, we both looked at each other and thought, 'what if people don't like it?' However, we got lots of positive feedback from the start!
Martin was still working offshore when we launched. My mother and my father-in-law were both helping. Up until that first Christmas, Martin distilled when he was home and we bottled while he was away. It was just the four of us and it was hard going but we did it!
We started employing people the following summer and now we are at 15 staff.  We also built a visitor centre in 2017. It was originally in our plan to build a visitor centre in year 10 but the launch of the North Coast 500 increased the visitors to our area dramatically so we had lots of people dropping in! We started offering tours and we felt we had to build the visitor centre to give people the proper experience – they couldn't just stand in our office while we were working!
Martin and I complement each other really well. I take the more creative side whereas Martin is much more technical, we really enjoy working together as we have our own responsibilities. We are both so interested in what we do and we like talking about it. We have a rule now that at dinner time there is no gin chat when the children are about!
The opportunities that we have had and the people we have met have been amazing. Prince Charles has been to visit the distillery and we were invited to Harry and Meghan's wedding! We were invited to sit in the grounds on the day, that was amazing and only came about because of what we have done.
We are delighted to be teaming up with Rock Rose and Popaball for the Amazing Women Awards on Thursday 7th March 2019. Guests at the awards will have the chance to sample this delicious tipple while celebrating Scotland's incredible women.