Everything You Should Know About Outlaw King
---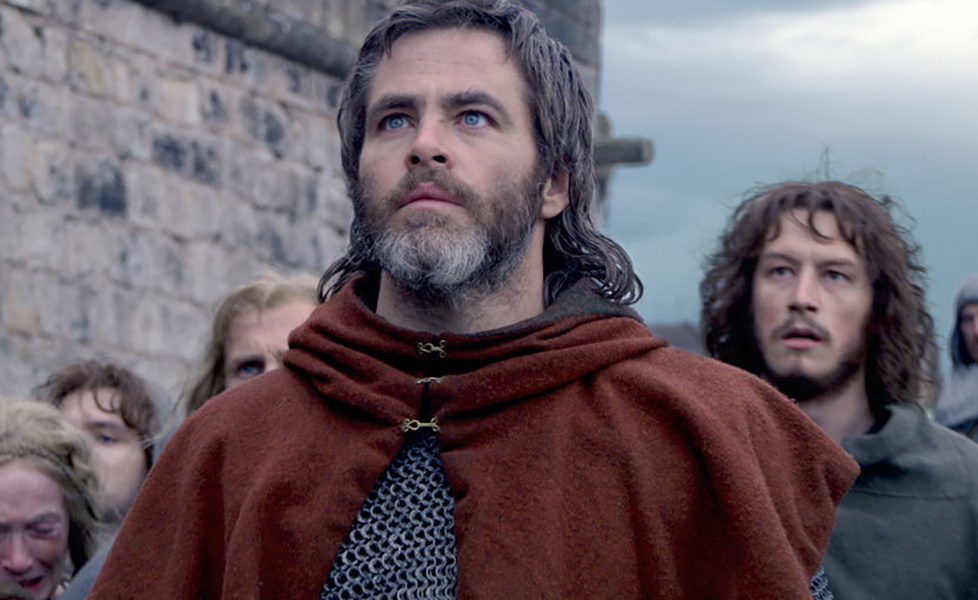 An epic historical tale which follows the life of Robert the Bruce and his fierce quest for Scottish independence, Outlaw King is being hailed as Scotland's biggest film production to date. Scheduled for release this November, this all-action Netflix Original undoubtedly marks a moment in history for Scottish cinema. Brush up on your knowledge of this gritty blockbuster with these essential facts…
27 Outlaw King Facts
1. A Netflix Original, the historical drama will be available to watch for Netflix users from 9th November 2018.
2. The film premiered at Toronto International Film Festival in Canada, September 2018.
3. The epic film is set in early 14th Century Scotland, and is based on the true life events of the First War of Scottish Independence – the earliest battles between Scottish and English forces.
4. The red carpet was rolled out for the crew and cast at a glitzy Scottish premiere held at the Vue cinema in Edinburgh's Omni centre on 19 October 2018.
5. Los Angeles-born Chris Pine will star as Robert the Bruce, legendary warrior and King of Scotland. Robert the Bruce was born in 1274 and died in 1329 at the Manor of Cardross, near Dumbarton. His body is buried in Dunfermline Abbey (one of the film's shooting locations) and his heart is in the ruins of Melrose Abbey.
6. Outlaw King isn't the first collaboration between director David Mackenzie and lead actor Chris Pine; they previously worked together on 2016's award-winning Hell or High Water.
7. The production was filmed at 45 locations across Scotland, including Glasgow University, Linlithgow Palace, Dunfermline Abbey, Blackness Castle and Mugdock Country Park. If the film's stunning scenery leaves you wanting more, check out Visit Scotland's Outlaw King Film Locations Tour, where you'll get to spend a day visiting some of the flick's most beautiful filming sites.
8. Rather fittingly, some of the filming took place in the historical town of Berwick-upon-Tweed, which, due its proximity to the border, was a site of conflict for centuries and changed hands many times between Scotland and England, before being finally claimed by England in 1482.
9. Scottish director David Mackenzie has directed 10 feature films in total, including Young Adam (2003), Hallam Foe (2007) and You Instead (2011) – all of which are also set in Scotland.
10. Leading man Chris Pine's first ever screen appearance was in 2003, in TV series E.R. in which he plays a patient at the hospital who is recovering from a five-day drinking bender. He has since starred in films such as the Star Trek series, Unstoppable (2010) and Wonder Woman (2017).
11. Chris Pine told the Press Association that in order to prepare for his Scots-speaking role, he would listen to YouTube videos of a Scottish rugby captain to help hone his accent.
12. Scottish veteran actor James Cosmo, who plays Robert the Bruce's father in the film, is known for his roles in other set-in-Scotland cinema classics such as Highlander (1986), Braveheart (1995) and Trainspotting (1996).
13. Perthshire-born director David Mackenzie studied at Dundee's very own Duncan of Jordanstone College of Art and Design. After graduating, he embarked on his directorial career with a series of successful short films, which won awards internationally.
14. Playing Robert the Bruce's right-hand man, Lord Douglas, English actor Aaron Taylor-Johnson is no stranger to the big screen. He has starred in films such as Shanghai Knights (2003); Angus, Thongs and Perfect Snogging (2008); and Nowhere Boy (2009) – where he met his now-wife, director Sam Taylor-Johnson.
15. Co-star English actress Florence Pugh will play Robert the Bruce's second wife, Elizabeth de Burgh. The young star's breakthrough performance was her leading role in Lady Macbeth (2016), which caught the eye of critics and saw her win several awards.
16. Whilst Chris Pine's Scottish accent may be unexpectedly convincing, he has confessed he's not much a fan of haggis and deep-fried mars bars.
17. With films such as Suffragette (2015) and Genius (2016) under her belt, Outlaw King's costume designer, Fife-born Jane Petrie, is a bit of a dab hand at period costume. Her work on critically acclaimed drama series The Crown – another Netflix Original – saw her scoop up a prize at the prestigious Costume Designers Guild Awards in 2018.
18. After the premiere in Toronto, director David Mackenzie decided to cut the film from 137 minutes down to approximately 117, based on feedback from critics.
19. Not just a star of the screen, leading man Chris Pine became the face of Armani's fragrance campaign in 2014, and has starred in multiple ads for the company.
20. The film's initial trailer received a staggering 26 million views in the first 24 hours.
21. Although he isn't a method actor, Chris Pine admitted he tried to keep up his Scottish accent in breaks during filming – including down the pub!
22. One of the film's shooting locations, Blackness Castle, also featured in the popular TV series Outlander, where it was used to represent Fort William.
23. Next year will see the release of another film chronicling the history of the King of Scots, Robert the Bruce (2019), which will feature Glaswegian actor Angus Macfadyen playing the title role – the same character as he played in 1995's Braveheart.
24. The film culminates in an epic and brutal battle scene, which sees Robert the Bruce and his 500-strong army of Scots go up against more than 3000 English troops.
25. Chris Pine's full-frontal nude scene in the film has caused quite a stir, but the actor admits he doesn't know what all the fuss is about. He believes the reaction has revealed gender-related 'double standards', because nobody commented on his female co-star's nudity, suggesting there is more of an expectation for women to strip off for the big screen.
26. The cast and crew returned to the medieval Borthwick Castle, one of the filming locations, for the international press launch. The event was attended by First Minister Nicola Sturgeon, and beer was provided by Loch Leven Brewery.
27. Outlaw King is produced by Sigma Films – a Glasgow-based film production company, co-founded by the film's director David Mackenzie. It's the company behind films such as Red Road (2006), Starred Up (2013) and Under the Skin (2013).
Copy: Carmen Haigh