Things To Do In Scotland This Weekend
---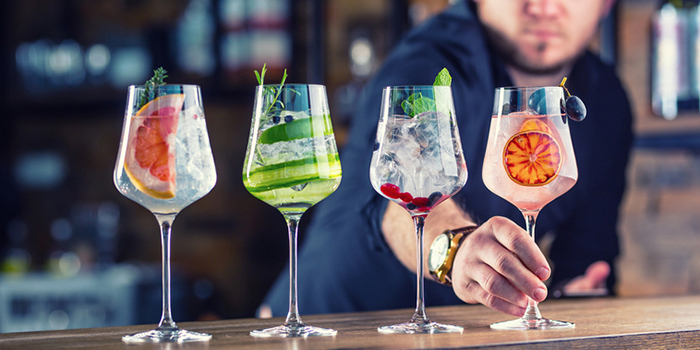 Barman in pub or restaurant preparing a gin tonic cocktail drinks in wine glasses.
Keep yourself busy this weekend – get out of the house and soak up the good weather with a host of events and activities across the country. Here's out list of the top 10 things to do in Scotland this weekend.
Things to do in Scotland this weekend
20th – 22nd July 2018
Edinburgh Jazz Blues Festival, Edinburgh
Friday 13th – Sunday 22nd July
Set up in 1978, the Edinburgh Jazz Blues Festival returns this month for 10 days full of good music. Hosting the finest jazz and blues talent from around the world, the festival takes place in a range of venues, including the Jazz Bar, Festival Theatre and George Square Spiegeltent. With over 170 gigs spanning the blues genre, there's sure to be something on you love. Whether you're looking to discover new talent or see some of your favourite performers, make sure you stop by – and don't miss the Festival Club that runs until 3am at Teviot Row.
Find out more here.
Inverness Highland Games, Inverness
Saturday 21st July
One of Scotland's most spectacular traditional gatherings, the Inverness Highland Games return this Saturday for a day full of events. True to their heritage, the games include The Hammer, Braemar Stone, Tossing the Caber, Highland Dancing and Scottish Country Dancing. With tickets available on the day, make your way to Bught Park in Inverness for a full day of activities.
Find out more here.
Gin and Disco Festival, Glasgow
Saturday 21st July
Grab your dancing shoes and get yourself to SWG3 this Saturday for a day and night of drinks and music. With over 20 gin suppliers (as well as other drinks), biodegradable glitter, live entertainment and DJs playing a mix of disco, funk, soul and house music, this festival has good times written all over it!
Find out more here.
Cairngorm Essential Summit Trail, Aviemore
Really make the most of the weather this weekend — head to the Cairngorms for breathtaking views and an afternoon of hiking. Join experienced rangers on a 90-minute mountain trail to the summit and take in some of the most beautiful views of the countryside that Scotland has to offer.
Find out more here.
Camperdown Zoofest, Dundee
Wednesday 4th July – Thursday 16th August
Perfect for animal lovers, Camperdown Wildlife Centre are hosting a Zoofest this summer; a festival of animals and fun for all the family. Events vary on the day, but you can be sure to find a variety of educational talks and workshops, as well as face painting, story-telling and animal games. The centre is home to a variety of animals, including brown bears, owls, lemurs and native, more commonly seen animals like donkeys, horses and otters. Satisfy your inner zookeeper and come along for an informative, animal filled day.
Find out more here.
WWI and its Impact Exhibition, Rosemarkie
Friday 8th June – Wednesday 17th October
Here's one for you history buffs — Groam House Museum are currently showing an exhibit about WWI and its impact on Rosemarkie, Fortrose and Avoch. The exhibition explores this historic event and its aftermath in words and pictures outlining the lives of those who served at home and overseas, as well as the impact of the communities at home. Your visit is sure to be an educational one; learn all about the Highland Cyclist Battalion, the boom that once stretched from Rosemarkie to Inverness and read the binders of information at Groan House Museum and Fortrose Library.
Find out more here.
Sutherland Agricultural Show, Dornoch
Saturday 21st July
A fun day out for all the family, the Sutherland Agricultural Show takes place this Saturday. Showcasing the vitality and productivity of the county, the show will have a number of competitions including livestock, vehicles, food and flowers, as well as a number of trade stalls from local businesses. The day will also feature a pipe band, a quad bike stunt show and dog shows — every member of the family can get involved.
Find out more here.
Aviemore Parkrun, Aviemore
Saturday 21st July
Think you've got what it takes to run a 5k this weekend? Every week Aviemore host a timed run though trail paths on a scenic stretch of Speyside Way. Make your way through woodlands, forest and heather moorland and enjoy the mountain view over Cairngorm National Park. Run yourself, with friend, your children and even your dog; the race is open to all. Don't forget to pick up your timing token at the end — you can walk, jog or run at your own pace, but it's you against the clock.
Find out more here.
Callander & Trossachs Summerfest, Callander
Saturday 14th – Sunday 29th July
For two weeks in July, Callander is hosting a celebration of summer with art, music, poetry, sports and much more. Each day you'll find a host of workshops, activities and shows. Take part in their weekend of gin, view art exhibitions in the square as well as by featured artists, enjoy a pirate themed weekend on the Steamship Sir Walter Scott, browse the market huts, and much more.
Find out more here.
Written by: Emma Arthurs