My Humble Abode: House of Turin
---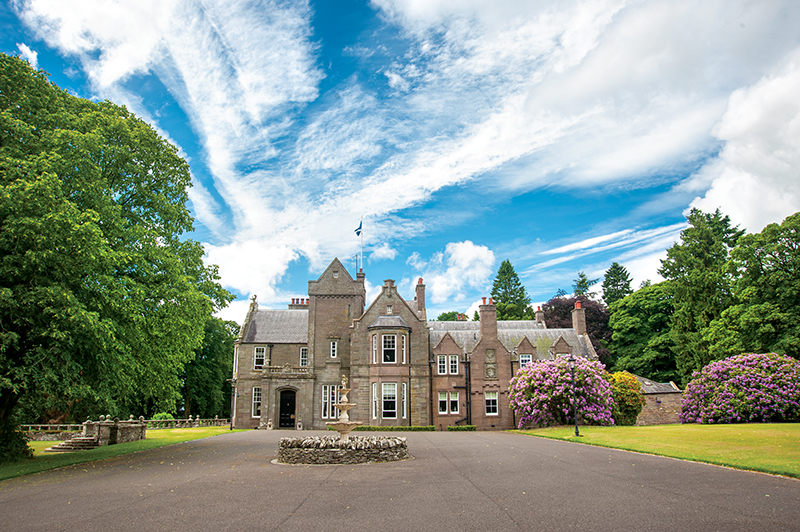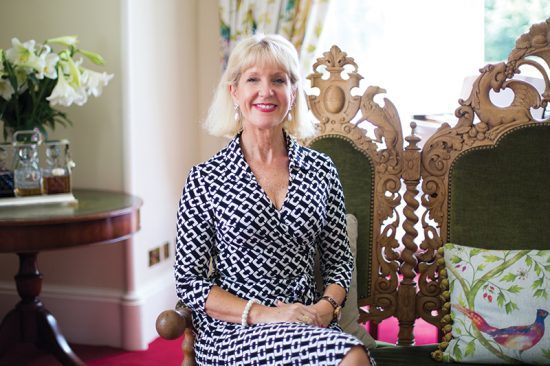 Who: Yvonne and Alan Corbet live with son Alex. Alan is the Vice President of Bristow Helicopters and Yvonne is the Managing Direct of House of Turin.
What: Stately Home.
Where: Forfar (houseofturin.com)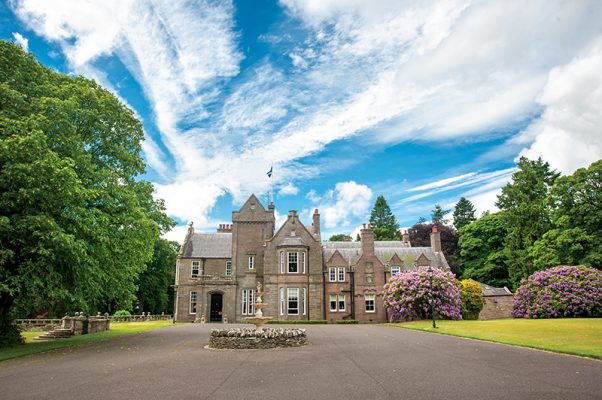 We have lived all over the world with Alan's work so when he suggested we move back to Scotland, I certainly wasn't in favour. But when I saw this magnificent house three years ago, my head was turned. In the past, it had been a care home and also residentially owned by actor Paul Stockman. It was a complete gamble and we didn't expect to get it at all. I flew in from Cape Town one weekend, put a note of interest in on the Monday then, before we knew it, it was ours. Alan hadn't even seen it!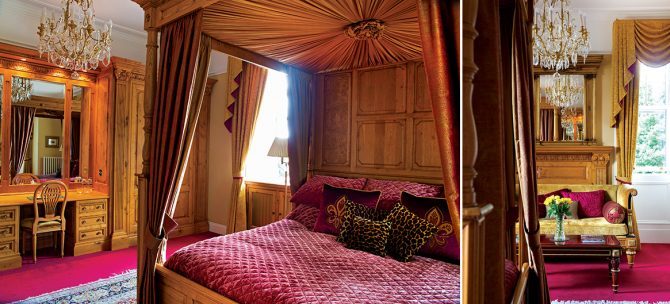 The house is oozing with history. It was built back in 1659 down at Rescobie Loch then moved brick by brick to its current location in the 1900s. The Lady of the house didn't like the original location and so when her husband passed the move began, it took seven years to complete. The house is now marked as being built in 1907 which means it is not a listed building.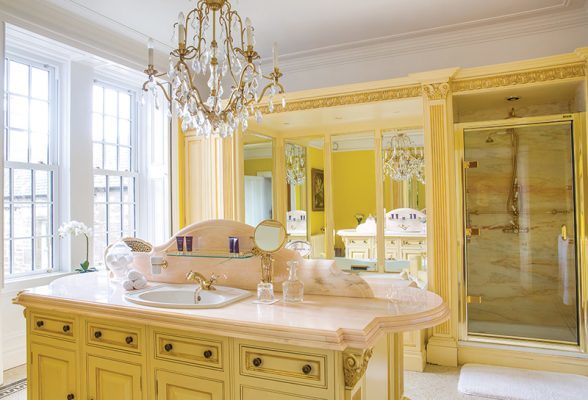 When we bought the house it had been totally neglected, it was rotten and mouldy in various areas – the best way to describe it was unloved. And the poor gardens were all over-grown. The very first thing we did was hire a skip, then my husband, our son, our daughter and I rolled up our sleeves and got stuck right in, it was a real family effort and challenge for everyone. We've added four new en-suite bathrooms and moved some walls around to make the rooms flow better. In total we had 53 new windows put in – with 30 still on the to do list. Although the house was in a state of disrepair, it had previously had a lot of money thrown at it, with a fabulous heating system, lots of mod cons and Clive Christian throughout the house which I can't possibly take out. It's quite restrictive, but it's Clive Christian! The house in all really isn't too bad to maintain.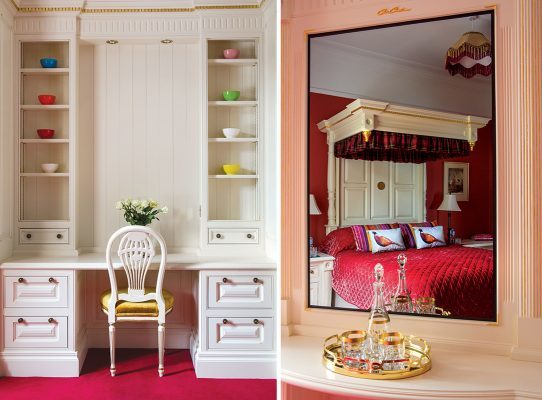 Initially the cellar always flooded and we later learned that the house actually sweats! We now have a dehumidifier running 24/7. We have managed to create two wonderful rooms from this area – a wine cellar and a whisky room both boasting our own private collection.
As we offer exclusive use of the house, it's really important to me that everyone feels at home, as opposed to a hotel – nothing is impossible here! So it's been decorated with this in mind. I would say it's a nod to Scotland with an Asian influence. There's a lot of appreciation towards the house and we've decorated sympathetically around its heritage. It wasn't particularly a blank canvas when we bought it with half a mile of red carpets throughout – which isn't exactly a bad point as red is my favourite colour!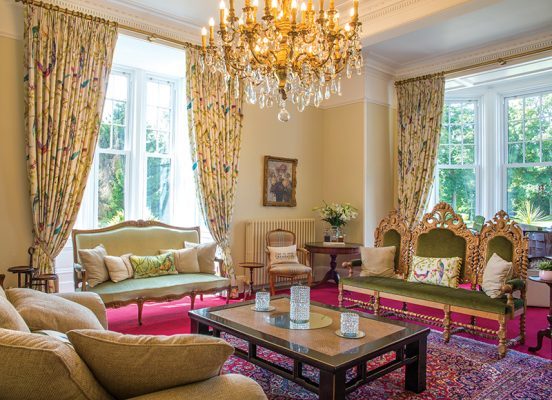 I love history and don't do contemporary. I suppose we've adapted our interior style to suit where we have lived, colourful palms in Malaysia, cool oasis of whites in Dubai. So here why not hang tartan wallpaper!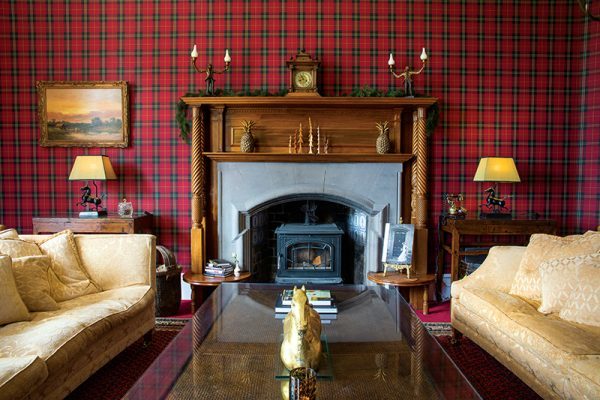 I absolutely love animal print! It's a neutral, you could put it anywhere, I'm known as the leopard queen. If I was allowed I would have a full room with leopard print. There's little leopard accents throughout the house.
You will also see a large variety of Asian pieces throughout the house too. I have had many of these shipped from China. This was my job before we moved – importing Chinese furniture. I love its weathered wood look and I don't think it looks out of place in this house. Our life journey is in and around this house, with every piece having a story.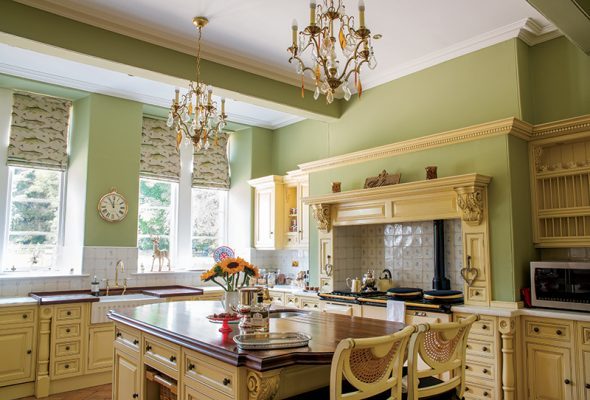 I don't have any décor regrets as such, but I'm not overly keen on the yellow hallway. I don't really like citrus colours, I'm more a lover of deep colours like red and I love gold. The antique mirrors in the bathroom are one of my happiest décor decisions. Along with Henry the Stag, he's very majestic. He came from an estate in Inverness!
I'm a bargain buyer so I really haven't splashed out on anything, perhaps the en-suites and Henry (the stag) are my splurge pieces. My best budget buys are the antique mirror which were auction buys, the antique hall chairs, and I've a weakness for floor length mirrors, which I had made in china for buttons. I like a bargain!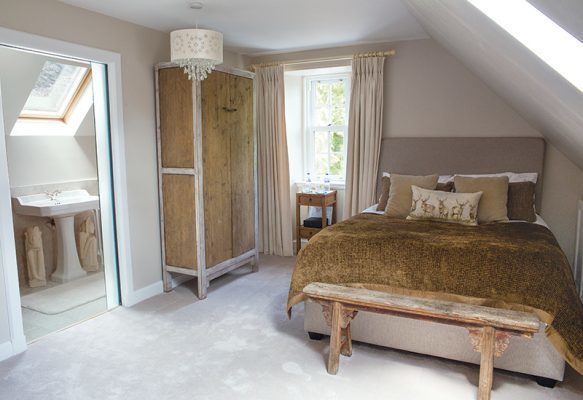 I couldn't live without my candles and mirrors, I have them everywhere. I love heavy gilded antique mirrors, they brighten up any room. A trick of mine is to have a candle in front of mirrors to give a really lovely effect. Another tip is to hang a mirror opposite the window so you can take in the views from anywhere in the room and use candles to create an atmosphere. My other love is for flowers, white lilies for the summer months and red roses for the winter, these flowers just really work for this house. And my Chofa – Thai Temple, it holds so many memories for me.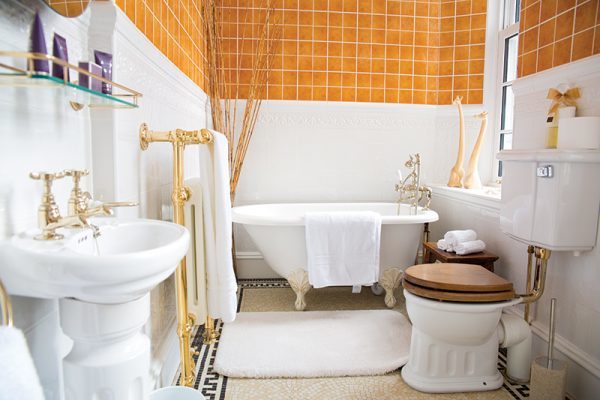 The conservatory is my favourite part of the house. The views over the gardens are breathtaking and you can see everything. It's so bright and in the morning the deer walk past the windows. Perhaps this room has more meaning as summer is without a doubt my favourite season. I love the long light nights, so much daylight, there is nowhere better to be than Scotland in the summer.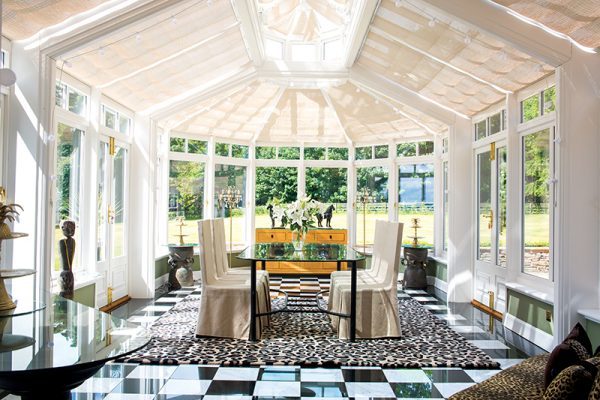 I never thought I'd end up living in such a house. I imagined I'd spend my life travelling, when I was younger I couldn't wait to leave Scotland. I was an original Caledonia Airways cabin crew gal and I loved every minute of my travels, I would spend every minute of every hour out and about exploring when we landed on overseas soil. But I do love this house, I always need a project. My advice to anyone taking on a project like this or decorating a room is to acknowledge the space, it's heritage and its views.
Photos by Eve Conroy, words by Robyn Lang-Shankland, twitter @rlsinteriors.
Head to our Life and Style section for more gorgeous Scottish homes.