My Humble Abode – A Giffnock Family Home
---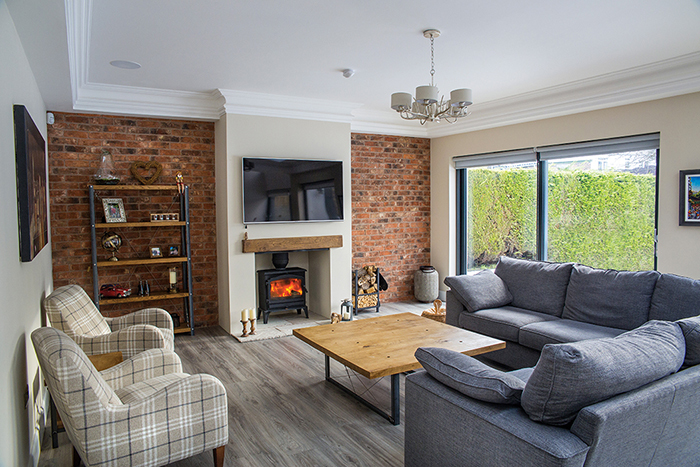 Graham & Alison Latta, both 40, live with daughter Kirsty and son Sandy in a detached stone villa in Giffnock, Glasgow.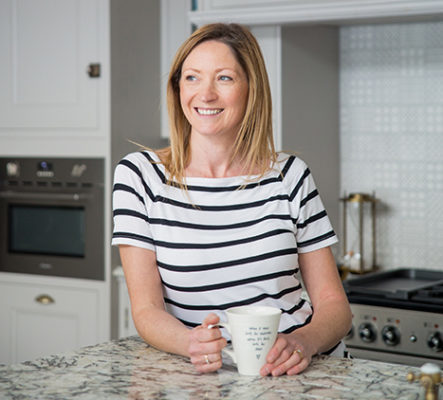 We'd looked for our family home for ages, then this house came up on one of our favourite streets, so we jumped at the chance. It had perfect proportions and we loved its traditional features, so we made an offer and luckily it became ours.
It was our full intention to tear it apart and extend, so on our second viewing of the house we took our architect along with us. We moved in and started work less than a year later. No room was left untouched! We took away the kitchen and downstairs bathroom and added a large extension to the back the full width of the house which house an open plan kitchen, dining area, family living space, gymnasium and utility room. The original family bathroom and airing cupboard were knocked into one, the ceiling was opened up and roof window lights added to make a larger family bathroom. The full house needed re-wired, re-plumbed and a new boiler system, plus we restored all the original windows.
We stayed in the house during the work – there was ice inside our windows, we had a make-shift kitchen and bathroom and we slept on mattresses on the floorboards. It sounds horrific but in fact it made the build easier as we were around to help manage the project. There was always questions needing answered and design decisions needing made.
Due to the extension a structural column was required, we initially thought we would be clever and make a feature out of it, but we were worried it would look out of place, so we went to lots of kitchen designers to get visuals. Our designer made our kitchen fully bespoke and the structural column is now part of the kitchen, it adds a nice design feature that looks like it's meant to be there.
We have a very traditional style with a modern twist. We really like traditional design and have tried to use as much salvaged, reclaimed products where possible. All our cast-iron radiators are from a salvage yard and the fire surround in our front room was reclaimed from an old flat in Edinburgh which we had French polished. This room is our absolute favourite in the house. It reminds us of an old hotel or country club with all its tweeds and traditional styling.
We really don't have any décor regrets. I think as we had so much time to plan it all, we changed our minds about some things but everything was ready to go ahead with when needed. There isn't anything we're unhappy with.
I have a number of loves throughout the house like the Victorian tiling in the entrance hallway. I also love my blue roll-top cast iron bath. We both have a couple of favourite pieces in the house, Graham's is the Vincent Kamp art in our front room and mine is the David Hunt Hare lamp and my great grandfather's writing cabinet I have on the table in our foyer, a beautiful traditional piece!
I love our vintage Giffnock photo prints we have hanging – they are a great talking point with our friends. Most parties end up in the kitchen but in our house we end up in the downstairs toilet discussing these pictures!
It was important for us to make our home a nice family forever home. I love greys and muted colours using bolder colours as an accent. I took a lot of my inspiration from magazines or places we have visited. Anytime I saw anything I liked I would cut it out and add it to my mood boards.
The downstairs bathroom was a take on Jamie Oliver's restaurants toilets, and the tartan room was inspired by Cameron House, we loved their tartan carpets. The Victorian era is a love of mine but I'm really not as keen on anything too contemporary, so although our extension is new and modern, we have tried to add a traditional twist to it by reusing natural materials. We added a wood burning stove which we have on all the time, it's the first thing I do when I come home in the evening when it is cold.
Autumn is my favourite season, I love the colours and change in season from summer. I always find that summer days and nights merge into one, whereas in autumn the nights are darker, you can put on the fire and have a glass of red wine and know it's the evening. I also love all the celebrations around that time, with our daughter Kirsty's birthday and Halloween.
I am Giffnock born and bred and grew up in a similar house so I've always liked that style and wanted to live in a house like this. We have loved doing this renovation. We were very lucky with our builders, they worked so hard, nothing was a problem and their communication was great. I think It's really important to trust your builders and would advise anyone doing such a project to make sure they find great tradesmen and take your time making the right design decisions that work for you and your family.
Photos by Eve Conroy, words by Robyn Lang-Shankland, twitter @rlsinteriors.
For more beautiful Scottish homes, visit out Life & Style section.
See Inside