Update Your Look for FREE!
---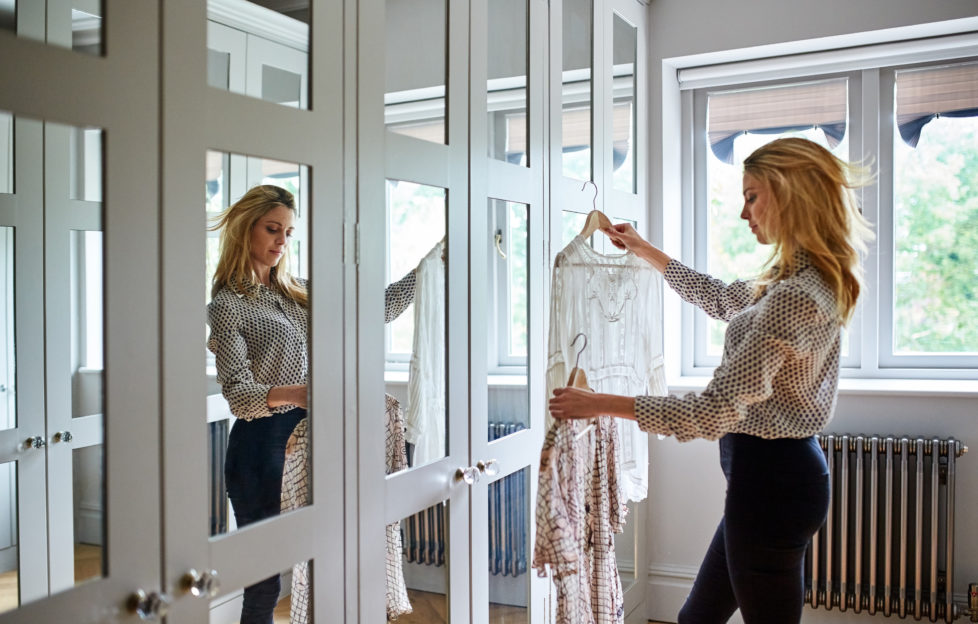 Shot of a woman getting dressed in a long walk in closet full of mirrors
Add some jewellery
Any plain shirt or t-shirt can easily be dressed up with some chunky jewellery. Add a statement necklace and layer your bracelets for a 'more is more' look.
Belt up
Belts are only for your jeans or cinching your waist in a dress – they also look amazing worn over a blazer to fake a 50s silhouette.
Go for layers
Instead of just wearing one top – double up! This could mean a short jumper over an un-tucked shirt, a cami vest over a white t-shirt or a strappy dress over a polo neck.
Shorten your sleeves
Whatever jacket or coat you're wearing, from a leather to a blazer to a classic trench, push up the sleeves so that they sit just below your elbow – instant style points.
Add socks
If leggings and ankle boots are your staple for much of the year, try with a chunky knit sock, worn over the leggings, scrunched down at the ankle – very on-trend.
Dig out your brooches

In one of your jewellery boxes you're bound to have an old ornate brooch, dig it out, give it a clean and wear it on your blazer, to gather your scarf or to personalise your fave handbag.
Add a neck tie

Any silk scarves lying around? Tie one round your neck for an injection of chic.
JEWELS                               SLEEVES                    BELTED