Serena Williams reveals she is 20 weeks pregnant
---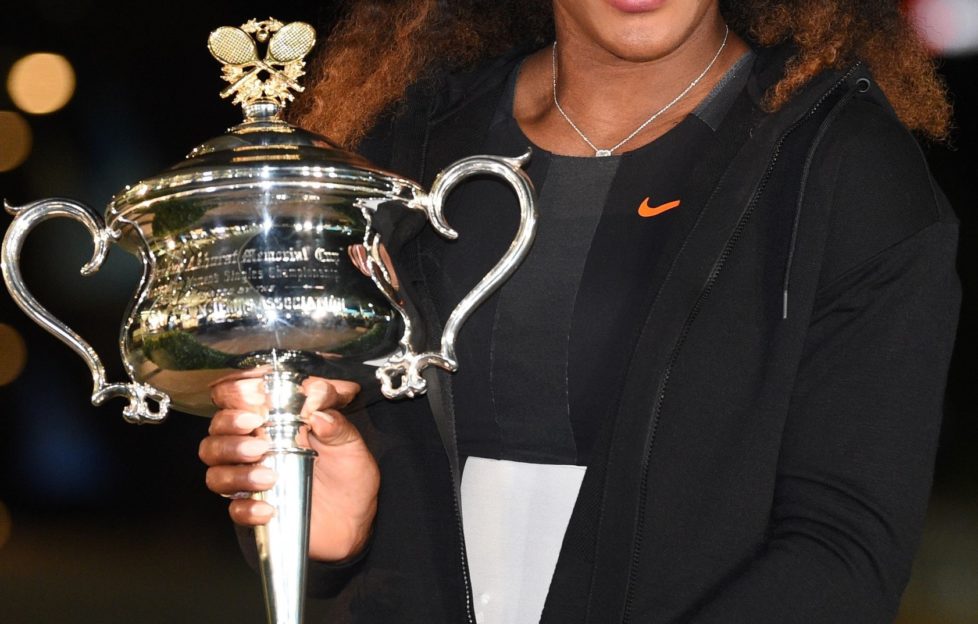 Serena Williams of the US poses with the championship trophy after her victory against Venus Williams of the US in the women's singles final on day 13 of the Australian Open tennis tournament in Melbourne on January 29, 2017. / AFP / SAEED KHAN / IMAGE RESTRICTED TO EDITORIAL USE - STRICTLY NO COMMERCIAL USE (Photo credit should read SAEED KHAN/AFP/Getty Images)
It has been confirmed that Serena Williams is pregnant with her first baby.
Serena made the announcement on Wednesday by showing off her bump in a snapchat alongside the caption "20 weeks." However, the post was quickly deleted.
Shockingly, the timing means that she would have been approximately 8 weeks pregnant when she won her record-setting 23rd Grand Slam title at the Australian Open in January where she beat her sister, Venus 6-4, 6-4 in 82 minutes.
Serena's rep confirmed the news in a statement saying: "I'm happy to confirm that Serena is expecting a baby this Fall."
Serena took up a knee injury, meaning she had to pull out of tennis competitions in India Wells and Miami in March. This meant she dropped to second in the world's rankings however, she is set to regain her number one spot from Germany's Angelique Kerber on Monday.
Serena's fiancé Alexis Ohanian, who is a Reddit co-founder proposed to her in late December, around four weeks into her pregnancy. Serena showed off her ring in January, having dated for only 15 months before he proposed. She also spoke of her fiancé at the time, saying: "He's incredibly — a really nice person. I think he definitely treats everyone the same, which is really cool to see. Really, really nice to see."
It might not be long before Serena is back to playing tennis after her birth. Former world number one, Victoria Azarenka gave birth to her first child in December and is expected to return to the competition at the end of July.
Meanwhile, Belgium's Kim Clijsters won the US Open in 2009 just 18 months after giving birth to her daughter.