Is beauty really for everyone?
---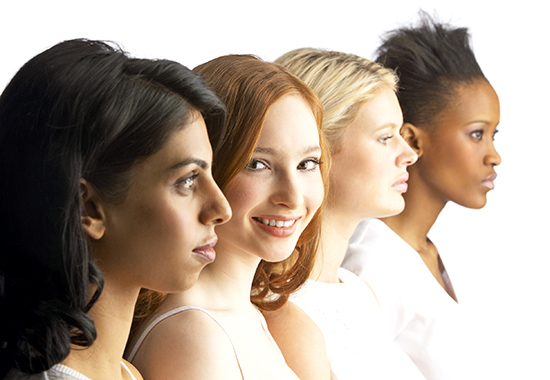 Portrait Of Four Attractive Young Women In Studio Standing In Line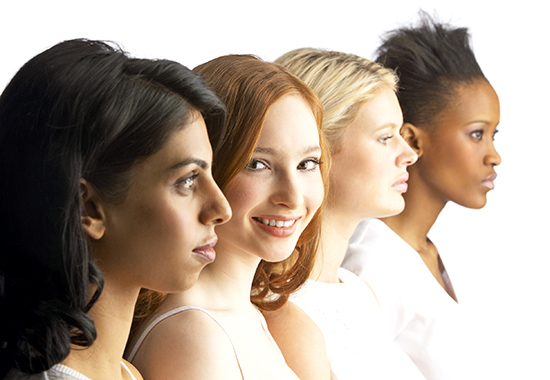 Right now the world of beauty is bigger than ever, in fact the beauty industry in the UK is worth a staggering £17 billion. Yet there are still many brands on the market who cater only to a very small pool of women, whether that's those who fall squarely into the 'medium' skin tone range or those under 50. We take a closer look at the industry to find out how accurate the 'beauty is for everyone' slogan, that is so regularly sold to us, really is.
Cracking ageism in the industry?
When it comes to beauty, there's no denying that in years gone by the focus has been on 'youth', with the models used to sell the products often under the age of 20. However, more and more brands are finally starting to realise that it's not just teenagers spending their pocket money on their products.
Actually, a huge survey last year revealed that it's the over-50s who spend the most on make-up in the UK. And the big beauty brands have taken note. French company, L'Oreal, frequently hire women over 50 as spokesmodels for their brand. The likes of Helen Mirren, 70, Diane Keaton, 70, and Jane Fonda, 78, have all fronted campaigns for L'Oreal.
Other cosmetics companies have also realised that we've grown immune to 15-year-old models selling make-up and skincare to us. NARS recently featured British actress Charlotte Rampling, 70, in a campaign, and Marc Jacobs Beauty was fronted by another actress, Jessica Lange, 67, not long ago. But MAC took the crown for subverting ageism in the beauty industry by bringing fashion icon Iris Apfel, 93, into the fold, giving her her own special collection.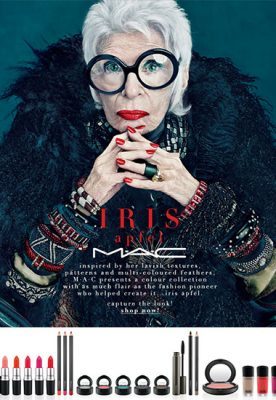 FACT: MAC gave fashion icon Iris Apfel, 93, (pictured above) her very own collection
FACT: Jane Fonda, 78, Diane Keaton, 70, and Helen Mirren, 70, have all fronted campaigns for L'Oréal
FACT: NARS campaign featured Charlotte Rampling, 70
Affordable beauty for all skin tones?
No.1 scanned the market and found that many of the high street brands, i.e. the affordable ones you'll find in most Superdrug and Boots stores, tend to have the biggest issues when it comes to catering to 'every woman'. In fact, on some of the counters there were only three shades of concealer with the darkest being a light medium.
You would perhaps think that at least foundation would be more inclusive, but No.1 discovered that most of the foundations that fall into the £10 and under category only have around eight shades. So if you're very fair or have skin even a smidge darker than golden, is budget beauty off the table for you?
Thankfully the answer is no, there are some high street brands paving the way and offering a wider range of shades but there's no denying there is still a long way to go.
Finally embracing diversity?
Now that the beauty industry has slowly begun to cater to a wider range of skin tones and ages, are they finally starting to recognise that there is not just one standard of beauty, and that real beauty cannot be pigeonholed?
One of the top brands encouraging diverse beauty is British brand Illamasqua. Not only does it offer one of the most extensive ranges of foundation shades available, from the palest to the darkest tones, they also promote unconventional beauty in all of their campaigns. Their founder, Julian Kynaston says, "We are for anyone and everyone, we celebrate beauty across such a wide spectrum and we never want any one specific demographic of people to feel alienated. I would love to see a move away from the 'generic dictation' of what beauty should look like. I believe this is slowly coming into play and we need to keep reinforcing the message that we are all beautiful and all have the right to celebrate it however we choose to."
Perhaps in the coming years the market will expand even more, following the ethos of brands like Illamasqua, and we'll find that the beauty industry is open to everyone.
What do you think?
Does the beauty industry cater for all of us?
Let us know on Facebook and Twitter.