Shape your life with the right bra
---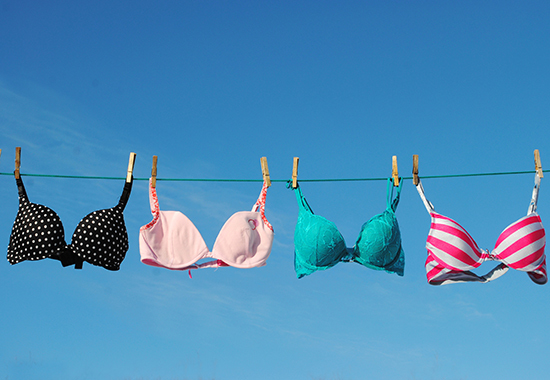 Four colorful Bras on Clothesline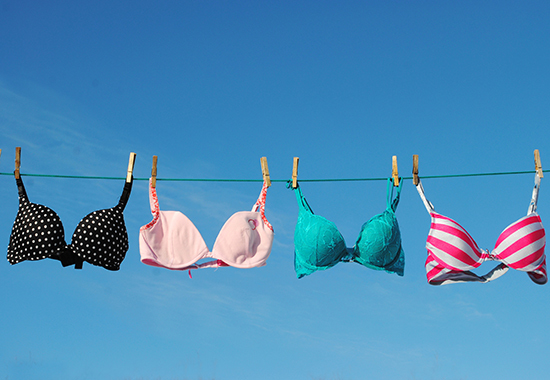 The shape of the nation is changing.  Women are getting bigger and the average lingerie size has gone from a 34B to a 36D-36DD in the last decade so it's become more important than ever to wear a bra for both comfort and support, but did you know that 8 out of 10 women are wearing the wrong size of bra? Don't be one of them!
A good fitting bra can improve your posture and be a real confidence boost. When was the last time you were fitted for a new bra? We speak to Julia Mercer, M&S Technical Manager and Bra Fit Expert, for her top tips…
Q How does a bra fitting work – can you talk us through the process?
We only need to measure your underband. The rest of the fit is by visually assessing your body shape and where your breast tissue in on your body. We prefer you to wear a bra as it lifts your breast tissue into the correct place and a bra fitter can give you your size from that assessment.
It's recommended that women should get measured every six to twelve months. Your body shape can change, from gaining to losing weight, therefore is imperative that you are fitted by a fully trained bra-fit expert to ensure you are wearing the right size bra. This is very important for comfort and support, but in addition a great fitting bra can improve your poise, make your clothes look better, and be a real confidence boost!
Q How should a comfy bra feel?
When you get the cup and under band right, you will feel so comfortable and supported just like you are not wearing one.  Never be alarmed if you have to go up a cup size, you will look smaller, and your posture will improve. The best way to check if your bra is fitting correctly is lift up your arms twist your body and the bra will fit perfectly in place.
Q Is there a specific way we should put a bra on to make it as comfy as possible?
Lean forward and hold your bra under your breast to drop into your cup, this gets the bra correctly positioned from the root of your breast. Shape each breast into each cup to sit in correct position.
Adjust the straps individually, some ladies have different height of shoulders so they may not be adjusted the same. The perfect position is when you can just put two fingers under the strap when adjusted.
Q What are the most common mistakes women make when it comes to finding the right bra?
82% of ladies are in the wrong size! One of the most common problems is when your bra is too big at the underband. You often see bras travelling up the back when the band is too big, and this offers no support to your breasts. The most important area of any bra fit is getting the band right first, with only enough space to get two fingers underneath.
Q What is the best way to distinguish between different bra sizes?
There are 4 basic shapes Plunge, Balcony, Full cup or strapless.
Q Why is it important to get a well fitted bra?
A good fitting bra will help your posture, give you confidence in your outerwear, and even make you look slimmer and discover your waist again. (If you have a special occasion bring your outfit in and we can fit your bra with your outfit.)
Q What is your top tip for people with small boobs?
Get your underband right, and your bra shape right for your body. If you like push ups or no push ups we have a bra that fits everyone
Q What is your top tip for people with big boobs?
Be honest, if you need to go up a cup size take the right cup you will look smaller. The most common problem we see is larger cup ladies have a underband too big and a cup too small. Take your right shape bra to match your body shape.
Q How can you get the most out of a professional bra fit?
Be honest about your bra size, be open about the shape recommendation and relax and let our bra fitters find your perfect fit.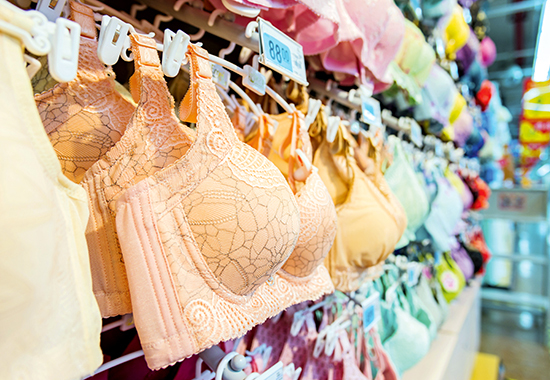 TOP TIPS:
Know your body type – finding which bra shape suits you is just as important as getting the size correct.
Be open minded – try new sizes if recommended by your bra fit expert. Getting used to a new size can feel quite strange to begin with, especially if you have been wearing the wrong size over a long period of time.
Have an idea in your head as to what kind of bra you're after – whether that's a day to day bra, strapless, sports bra or a style for special occasions.
Our 8,000 experienced fit experts in stores around the country are trained not only to select bras which fit perfectly, but also understand that the process can be daunting for some women, so are trained in making the experience as comfortable and easy as possible.
Research has shown that 23% of women would never use fitting service, purely because they may be shy or don't like other people seeing them without clothes on, which is why we developed the online bra fit calculator on our website for women who do not wish to be fitted in store.  Click here for the bra fit calculator.
Thanks to Julia Mercer, M&S Technical Manager and Bra Fit Expert