10 things we love about A/W in Scotland
---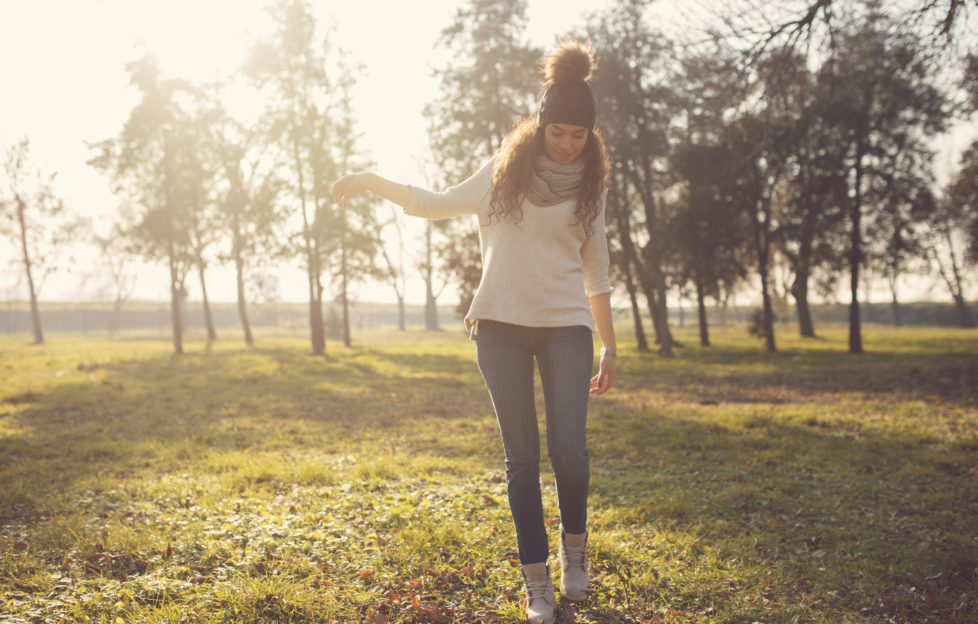 Beautiful caucasian young woman with a hat and scarf walking through the grass in autumn sunny day, enjoying
1. Shopping for our A/W wardrobes – The rush of excitement we get when we see the new stock in our favourite stores has to be one of our favourite things about the change of seasons between S/S and A/W. Looking for a new coat or a reliable pair of boots is always high on our agenda.
2. Velvet – Velvet is back this A/W and it's bigger than ever. Wear it in any colour, crushed or even top-to-toe. Nothing is off limits.
3. Autumn leaves – The Scottish countryside gets even more colourful in the Autumn months. Why not plan a trip to take in the stunning scenery over the colder months?
4. Return of the mac – This year's biggest coat trend has to be the classic mac but it's being taken it to a whole new level this A/W. We're talking snake print, brocade, leather and every colour under the Scottish sun.
5. Party season – Any excuse to go shopping for something sparkly and sequin encrusted is a-okay with us.
6. Glitter – Spotted all over the catwalks and faces of many of the models at the A/W fashion shows this year, glitter is a great way to make a statement. From a subtle sweep over the eyes to lips emblazoned with the stuff, Giambattista Valli even made it cool to wear it delicately under your brows. Definitely something to try out this party season.
7. Getting straight into our pyjamas when we get in – If you're anything like us you'll probably look forward to getting into your pyjamas as soon as you get in from the cold. Why not invest in a couple of plush and cosy pairs this A/W?
8. Embracing darker lips – Dark dramatic hues of lip colour are one of the biggest beauty trends this A/W, with traditional berry and plum shades getting a striking darker makeover. Think almost black when it comes to the colour with a blackcurrant hue often being the most wearable.
9. Christmas shopping – You really are spoiled for choice when it comes to doing your Christmas shopping, both in Glasgow and in the capital. Princes Square is always a personal highlight for us.
10. Hogmanay – Scotland is the place to bring in the New Year. Whether you're bringing in the bells from the comfort of your own home or heading out onto the streets to enjoy the legendary fireworks or fire ceremonies, don't forget to grab another's hand for Auld Lang Syne or have a wee dram.