It's World Photo Day – get snapping in Scotland!
---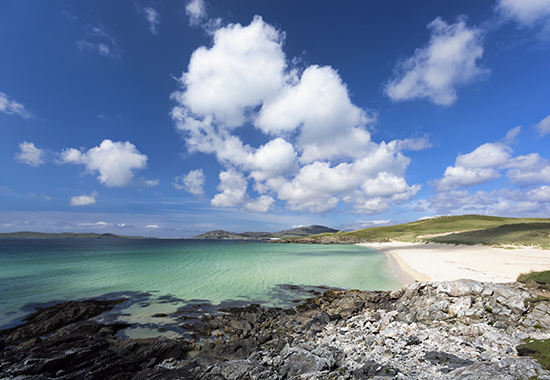 Turquoise waters of Luskentyre beach on the Isle of Harris, Outer Hebrides, Scotland
Today photographers and keen snappers across the globe are celebrating World Photo Day. The annual event, which falls on or around 19 August each year, is an international celebration of photography and organised by www.worldphotoday.com
It says: "In a world where millions of pictures are uploaded every minute, World Photo Day is inspiring thousands of photographers across the planet to share a single photo with a simple purpose: to share their world with the world.
"From everyday life to incredible landscapes, our global gallery is an evolving mosaic of images captured by photographers of all skills levels living in a diverse range of countries and cultures.
"No matter who you are, where you are or what equipment and skills you have, World Photo Day can help open your eyes to the possibilities of photography, and enable you show us the world as you see it."
To mark World Photo Day, No.1 magazine is calling for your picturesque photographs of Scotland. Whether it's a beautiful beach, a craggy coastline, or a mountainous landscape, we are urging you to help celebrate Scotland's scenery with our #ScottishScenicSundays campaign.
So, this weekend, wherever you will be in the country, be sure to look around you and capture some of Scotland's best scenes on your camera. You don't even need to own a digital SLR, as mobile phone photos are more than welcome.
Send us your shots via No.1′s Facebook page or Twitter or Instagram accounts and remember to use the hashtag #ScottishScenicSundays, and we will share the best ones.
Here are some submissions we have already received which should inspire you to get out there, and start snapping….
Sunshine in Millport this week. Bring on the heatwave! #scottishscenicsundays pic.twitter.com/cgCRtTE5VH

— No.1 magazine (@No1magazine) August 14, 2016
Sunday exploring at @CMVerse in the Borders. #ScottishScenicSundays pic.twitter.com/bleJt64W5k

— No.1 magazine (@No1magazine) July 24, 2016
White sands and clear waters – Allison Doncaster's view of the Isle of Tiree from the sky. #ScottishScenicSundays pic.twitter.com/pBMRB3oAPD

— No.1 magazine (@No1magazine) August 7, 2016