The Atholl Palace spa is perfect getaway
---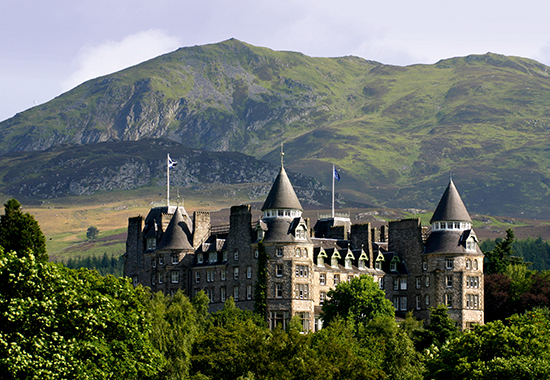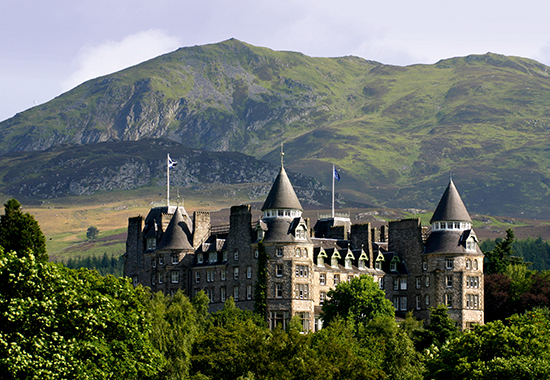 Nestling in Perthshire's Tummel Valley, the secluded sanctuary of the four-star hotel's Lavender Spa is the perfect weekend getaway….
When you visit a spa, you want to feel transported to a secluded sanctuary away from it all – and at Atholl Palace Hotel you certainly do!
Located in Pitlochry in the Perthshire countryside, the dominant turreted building peeks out above the trees as you drive towards the hotel. It's the ideal spa setting as you cannot see any sign of civilisation from the windows of most of the hotel rooms, which overlook the Tummel Valley.
With picturesque surroundings, traditional décor and a modern, spiky-roofed function suite, it's easy to see why the four-star Atholl Palace is a popular wedding venue. But it is also the ultimate spa break destination, and its Lavender Spa was the reason for our stay. The night before, we enjoyed a delicious evening meal in the hotel's Verandah restaurant – dining on Scottish classics like Cullen Skink and melon to
start, followed by sustainably sourced salmon and fish and chips, and gooey pudding. This 'restaurant with a view' boasts panoramic aspects over the Tummel Valley.
After-dinner drinks in its Stag's Head Bar followed, before an overnight stay in a comfortable room with window seat.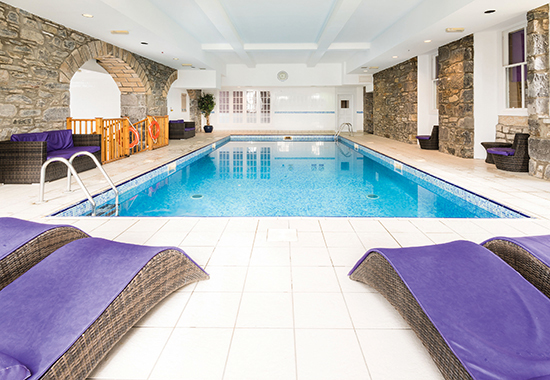 Next morning I visited the spa to indulge in its signature treatment, the Lavender
Lullaby.
On arrival, I was led into a small room where French windows opened out on to the grounds. With the sun streaming in, and chilled-out spa music playing, I instantly felt relaxed. Before or after a treatment, you have the option to unwind in the Victorian-inspired thermal suite, pool, sauna and steam room
(hot areas not recommended after some treatments).
My beauty therapist Sarah, who relocated to Perthshire from Essex recently, walked me along the spa corridor. As I looked out, I spotted ladies on the lawn in their complimentary robes and slippers relaxing outside in the sunshine. Soon I was ready for my Lavender Lullaby, which the brochure describes as a "deep relaxation treatment" – who doesn't crave 90 minutes of
total relaxation on a Sunday morning?
To begin, Sarah gently removed my make-up and cleansed my tired and dry-skinned face before applying an exfoliator, which kicked off the mini-facial part of the signature treatment. Next, she treated my body to a salt crystal exfoliation by applying an invigorating Phytomer toning scrub, packed with marine salt crystals, to remove dead skin cells from my legs, arms, and back.
All skincare products used in Lavender Spa are by Phytomer which means "plants of the sea" because they contain marine ingredients, including algae and seaplants. The lavender in the historic palace's gardens inspired this fragrant treatment.
After a full-body exfoliation, I showered off the salt crystals to reveal silky soft skin, softer than my skin has ever been! The second part of the treatment included a non-setting face mask being applied and a glorious Thai massage, which involved heated lavender compress balls being dabbed on to my skin. At first, the herb compresses feel quite hot, but your body quickly acclimatises to the temperature as the lavender's beneficial properties penetrate deep into the skin. Arms, legs, back and tummy – virtually no part of the body goes untreated.
Next, my face mask is removed with a hot towel, before an eye cream and skin cocooning cream are applied. Then the front of my body is treated to a firm pressure massage as strengthening moisturiser is kneaded into my rejuvenated skin.
Nearing the end of my experience, I almost drift off to sleep during the Lavender Lullaby's back massage but I leave feeling rejuvenated and ready for the scenic journey back to Glasgow, via Perth and Stirling.
Lavender Spa, Atholl Palace Hotel,
Perth Road, Pitlochry PH16 5LX.
w: athollpalace.com
t: 01796 473777