Scot of the Week: Gemma Fay
---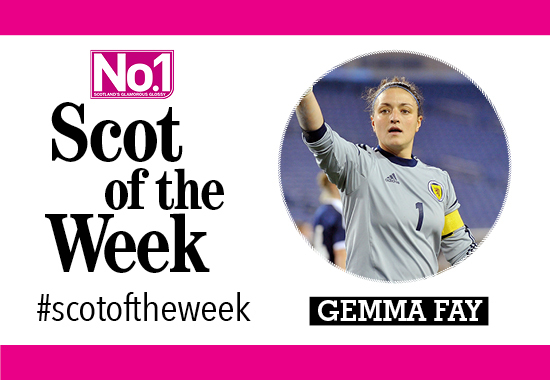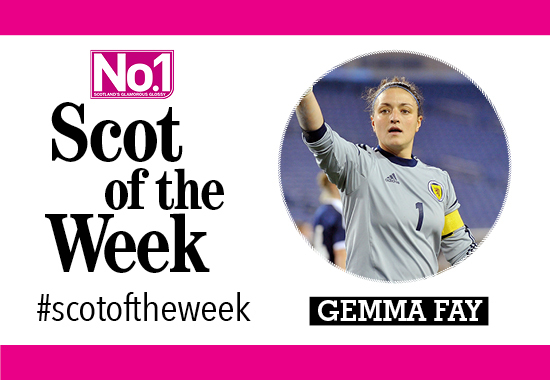 It's week 4 of No.1's Scot of the Week.
Today, it's professional footballer Gemma Fay, because she is an inspiration to young sportswomen.
The Scottish international footballer, who plays for the Scottish champions Glasgow City, has carved out a very successful career on – and off – the football field. The 34-year-old goalkeeper from Perth is the most capped international footballer of all time in the UK – beating every other male player!
And, Gemma is also an actress who starred in Rubenesque, a Sky Living drama, in which she played a football referee alongside actress Daniela Nardini.
In a recent newspaper interview, she revealed that football was her escape when she became a target for bullies. A teenage Gemma was low in self-confidence and afraid to leave the house. She said: "When I went to play football it was a way to escape it and it really helped me get through, helping me find a new group of friends to gain confidence and the determination not to let people get me down."
Gemma, who now lives in Glasgow, was just 14 years old when she first got involved in the Scotland national team, two years later she made her debut in the team – so, this year, celebrates a 20-year football career.
In women's football, Scotland has been lead to the World Cup, and it was Gemma who became the first person to take a team into the tournament since 1998. Then, she was also the first woman ever to take Scotland into the World Cup.
For these reasons, No.1 believes Gemma Fay deserves to be Scot of the Week.
Do you know anyone who has excelled in their chosen field, worked tirelessly for a charity, overcome huge challenges, or has achieved something remarkable? If so, nominate them for Scot of the Week. You can contact No.1 via Facebook and Twitter and use #Scotoftheweek or email us directly at: letters@no1magazine.co.uk