8 moves to change your body
---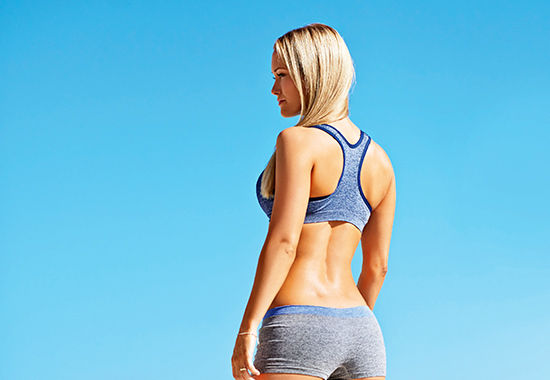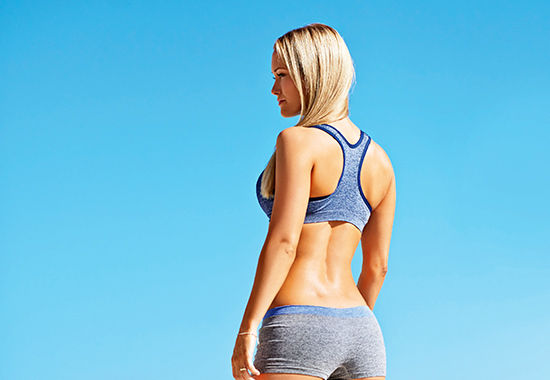 Get your best-ever body with our easy 8 move workout!
Scottish personal trainer and mum-of-one Nicole Bryce has achieved great results with her clients through NB Fitness, and now she is inviting YOU to get involved and get results with this simple exercise plan, which involves just 8 moves!
NOTE: FIRST YOU MUST WARM UP AND PREPARE YOUR MUSCLES BEFORE YOU BEGIN:
Time: 3-5 mins
Jogging: loosen up your joints and warm up your muscles by jogging on the spot before you exercise. This increases the heart rate.
Arm circles: loosen your shoulder and warm up shoulder joints and arms by rotating arms (one at a time or both together) in both directions
Walkout plank: from standing position lean forward to touch the floor and walk hands out to plank position, keeping legs and back straight, and hold for one or two seconds. Next, walk your way back up to standing position. (Bend knees if you need to)
Side bends: standing with your feet hip-width apart, lean to the left and right, be careful not to lean forward and keep your back and spine in alignment.
Now you are ready to begin your 8 moves…..
MOVE 1 & 2: TONED TUM, TIGHTEN AND TONE YOUR ALL-IMPORTANT CORE!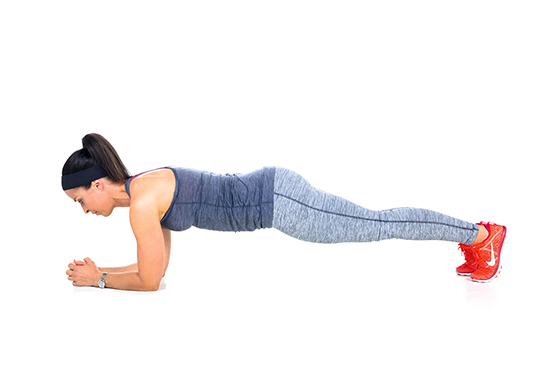 1) Basic plank: HOLD FOR 30-60 SECS, 3 TIMES: on all floors, place your elbows under your shoulder, tuck your toes underneath, keep your back straight, head up, and hold. Don't forget to breathe! This tightens your core.
Extended plank: as before, but straighten your arms, keep your elbows and shoulders all in line and hold.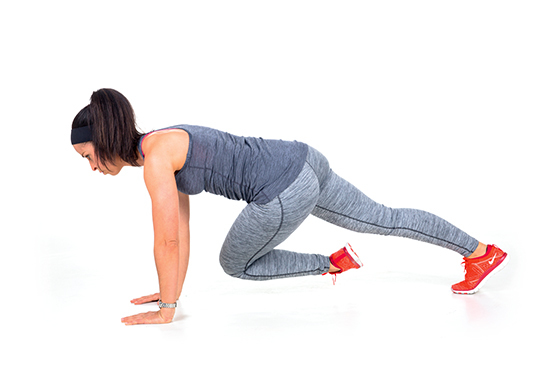 2) Mountain climbers: 12 LIFTS, EACH LEG, 3 SETS: begin in the extended plank position, all keep in line and lift left knee and bring towards left elbow, then lift right knee towards right elbow. To target more areas: twist, by lifting left knee towards right elbow, and right knee towards left elbow. Remember to breathe.
MOVE 3 & 4: LEAN LEGS: PUT LEG MUSCLES THROUGH THEIR PACES!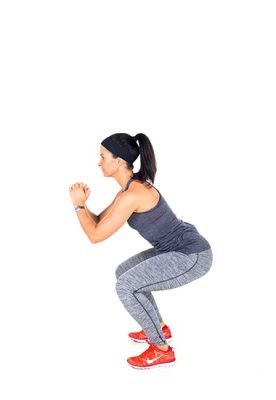 3) Squat/Squat jumps: 10-12 SQUATS/JUMPS, 3 SETS: feet hip-width apart, keep knees soft and back straight, keep knees behind toes, thighs parallel with the floor. Then keeping your back straight as possible, head looking forward, clasp hands in praying position, and squat down. Jump: land weight on heels, knees soft, and you will get more power from muscles.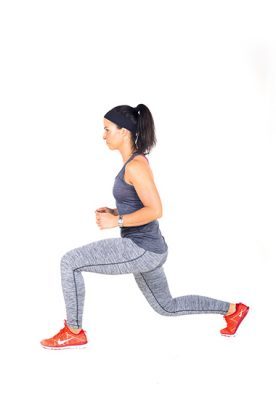 4) Lunge backstep: 10-12 LUNGES, 3 SETS: stand straight, with your shoulders back, then take a big step back with your right leg, making sure the knee doesn't go over the toe. Try to get your legs at a 90-degree angle, and alternate left and right. This targets the glutes. TIP: Technique over speed
MOVE 5 & 6: AMAZING ARMS: BOOST YOUR UPPER BODY STRENGTH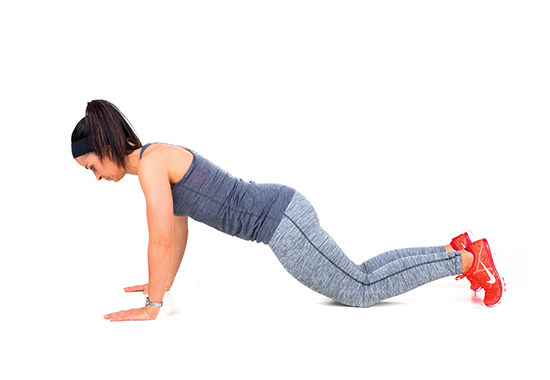 5) Easier push-up: 10-12 PUSH-UPS, 3 SETS: great for arms, chest, and core, keeping spine aligned, hands slightly further than shoulder width apart, knees on the floor, then bend arms, aim to get chest down to elbow height.
More challenging push-up: keep legs straight and as above.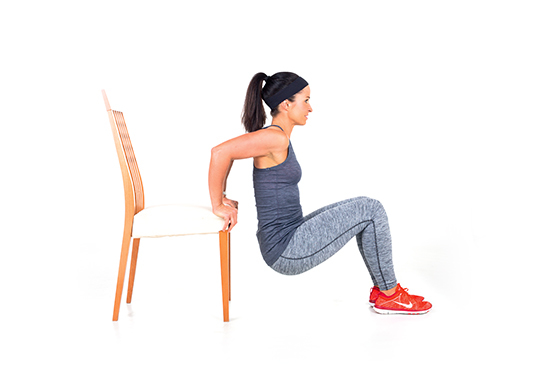 6) Tricep dip: 10 DIPS, 3 SETS: (you need a chair, low table, window sill) sitting on the edge with hands on either side, keep your elbows tucked in, back straight, and…
(i) Easier: keep legs at right angle, and lower body down towards the floor and back up
(ii) Harder: move legs out one step further, and lower body down towards the floor and back up
(iii) Hardest: move legs out so legs are straight, go on your heels, keep toes pointed up, and lower body down towards the floor and back up.
MOVES 7 & 8: BEAUTIFUL BUM: GIVE YOUR GLUTES A WORKOUT!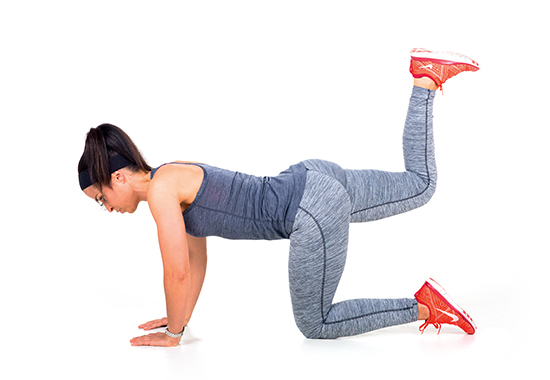 7) Donkey kicks: 10-12 KICKS, 3 SETS: keep your core tight and back straight, go on all fours, then lift your leg, keep sole of shoe pointing to the ceiling, keep knee bent. TIP: the higher you push the more you feel it.
More challenging: add ankle weights and repeat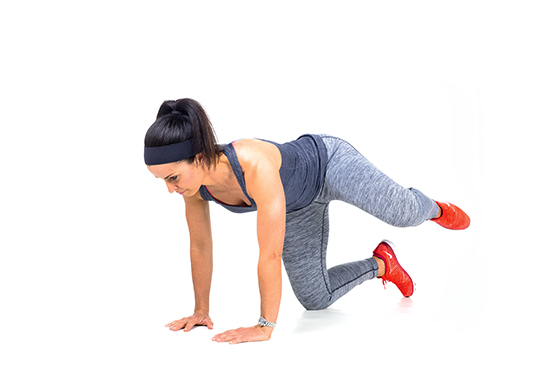 8) Fire hydrants: 10-12 LIFTS, 3 SETS: go on all fours, keep knees at a 90-degree angle, lift one leg out to the side up to hip height, and down (don't force past the range of movement). More challenging: add ankle weights to each ankle
REMEMBER TO COMPLETE YOUR COOL DOWN TO RELAX AND UNWIND AFTER YOUR ROUTINE….
Chest stretch: this is important after push-ups, from standing position, with hands at front, then lift arms/hands up, keep thumbs pointing upwards, push back and hold
Hamstring stretch: sit on floor, with straight back, breathe in, try to put chest on knee, let breath out. TIP: don't curl your head in.
Tricep stretch: from standing position, with feet shoulder width apart and knees soft, put fingertips between the shoulder blades, and with the opposite hand, push the elbow inwards to feel the stretch on the back of the arm
Abs stretch: lie on your front on the floor, keep legs on floor, keep shoulders back, and push up with hands, breathing out as you do. Hold for 10 second, and repeat 5 times.
WATCH THIS WORKOUT ONLINE NOW!
Access your free online workout with Nicole and download her warm up, 8 move workout and cool down so you can watch any time, by clicking below: