Celebrate National Parks Week
---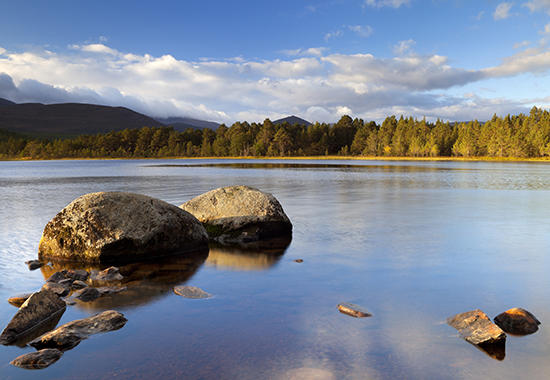 "Beautiful early morning light over a tranquil lake. Photographed at Loch Morlich, Cairngorms, Scotland."
To celebrate National Parks Week this week (which runs until Sunday), we uncover some fascinating facts about Scotland's two world-famous national parks, Cairngorms and Loch Lomond & the Trossachs. These national parks in Scotland are "internationally recognised visitor destinations that showcase the very best of Scotland's environment".
Here are 10 facts that you may not know about Scotland's national parks:
Cairngorms National Park and Loch Lomond & The Trossachs National Park have not been established for as long as we might think – they were officially recognised as National Parks around 14 years ago.
Back in 1990 a report by the Countryside Commission for Scotland called for the creation of four national parks, according to the Scottish Government, but only two went ahead
Loch Lomond and The Trossachs National Park became Scotland's first National Park when it was officially opened exactly 14 years ago, almost to the day, on July 24, 2002, by Her Royal Highness the Princess Royal
Cairngorms National Park starred in its own TV show last year, called The Mountain which charted life around the national park and mountain range
Cairngorms National Park was established in March 2003 and was officially opened by Liz Hanna on September 1, of that year. Liz is the great, great granddaughter of John Muir, the founder of National Parks.
Cairngorm is the name of the national park, but the actual mountain is known as CairnGorm
The Cairngorm mountain range is home to the UK's highest funicular railway
This year the Scottish parks celebrated '100 years of National Parks in the United States'
Loch Lomond & The Trossachs National Park is spread over 720 square miles!
Cairngorms National Park is much bigger than the Trossachs – it spans 1,748 square miles – which is twice the size of the Lake District and bigger than Luxembourg!
Next time you visit our National Parks, be sure to captured their beauty on camera and submit your picturesque pictures to letters@no1magazine.co.uk for the chance to have your image feature on No.1's social media for #ScottishScenicSundays