No.1 speaks to author Katie Fforde
---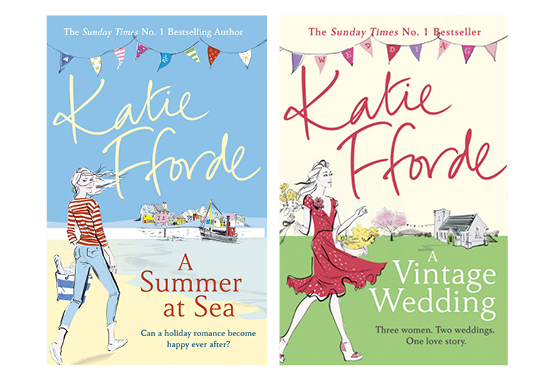 She is the godmother of romance having just released her 22nd novel A Summer at Sea – a love story set in Scotland. Like many of Katie Fforde's books, this one is also inspired by real-life events she has experienced during her 63 years of life. Now a busy grandmother-of-four, the half-Scottish, best-selling author has no plans to retire and still finds time to pen romantic novels that change fans' lives. So who better to speak to about love, life and happy endings…
All my books have a personal aspect to them. If they are not based on personal experience, they are all about subjects that I am really interested in. I wouldn't write about subject if I wasn't interested in it. A Summer at Sea is very personal because I have known The Puffer (the Clyde Puffer which features in the book) for over 40 years. Nick and Rachel Walker, who run it, are some of my oldest friends. And it's centred on my real holiday romance – it's only been going on 43 years! It's loosely based on my early romance with my husband Desmond. I do think you can meet someone away from home and carry on that relationship.
I would never write something with a sad or gloomy premise. I have to write uplifting stories partly so I am not miserable for the year-or-so that it takes to write them. I like a happy ending and a cheerful theme – I couldn't do harrowing, or write about children or animals being harmed.
I think my books are like a box of chocolates, they have different flavours and you are going to feel cheered up. The promise is you will feel safe in my world. I set out to do that because when I was a young mum with two babies who wouldn't sleep, my husband was away at sea and it was stressful, I was very sleep-deprived, and my safe place was a Mills & Boon novel. I read them one a day, this was my happy place to go. Then I thought, 'I would love to do for other people what those books do for me'. There is a lot of me in my books. If you think, 'that woman is so irritating' then you won't like my books!
Writing is a bit of a challenge, especially when you have been in the business as long as I have. You are very anxious not to disappoint people, come up with something fresh and get it on to the page. I like to write about 1,000 words a day but my time is more limited now my children have had children – I have recently celebrated the arrival of my 4th grandchild!
I am 63 now, and my husband is semi-retired, but I have no plans to retire from writing. If ever I have no ideas and don't know what to write, I may think about retiring, but while I still have loads of stories and I still enjoy doing it, I will press on.
I am writing my next book now. I start my new book long before the previous one hits the shelves – in fact about a year before. My new book went on sale at the end of February, and I am on chapter 10 of my latest book I am working on. It's about a hidden garden, an artist, a gardener and a stonemason and their lives intertwine. I know the ending will be happy, but I don't know how that ending will come about. Towards the end of the book I'm writing, the book that I want to write starts coming into my head – the new book begins to emerge. It's like feeling broody when one of your children goes to school. It is quite odd, because for months my head's been in another book, and then I find myself talking about the book that's out there.
Every story has something about it that makes it special for me. But, currently, my favourite love story is my latest book A Summer at Sea because I loved writing about Scotland, and Argyll, again. We had a book launch in Crinan and the weather was beautiful. The countryside was spectacular. This book inspired someone in America to want to chuck their job and move to Scotland – and they hadn't even finished reading it! I am half Scottish, so you know and I know how wonderful it is, but I wanted to put it on the page so people who didn't know would find out.
I certainly didn't know I would be a writer, I don't even think I knew I wanted to be one. I was quite dyslexic at school – all my school reports said, "good work spoiled by bad writing and spelling". Today, spell-checker helps but I still find spelling quite difficult. It makes me anxious about writing people's names when I'm signing books. I once went to a book signing where everyone wrote their names on a stickie, so I could copy it, that was so much easier. Quite a lot of writers have dyslexia, because dyslexics have a very vivid imagination and think in a slightly different way, and I think these things go together. I would like people who are dyslexic not to be disheartened, it doesn't mean you can't do anything you want to do in life – and it might even help you if you want to be a writer.
I discovered my talent later because I wasn't happy in my life. I had everything any woman could want: a lovely house, husband, children, and dog, but I wasn't happy. I was missing something but, the minute I started writing, I realised what I had been missing – my imagination. It was a great moment. I knew there was a void, but I didn't know writing was it until I started doing it. Mum gave me a writing pack for Christmas, and it prompted me to get on and do it. My sister is a writer as well and had stories published in magazines long before I started writing. I like reading crime stories, but I didn't think I would be able to write a crime novel and work out who was doing what, so I opted for romance.
It took me eight years to get published, during which I learned my craft. I recall my agent saying, 'Remember Katie, just because you have got a deal now, don't give up the day job', but she forgot what my day job was – I worked part-time in a café for £25-a-week! It wasn't a major earner! But I was fortunate because my husband supported me. I have just released my 22nd novel and I am writing my 23rd. I splashed out on a diamond ring when I released my 10th book. And, when I released my 20th, I bought a painting. I think I will celebrate when I get to my 25th book, we'll have a lovely family party.
People say that my books change lives, but it's a big claim to make. A vicar started a hotel boat on a canal after reading a book I had written about that! I think I've changed lives in smaller ways by giving people hope and the idea that they can lift themselves. Well, I hope do!
WIN! WIN! WIN! We have TWO Katie Fforde books,  A Summer at Sea and A Vintage Wedding, to give away. To enter all you need to do is sign up to the No.1 newsletter online at www.no1magazine.co.uk