Dining out at Palomino's
---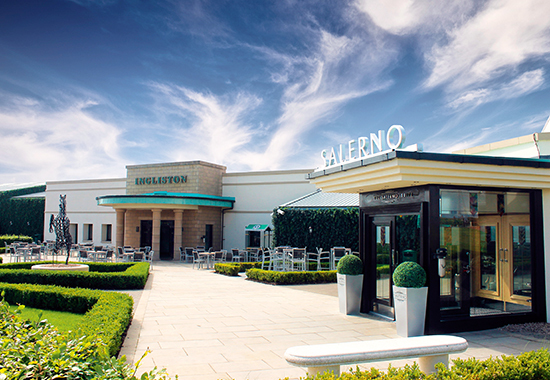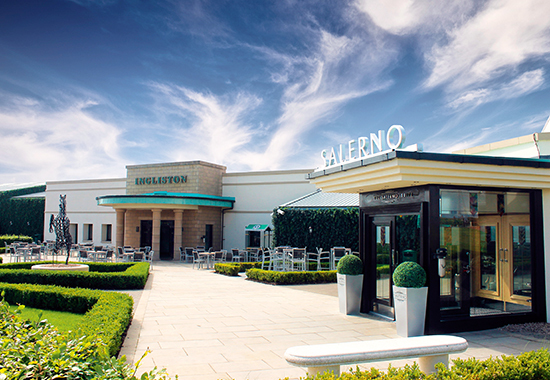 Removing yourself from the hustle bustle of the city centre on a Saturday evening can often be exactly what you need. Finding somewhere that offers the perfect mix of relaxation and dynamic atmosphere out with the city centre can often be difficult, but Palomino's Restaurant and Cocktail bar at Ingliston Country Club in Bishopton offers the ideal balance for a Saturday evening of food, wine and entertainment.
The food
As I browsed the extensive menu in the restaurant, I knew we were going to be in for a treat. Our super friendly waiter started by explaining the specials for the evening and gave us a helping hand when it came to recommendations, as everything really did sound delightful. We opted to start with the special of lightly fried calamari and the hand dived 'barra' scallops and stornoway black pudding.
The calamari was perfect, a plentiful portion, very lightly fried with a crispy coating and served with a garlic dip and some side salad. Calamari is actually one of our favourite dishes so we were hoping it would be up to scratch, and let me assure you, it did not disappoint. The calamari was so fresh and definitely proved there's a real difference between frozen and fresh seafood dishes.
The pan fried scallops were served on a bed of lightly spiced curried cauliflower puree, served with stornoway black pudding breaded bonbons and crispy parma ham. The dish was exquisite; the three different foods really complemented each other and the cauliflower puree was a uniquely delicious addition.
After changing our minds numerous times over our main courses, we finally decided to go for the seafood linguine and the fillet steak with marinated tiger prawns. I have to admit, seafood linguine is another one of my favourite dishes and this one has to be up there with one of the best. The delicate linguine was coated in a white wine, chilli, garlic and fennel sauce, which was an appealing alternative to the often tomato based sauces. The dish was bursting with seafood – salmon, west coast mussels, calamari, tiger prawns and finished with a grilled lemon wedge.
The 8oz Scotch fillet steak (sourced from The Buccleuch Farms based in Dumfriesshire) came served with chunky chips, sautéed mushrooms, oven-roasted tomatoes, peppercorn sauce, and we opted to add on the skewered marinated tiger prawns. Quite often when a steak isn't cooked well we would attempt to make it more edible by drowning it in sauce, but this piece of meat was so well cooked that we barely touched the sauce. It really did melt in our mouths, not to mention how fresh the prawns were.
Feeling completely full and satisfied from our first two courses, we knew we couldn't manage two desserts so we agreed to share the sticky toffee pudding. The cake was served with a luxurious thick butterscotch sauce and vanilla ice cream. It was the perfect sweet treat to complete our fantastic meal.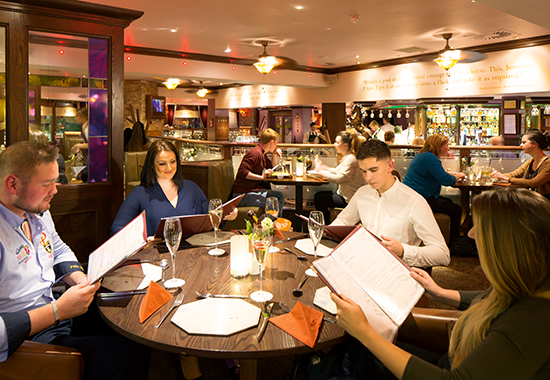 The drinks
We made a point of heading to the restaurant a little earlier than our booking to make sure we could squeeze in an aperitif at the busy bar area. The cocktail menu at Ingliston Country Club really is all encompassing, offering all the traditional favourites as well as some more experimental concoctions. To start our night we went for two perfectly made French Martini's. The restaurant also offers a fine selection of wines, with the waiter explaining what wines would be a great accompaniment to our chosen dishes.
The atmosphere
Arriving shortly after 7pm on a Saturday evening, we couldn't believe just how busy and atmospheric the restaurant at Ingliston Country Club was. There was a complete mixture of older and younger couples, families, as well as groups of friends who were there to celebrate occasions. If that wasn't enough, at around 9pm the live music commenced and the whole vibe was turned up a notch. All around were smiling and laughing faces, enjoying a fantastic Saturday evening at Palomini's at Ingliston Country Club.