Hotel Review: Cornhill Castle
---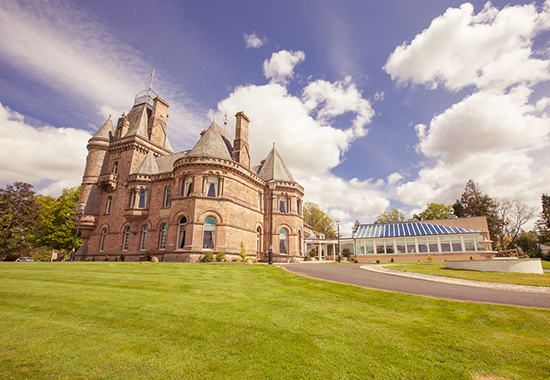 Steeped in history, the beautiful Cornhill Castle is the perfect getaway. 'Traditional' is one word that springs to mind when you enter the former Cornhill House Hotel (renamed by its new owners, Manorview, who took over the property in February). After coming up the driveway from the heritage village of Coulter, just outside Biggar, you are greeted by the imposing château-style building.
Inside, the wood-panelled foyer leads to a grand staircase, with the bar, dining room, and lounge all located off the hallway. Upstairs was our period-style Georgian King Room. With its four-poster bed dominating the room, a twinkling chandelier hanging above, and plush seating area by the window, Room 7 was decadent.
The Meal
Downstairs in the dining room, we ate a delicious meal at a window table overlooking the hotel's 10-acre grounds and helipad, with Tinto Hill in the background.
The menu was simple, hearty food – nothing too fancy – but well-presented and well-cooked. You could choose from a range of traditional restaurant favourites for your main including: braised lamb shank, sirloin steak, chicken Balmoral, and king prawn linguini.
We opted for pan fried scallops and tempura battered chicken to start, followed by generous helpings of home-baked steak pie under a puff pastry crust, and grilled Scottish salmon – although the Manorview Signature Burger, topped with pulled pork and chorizo, sounded very tempting!
The Chill Out
To finish, it was dessert heaven as my two favourites arrived: hot chocolate fudge cake and sticky toffee pudding… with an extra portion of hot caramel sauce!
After a big meal, it's always nice to relax, and the bar/lounge area is the perfect chill-out zone. Here, you can slump into its comfy chesterfield couches and enjoy a drink, coffee or tea in front of its open fire before retiring for the night.
The Venue
A traditional French Renaissance period château building, complete with turrets, Cornhill is a popular wedding venue and it is not hard to see why – the grounds around the castle building, and the picturesque landscape surrounding it, are the perfect backdrop for wedding photographs.
Inside, the South Lanarkshire hotel's extension is a beautiful room with a stunning view over Tinto Hill and the River Clyde. When we were there, the room was being set up for a wedding – one of almost 70 weddings taking place there this year, so far! Its doors open out onto decking and a boardwalk leads guests to a bandstand adorned with fairy lights – ideal for al fresco photos during a summer wedding.
Next morning, after a full breakfast in the dining room, guests often walk around the hotel grounds, and that's what we did, before making the 1-hour journey back home from the village of Coulter to Glasgow.
Cornhill Castle Hotel, Coulter, Biggar, South Lanarkshire, ML12 6QE
w: cornhillcastle.co.uk
t: 01899 220 001