A Day in The Life Of… A Cow Breeder
---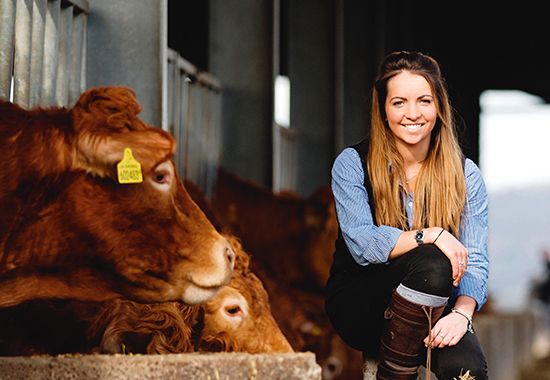 Glamorous young farmer Stephanie Dick, 21, breeds Limousin cattle at her family farm in Stirlingshire.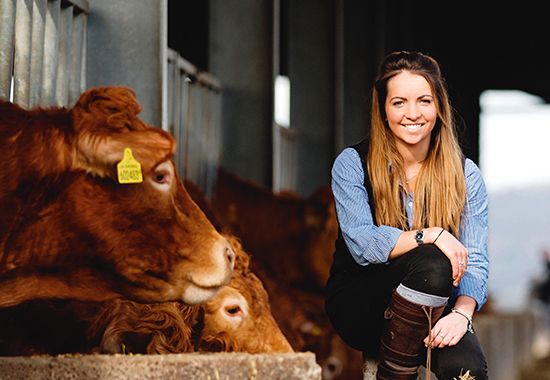 My job has variety, that is one of the reasons I like it so much – every day is different. On a daily basis I look after our herd of 800 cattle. We also grow a lot of crops on the farm so I drive tractors when needed, especially at harvest time, as there is only a small window jobs can be done before the weather changes so it can get rather hectic!
I grew up on the farm so it became a way of life and a passion that I couldn't leave. When I came back from college it was inevitable my grandfather and father would give me a
full-time job working at home. It is an unusual situation in my family as my brother is studying to be a doctor, so we have the girl pursuing farming, not the boy!
What I love most is that there is always something different happening each day. One day you could be bringing new life into the world, the next you could be at a show winning trophies and rosettes. The cattle are my favourite side of the business and working with them every day is a highlight. Cattle are just like humans – each one has its own individual personality that you grow to know and love.
Farming takes a lot of dedication and hard work, but it is worth it at the end of the day to see the results. When I was at school everyone thought it was cool I got to pat the cows, but they didn't understand the work that came with it. The long hours can be difficult. More so when I was younger, as friends would always be hanging out at in the evenings but I had a lot to do, so I couldn't just leave the farm, which I found hard. But now, as I've got older, most of my friends have the same career so everyone supports it. There is not much to dislike about my job!
I have my own herd of Limousin cattle that I run alongside dad's herd and I breed from them. The first bull that I sold at sale was placed Junior Champion and I sold him for £10,500 which was a great highlight for me. I also do Young Farmers stock judging. I won the Beef Individual in 2013 making me the best beef judge in the Scottish Young Farmers which was a great achievement. In the future I aim to breed cattle to win the major shows, such as the Royal Highland Show, and to get top prices at sales.
As soon as I am out the back door I'm at work, which is normally around 7.20am.
I tend to get up at 7am, although if I have been calving through the night, it could be later. I put on my working clothes, give my hair a brush and clean my teeth. Then I head downstairs where I get my dog, Tori, and I pull on my wellies and head outside.
In the morning, I feed the cattle and check them all to make sure that none of them have got sick through the night and need attention.
We have cattle at different farms so we have to go round them all to feed them. Checking cows with young calves is top priority as the young calves are most prone to falling ill. I then head to my grandma's, which is the headquarters farm, at around 9.30am and we have breakfast until 10am. After this, anything can happen. At this time of year, we tend to be halter-breaking our bulls for sales until lunchtime. In summer, after breakfast we will get the combine harvesters going and start harvesting the crops, I drive the baler and bale straw to use as bedding for the cattle.
At 12.30pm I normally go to my grandma's for lunch, she is a great cook. In the afternoon, we will generally work with the show cattle in preparation for the Highland Show so I wash them and try to get a nice a coat of hair on them! Other jobs include weighing cattle or de-horning calves. We calve our cattle all year round so I can be calving cows and helping newborns suckle their mother. All the cattle will get fed again before they are settled down for the night. On a good day, I will generally head home around 6pm for dinner with my mum and dad, before watching the soaps. Or I have dinner with friends, as long as someone's at home to keep an eye on calving cows. I usually go to bed around 11pm.
If I didn't do my job I would be at university studying business, but incorporating animals in my life somewhere.
I have only ever wanted to be a farmer and knew that it was what I was always going to do. My advice would be: find a career that makes you happy, make sure it's something you want to get up every morning for. I am a girl in a man's world and I get on just fine, so anything is possible.
Stephanie will be at the Royal Highland Show at Ingliston from June 23–26. For tickets and information visit
www.royalhighlandshow.org