Day in The Life Of… A Chocolatier
---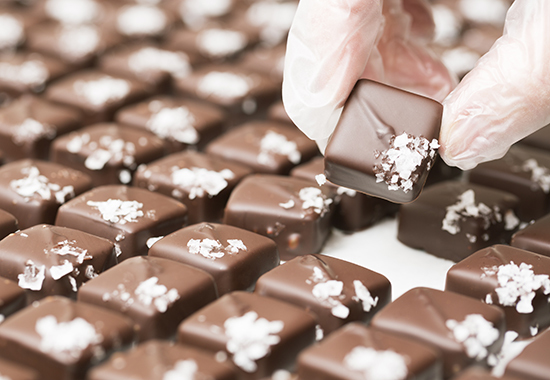 Chocolate making: rows of sea salt caramel truffles. You might also be interested in these:
Ever wondered what it would be like to be in a job where you get to eat chocolate every day? That's what 53-year-old chocolatier Sharon Grimshaw, from Edinburgh, does after turning her love of baking into a business. 
Here she tells us what a day in the life of a chocolatier is like….
"In my role as a chocolatier I make handmade chocolates to my own recipes and I also make chocolate cakes, as well as other various celebration cakes to order. I first got this job in around 2005 when I got married and made favours for the wedding. People enjoyed them so much, which is what I think gave me the confidence to take this on as a job.
When I was younger I didn't have many career aspirations, I found it difficult to find something that I truly wanted to do. Academically I was quite good, I went onto university after school and then ended up in management roles after graduating. Although I was relatively good at these roles, I was never happy in them.
I've always been good at cooking, particularly baking, but it never really occurred that I could make a career out of it. It was only once I was planning my wedding that one little thought changed my whole outlook.
My husband and I set up our company, Hot Chocolates, in 2006 and we taught ourselves to master the art of chocolate. Being my own boss is something I really love. I suppose having the freedom and flexibility of working for myself is one of my favourite aspects of this job – I enjoy not being accountable to someone else.
I work from home so I usually start work at 9am. However, I usually get up at around 6am because I train as a triathlete. I'll have breakfast before I do my training, which is usually granola and muesli seeds as this is really good for me, then I'll get on with training (whether it's swimming or running, or something like that).
I actually used to work in a very different environment where I was an employee and I found it very rigid and straining, whereas I find working for myself completely liberating. I also love working in a creative environment and coming up with new ideas – I have to listen to exactly what my customers want and try to give them this.
I start my day by getting the kitchen organised, planning my day, melting the chocolate down, and then making up mixtures.
I'll take a break for lunch around 12 noon and usually just have a sandwich and fruit or cake. People always ask me if I'm tempted to eat chocolate all day long and the answer is no, when you work with chocolate and are surrounded by tons of it, you just don't feel the need – but I do still eat chocolate. If I'm craving something sweet after lunch I'll sometimes have a piece of dark chocolate.
Coming up with what my customers want can sometimes be the most difficult part of the job too. When someone has an idea in their head, it can be very difficult to put that into reality for them. If there's ever a time when I can't meet someone's demands I'll try my hardest to recommend someone in the industry who can.
In the afternoon I tend to do marketing and accounts work, and deal with all my customer service. As I work for myself from home, I can finish anytime between 6pm to 8 or 9 o'clock at night – it just depends on how busy I am and what season it is.
When you work from home, finding the balance between work and home life can sometimes be difficult.
But I've found that making sure I turn everything off and clean it all away really helps – that way I'm not tempted to continue working. I have a room set aside for making chocolate so once everything is off and the door is shut, it's easy to switch off. Some evenings I'll completely chill out, maybe I'll catch up with friends or even do more training.
If ever something goes wrong when I'm working, then I'll vent to my husband. He's my sound board for everything. If anything goes wrong or I
need advice on something, I'll always go to him – his view on life is very balanced so he helps me to see the bigger picture.
When I tell people I work as a chocolatier they tend to think, 'Wow! That's amazing.' And I guess they're not wrong. My mum is extremely proud of me, she's delighted that I've made a success out of something I felt passionate about."