Amanda Holden and Alesha Dixon on 10 years of Britain's Got Talent
---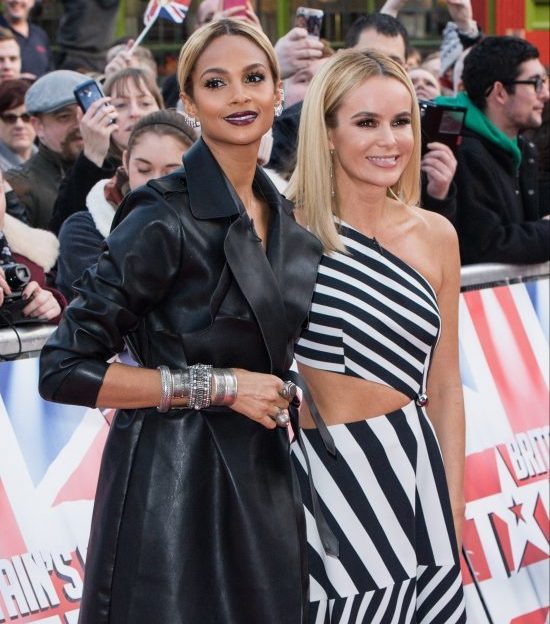 BIRMINGHAM, ENGLAND - FEBRUARY 04: Amanda Holden (R) and Alesha Dixon arrive for the Birmingham audtions for Britain's Got Talent at Birmingham Hippodrome on February 4, 2016 in Birmingham, England. (Photo by Richard Stonehouse/Getty Images)
Did you ever imagine when you started this show that you would still be going strong 10 years later?
Amanda: No! I'll always remember being at home in the kitchen stirring soup and getting the call and then saying to Chris, 'Oh, that might be a nice gig, maybe five years'.
At the time Sharon Osbourne had done about five years on The X Factor, so I had five years in my head.
Was there a moment when you knew the show was going to be really successful?
Amanda: When Paul Potts came out and said who he was and what he was, he was in this really scruffy suit, he had literally come from work, and then he opened his mouth and he sang, I knew it was a knock-out moment.
At that point I thought that this was about people with hidden talent, who is not going to love it?
https://youtu.be/UC3fIjn4GgQ&w=550&h=309
10 years of Britain's Got Talent: Paul Potts' 'Nessun Dorma', sung at his first audition in 2007, drew 140 million views on Youtube.
Amanda, you got into a spat with Simon and covered him in water during auditions, what happened?
Simon, when he thinks he's being funny, doesn't know about the rule of three. He's got a rule of 10 where he just repeats and repeats himself and it's just not funny.
I gave him several warnings to stop it and in the end I threw the water on him and then had that moment where I think, 'Oh god!' and then I looked at his make-up artist and she was really cross.
He was laughing his head off but his make-up artist, literally, had steam coming out of her ears! She was so cross! I did apologise to her.
I got told off by everyone and he actually said, 'No, I am happy to sit here', he wanted to sit there and do the rest of the show because he looked hot in a wet shirt and he knew it, but they made him change his shirt.
Alesha, what was your opinion of Simon and Amanda as judges before you were a judge and how did that change when you joined them?
I loved Simon from the get-go because he was so honest and I think that's why people fell in love with him as a judge in the first place.
Simon was always the one who said what you were thinking but some people wouldn't have the guts to say.
I remember watching Amanda and thinking how she had all the boys in order, there was a little while when Amanda was on the show and Simon wasn't there, she had David Hasselhoff and Michael McIntyre and she was basically the boss. I loved that, I thought, 'You go girl'.
So my opinion of them hasn't changed, well, it has in the sense that I didn't know how funny they both were off camera, as well as on the TV.
They are both really witty and love to have a laugh – they're definitely good colleagues to have!
Do you think if you were starting out now you would audition for the show as a platform to boost your career?
Alesha: I used to say 'no' categorically because when I started out in the industry it was in a more organic way, a traditional way of working away behind the scenes and really grafting – going out there the old fashioned way and getting a record deal.
But being an artist in this day and age, the platform you get being on a show like Britain's Got Talent, is second to none.
Will you definitely be back on the panel next year?
Alesha: I don't know. Simon tweeted it, which was very funny, I can never presume anything, but I wouldn't want it to end.
Love my girls @AleshaOfficial @AmandaHolden so much that I just confirmed them both for next year. FYI follow them⭐️⭐️⭐️⭐️

— Simon Cowell (@SimonCowell) February 4, 2016