6 things you didn't know about Downton Abbey
---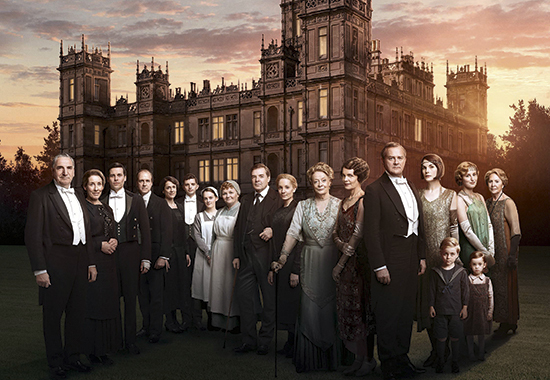 How many tuned in?
Are you on a 'Downton downer'?
Still having withdrawal symptoms after the hit period drama left your TV screen?
Well, fear not, as No.1 uncovers some fascinating facts about one of the "most-watched drama series in the world".
Think you know everything there is to know about Downton?
But did you know….
Downton Abbey has attracted a worldwide following of around 120 million viewers! The first ever episode of the ITV drama amassed 9.2 million viewers in the UK, which meant it had almost one-third (32%) of the audience share. The third season was one of the most watched drama series in the world. In the United States, 25 million people watched the finale of series five.

Over 1,000 wigs were used in the last two series alone. It is reported that all of the female cast members have some sort of hairpiece, while eight ladies wore a full wig. Lily James, the brunette actress who plays Rose, had to wear a bald cap to cover her own hair before she wore the blonde wig.

The role of the Dowager Countess of Grantham was created especially for legendary actress Dame Maggie Smith. The 81-year-old played the sharp-tongued Lady Violet since the first series in 2010, and continued to appear in the show until the last episode – despite predictions. Pundits were predicting that she would be killed off since the beginning, but she survived to become of the drama's most popular characters.

No! All the food on set is real! Lisa Heathcote was the woman responsible for the Abbey's seven-course meals that were served at the famous table. She worked from a tent, called an 'easy up' on the grounds. Often she made several hundred soufflés for the show's decadent dinner table scenes!

It was reported that X-Files actress, Gillian Anderson, turned down the role of Lady Cora, Countess of Grantham. The actress relocated to Britain a few years ago, but decided not to feature in the drama – which would have been her first major role since playing Dana Scully. Gillian is pictured here with co-star David Duchovny at the premiere of The X-Files, in California.

Downton Abbey is set at Highclere Castle in Berkshire, which was also the location for blockbuster, Eyes Wide Shut, with Tom Cruise and Nicole Kidman. Most of the exterior shots in the period drama were filmed here, but some of the interior shots were filmed at Ealing Studios in London and at West Wycombe Park in Buckinghamshire. Highclere, home of the Earl and Countess of Carnarvon, is also a famous celebrity wedding venue: Peter Andre and Katie Price got married there and so did Arsenal's French footballer Thierry Henry and girlfriend Claire.